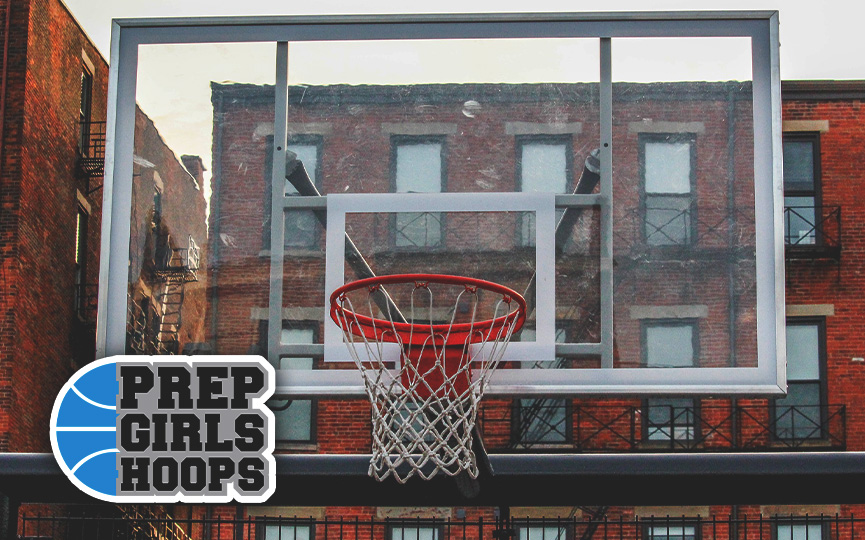 Posted On: 09/22/18 1:31 PM
We get a lot of feedback from our readers – most of it pretty complimentary if we're being honest – but nothing generates more comments, emails, text messages and discussion than the player rankings. If I had a dollar for every time I have been asked in the last 30 days when the updated rankings are going to be published I would have enough dollars for you and I to enjoy a very nice dinner at Manny's where a New York strip runs $72! The answer to that question is… in the next few days.
We have spent countless hours over the past few weeks compiling a summer's worth of information from the many people who participate in the rankings process. We have debated and discussed and analyzed it all to the Nth degree and the results are in. We plan to first unveil the initial ranking of the class of 2022 – everyone wants to know if Amaya Battle, Mallory Heyer or Maya Nnaji will be #1 – followed by updated rankings of the 2021s, 2020s and 2019s.
The second most common question I hear on an ongoing basis is this: "How do you guys decide who gets ranked where?" While we don't have a crystal ball, we do have a network of very competent basketball people involved, and it's a thorough process.
Here's how we do it
We watch a lot of basketball – I personally saw more than 150 high school teams over the past year. I attended every AAU tournament, averaging about 20 hours of viewing per event. I went to AAU tryouts in August and early September and attend most elite camps in the area. I watched the fall and summer leagues. I regularly attend practices. And that's just me. Everyone involved in the rankings process is in the gym all the time.
We have a diverse group of evaluators – Among them are current and former AAU coaches, current and former high school coaches, certifiable girls' basketball junkies and we talk with college coaches from all levels. After all, it is the college folks who make the ultimate choices and their opinions matter. In the past couple of weeks I have talked with more than a dozen coaches from major D1 programs, both power conference and mid-majors. I had breakfast with one on Wednesday.
Everyone involved is granted anonymity – That's what really makes the process work. I am the only person who knows everyone else involved. We don't quote our evaluators or share their names with anyone. The AAU coaches come from a variety of programs, large and small. While it's true that a few AAU coaches tend to rank their kids higher, that pattern quickly becomes obvious. For example, if Jane Doe's coach has her ranked 25th, I have her ranked 45th, three other coaches have her around 55th and one of said coach's rivals has her at 75th, it's clear there are some biases involved. Chances are, Ms. Doe will end up in the 50-55 range.
We ask one important question over and over – "How good will she be at the next level?" While current play is obviously a factor, our overriding principle is all about a player's status as a college basketball prospect. Read on to learn more.
The rankings are about college potential
This is the most misunderstood part of the rankings process. Our list is not about who is the best player in the 9th grade. It's not about who is the best high school player or most likely to win Miss Basketball. The Prep Girls Hoops rankings are about college potential. Let me repeat that because it's a subject I have to address constantly, and one we take a lot of heat for. The rankings are about college basketball. The typical beef goes something like this: "How can Player X be in the top 20? She hardly ever plays. Player Y is scoring 18 points a game and you have her at 75th!"
Well, the Player Y in this example is a 5'7 forward playing at a 2A school with a cupcake schedule. Her AAU experience has been limited to lower-level teams typically facing second-tier opponents. Yes, she has nice high school skills but – Dlayla Chakolis excepted – there isn't much demand for 5'7 power forwards in college basketball. Player X on the other hand, is 6'2. She is long, lean and athletic. After a coaching change at her 4A high school she blossomed and earned a full D1 ride.
A couple more important things to know
Geography matters – Players who live within 150 miles of the Twin Cities have a leg up on those who live several hours away. Is that fair? Probably not, but it is reality. When you live in the Twin Cities and have a real job outside of basketball, it's not possible to go to Stephen-Argyle on a Monday night. It would help if small, outstate schools would schedule more Saturday games but they generally don't.
AAU really matters – Summer ball is the place to see and be seen. That's where the college coaches are. That's where the best competition is. That's where we are. If you live in a remote area and don't play AAU, that's a double whammy. Sorry. It is what it is. That's why programs like High Impact and Northern Lights are so important.
You cannot buy a spot on or up the list – As unbelievable as it is, some people do try to purchase a place for their kid. My best offer this year had four digits! While other rankings services around the country might offer such opportunities, Prep Girls Hoops Minnesota does not, and I hope we never do. The process has integrity and that matters.
Does the process work?
For the most part it does. Since the beginning of Northstar Girls Hoops (now Prep Girls Hoops), the list has been remarkably accurate. Generally the players who end up in Division 1 are ranked in the top 30-35 spots. Division 2 players generally fall in the 20-80 range. Of course some players with D1 offers choose to go D2. And some kids who belong in the 100-150 range get missed. Others cannot make the grade academically so their status as a top 20 player is meaningless. And then there are the volleyball, soccer and track stars who choose a different path.
Lest we forget, there are also a select few very talented players like Erica Hicks, the 2018 Champlin Park graduate who was a top 20 prospect. What a player Erica is! She had multiple opportunities to play college basketball at a very high level but instead chose to be a regular student. The great thing about that is her decision enabled someone else to receive a full scholarship to play college basketball. That, in the end, is what really matters.
Top photo: Members of the StarTribune's 2017-18 high school All Metro team were all highly-ranked by Prep Girls Hoops. Kallie Theisen of Wayzata/South Dakota State (far left) is the #1 player in the 2019 class. Paige Bueckers of Hopkins (middle) is #1 among the 2020s. Among 2018 graduates, Carmen Backes (Wisconsin), Emma Grothaus (Lehigh) and Megan Walstad (Milwaukee) were ranked 2nd, 6th and 3rd respectively. (photo courtesy of StarTribune)