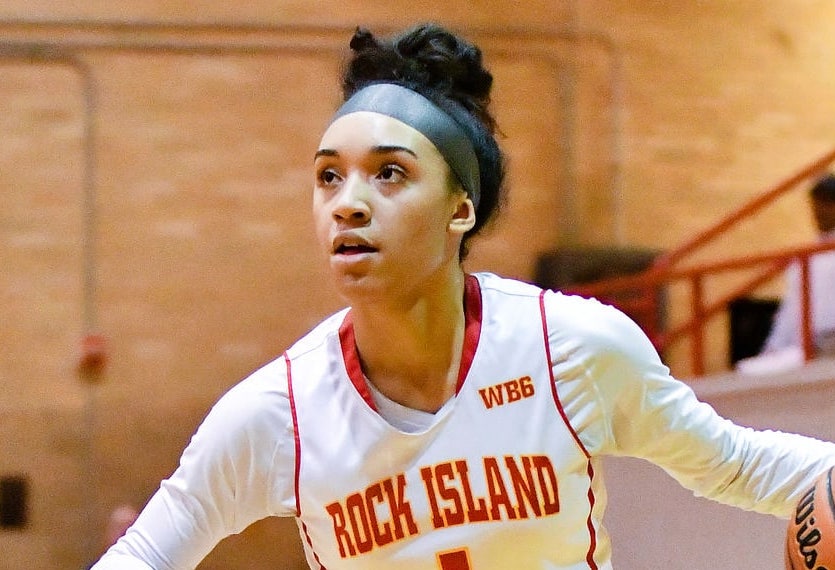 Posted On: 11/28/18 12:55 PM
BARTONVILLE – Rock Island senior guard Brea Beal is taking everything in stride.
Before her senior season started she committed, and later signed her letter of intent to play at the University of South Carolina. She liked how coach Dawn Staley, her staff and the players "kept it real" with her. Beal realized she could be the part of something special.
"We are losing three or four seniors so she sees me out there potentially being able to start, potentially being able to get good minutes in and she's not going to say I'm just going to start," Beal said on Tuesday following a 72-47 win over Limestone. "I came to a realization that that's just the reality, so that's the keep it real part, and just have good conversations."
It would be easy for Beal, ranked 13th in the country by ESPNW, to look ahead to playing for a program that won the 2017 NCAA national championship and has been to two Final Fours in the last four years. The Gamecocks signed four of the top 13 prospects during the early signing period, giving them the top-ranked recruiting class according to ESPNW.
The Rocks lost key players off last year's Sweet Sixteen team, including guard Chrislyn Carr (now at Texas Tech) and Anne Awour, who transferred to Davenport North.
"The team knows what we lost and what we need to replace, whether it's defense, offense (and) rebounding," Beal said. "Overall, since we're a much younger team I have to be able to teach them some things I know and then in return they teach me little simple things that I can do a lot better."
She is willing to do whatever it takes to help her team win. On Tuesday she patrolled the paint in the zone, was point on the press, showed her court vision and scoring ability (22 points on 7-of-13 shooting). She grabbed 12 rebounds, with three assists and three steals. Her versatility will travel with her in college.
"Brea is the ultimate competitor," Staley said when Beal signed. "She will impact the game in a variety of ways. She can stretch the floor with her 3-point shot, attack the basket with her size and strength and has a midrange game to complement them. Her parents and her hometown have shaped her character, allowing her to be a great builder of our culture. Gamecock Nation will love her size at the wing and her no quit mentality."
The reigning two-time Ms. Basketball award winner could join Candace Parker (2002-04) as the only player to be a three-time winner.
She is climbing up the Western Big 6 Conference's scoring charts and is expected to break Galesburg great Joey Range's record of 2,390 points. She needs nine points to pass Quincy High and University of Illinois great Bruce Douglas to move into the top five in conference history.
Rock Island senior guard Brea Beal is 31 points away from surpassing 1982 Quincy graduate Bruce Douglas for fifth on the all-time #WB6 scoring list. pic.twitter.com/s8LbCYcSRS

— Western Big 6 Conference History (@WB6turns50) November 27, 2018
Beal needs 10 conference wins to become the only player to sweep through the Western Big 6 in her entire career. Douglas went 39-1 in his four years at Quincy High.
It has all given Beal a platform to inspire others, especially those aspiring to play girls basketball.
"I think just looking back on how far I've came up and thinking I've been here for 18 years of my life and it's finally coming to the end and see how much I did," Beal said. "Little girls coming up to me saying they want to be like me, 'I just tell them to be better,' set that and have people try to work past that."
Through it all, Beal has become a celebrity with people taking pictures with her and wanting her autograph. She has over 18,000 followers on Instagram and 5,000 more on Twitter.
"I think the biggest (celebrity that follows me) would probably be Drake," she said. "He (direct messaged) me and was like, 'we'll come out to the game at one of the big ones,' if I wanted him too."
She laughed while adding she needs to get him a Rock Island jersey.