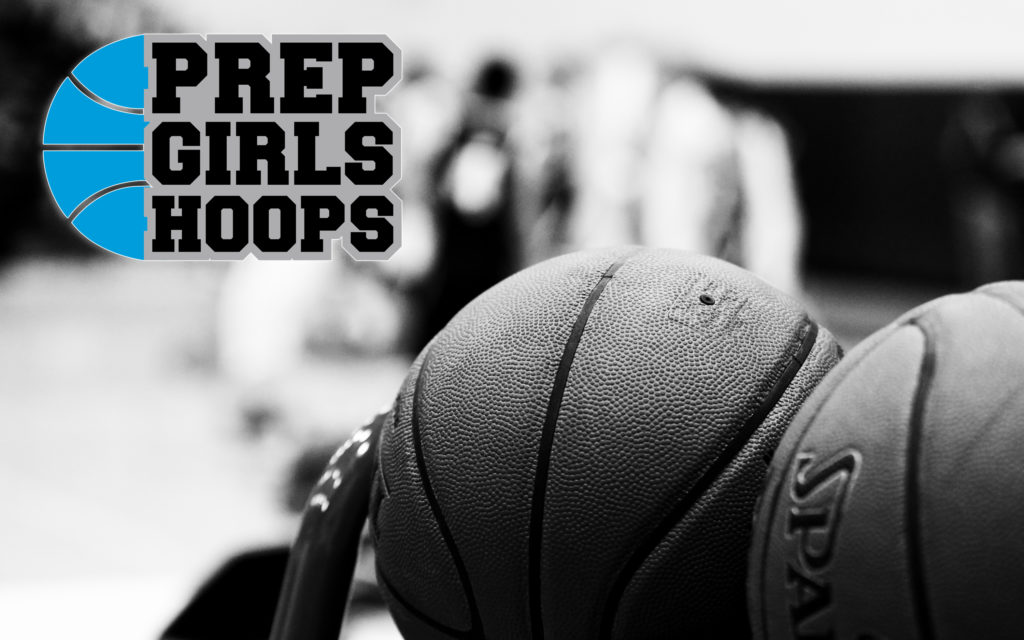 Posted On: 12/28/18 5:15 PM
I took in the morning session of the HOF Classic at New Castle and came away with quite a few evaluations. Northwestern took down Bedford North Lawrence and Homestead dispatched Jeffersonville. Tons of college talent between these four teams and I highlight the best from the morning session below.
Katie Neher – 5'4 PG – 2019 – Northwestern
**17 points**
Neher got off to a quick start and knocked down four jumpers in a row to give herself 10 first quarter points. She's a player that can score the ball really well, but is the third option on this team. High motor player and she really gets after it on the defensive end for Northwestern. She pressures the ball and is in the face of the ball handler. Very tough and can make plays happen. Really good moving without the ball in this one and was moving effectively into space to get open. Committed to Lake Forest.
Sylare Starks – 5'8 W – 2019 – Homestead 
**13 points, 6 rebounds, 4 assists**
Starks played pretty well in this one knocking down a few 3-pointers and really spaced the floor well for Homestead. I would like to have seen her drive the ball a little bit more because when she gets downhill, she's really solid attacking the basket. Avid rebounder from her spot on the floor and can flat out make plays on both ends of the floor. Really liked the way that she played today. Committed to Detroit Mercy.
Kara Gealy – 5'6 PG – 2019 – Homestead
**5 points, 4 assists**
Gealy is a player who is as steady as they come. I feel like there is a bit more scoring in her game, but she is comfortable with playing within the flow of the offense in order to direct and dictate the offense. Good guard with a burst of speed and a little bit of an uptempo type of play. Should be a really solid guard at the next level as she develops her scoring a bit more. Committed to Tiffin.
Julia Huey – 5'9 F – 2019 – Homestead
**5 points**
Huey was solid off of the bench in the four minutes that she played for Homestead. She's a player who can really shoot the ball and did just that in her limited action as she buried a 3 and hit another shot. High motor and toughness coming off of the bench. I think that she'll be better at the next level as she is able to do more with her game. – Committed to Lawrence Tech.
Haley Swing – 6′ F – 2019 – Homestead
**10 points, 2 steals**
Swing was as steady as they come in this game. She scored a quiet 10 points as most came at the free throw line but she was aggressive with the ball and able to draw those fouls. She was able to create for herself and others the entire game while keeping herself under control. Didn't make any real mistakes and looked solid in everything that she did. High motor with the ability to finish in traffic. Committed to Grand Valley State.
Jorie Allen – 6'1 PF – 2019 – Bedford North Lawrence 
**10 points, 5 assists, 2 steals**
I think Allen would be one of the first to tell you that this wasn't a good game for her. She struggled to get anything going offensively and struggled just a bit to finish offensively. Allen ended up fouling out with just over five minutes to go in the game. Allen was passive early on and dished the ball off really well. Solid defender but struggled a bit with the length of Bostic inside. High level player who can chalk this one up to be an anomaly. Really good court vision and likes to get her teammates involved in the game. Will be a solid contributor at the next level. Committed to Indiana.
Sydney Graber – 6′ F – 2020 – Homestead
**11 points, 8 rebounds**
Much like Swing, Graber played a really solid game without making many mistakes. She has a ton of power down low but she has such a smooth outside stroke that players need to make sure they don't let her get hot from out there either. Played in both the post and on the perimeter in this one. Should be a really solid player at the next level with her versatility. Committed to Central Michigan.
Madison Webb – 6'2 PF – 2020 – Bedford North Lawrence
**14 points, 8 rebounds, 3 steals**
I really liked the game of Webb. She's a talented post who is developing more of a face up game as she is beginning to be able to shoot the ball pretty well. She stepped out and hit a 3-pointer in this one and was able to do a lot on offense as Allen struggled a bit. Solid court vision as she does the inside-out game really well. Very strong and careful with the ball as well.
Nan Garcia – 5'11 F – 2020 – Jeffersonville
**9 points, 7 rebounds**
Garcia did not play well in this one. She tried to do just a bit too much at times and struggled a touch with the length of Homestead. She's a player who is best when she is down low and able to utilize her skill in the post. She is really  solidly built which helps her garner those rebounds. Should be a solid player at the next level with the correct fit.
Kiersten Poor – 5'10 W – 2020 – Jeffersonville
**6 points, 2 assists**
While Poor did not get into the stat book much, I was really impressed with her game. She had the ability to get to the basket and ran the floor really well in transition. She did all of the little things that I like to see in a wing with her size. She's aggressive and has the ability to make plays for others. I think that her recruitment will really pick up in the coming months and this spring will be huge for her development.
Klair Merrell – 5'9 SG – 2020 – Northwestern
**3 points, 7 rebounds**
Merrell didn't have a spectacular game as she turned the ball over four times, but she played with a high motor and didn't force the subject when trying to score. She's long and athletic and I think will probably be able to play the two guard at the next level. Hustles on each and every play and never stops working for those loose balls for her team. Solid player who who take a step forward in the spring as far as exposure goes.
Kendall Bostic – 6'1 PF – 2020 – Northwestern
**18 points, 7 rebounds, 2 blocks**
Bostic struggled early on in this one but got going a little bit more in the second half. She's an interior player who can really score inside. Bostic is a player who has really good touch with both hands and can score over both shoulders. I really thought that she ran the floor well in transition which led to some easy baskets for her. Would like to see her stretch the defense a little bit more and shoot jumpers but she is just so good down low that she didn't really need to do that in this one. Great motor and very physical player on the post. Committed to Michigan State
Madison Layden – 6'1 W – 2020 – Northwestern
**23 points, 12 assists, 7 rebounds, 4 steals**
Layden was easily the best player that I saw in the two games. She is a long and lengthy guard who has the ability to score the ball from all over the floor. Really good off of the drive and is just so fluid with the ball. She really cemented her status as the best player in the 2020 class to me in this one. Her court vision is outstanding and she made some incredible passes today. There isn't much that she can improve on but it seems like she just keeps getting better. each time that I see her play. One of the most dominating games that I have seen in a long time. A top level talent who will be a four year contributor at the college level. Committed to Purdue.
Chloe McKnight – 5'8 W – 2021 – Bedford North Lawrence
**9 points**
McKnight is a player who can really shoot the ball. She struggled a little today shooting it but her shot looks really good. Has a bit of strength which is going to allow her to get to the rim and score eventually. Gritting on both ends and has the ability to blossom into an all-around player. Really liked what I saw from the sophomore today.
Ayanna Patterson – 6'4 W – 2022 – Homestead 
**17 points, 5 rebounds**
Patterson is such a good player and is physically imposing once she steps on the floor. Tough to tell where she will end up in college position wise, but she is so skilled with the ball that I could see her being a wing. She can score the ball really well and had a few nice transition baskets where she took the ball up the length of the floor. Patterson is one of those players in the 2022 class that will make a national impact. Only played 14 minutes today and still was able to make a ton of noise.