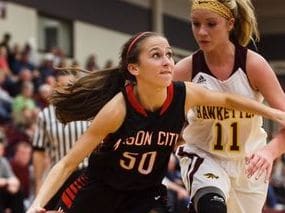 Posted On: 12/27/18 4:24 PM
1 Megan Meyer, Mason City -- 24.8
It should come as no surprise that the state's third-ranked 2019 and future Iowa Hawkeyes guard Megan Meyer is leading the way in Class 4A. Her 24.8 points per game are tops by a wide-margin. Her 24 made 3s are fifth-best in the state. She also leads the Mohawks in assists, steals and rebounds.
2 Katie Keitges, Knoxville -- 21.6 
Keitges leads her 8-1 Panthers in nearly every conceivable category, not the least of which is scoring. She's been at this scoring thing for awhile now; as a freshman Keitges averaged 14 points per game, last season she netted 19.9 per game, and she'll likely better that this season.
3 Megan Witte, Lewis Central -- 20.6
As a sophomore, Witte averaged 11.5 points a game and was second-fiddle to then-senior Maegan Holt, This season she's leading the charge for the Titans. The 6-foot-1 forward has her Lewis Central squad out to a 7-0 start, and ranked No. 6 in the state.
4 Ella Skinner, Bishop Heelan -- 20.1 
The 11th-ranked Crusaders are led by this 6-foot post, who's not only scoring at a high clip, but doing so with some