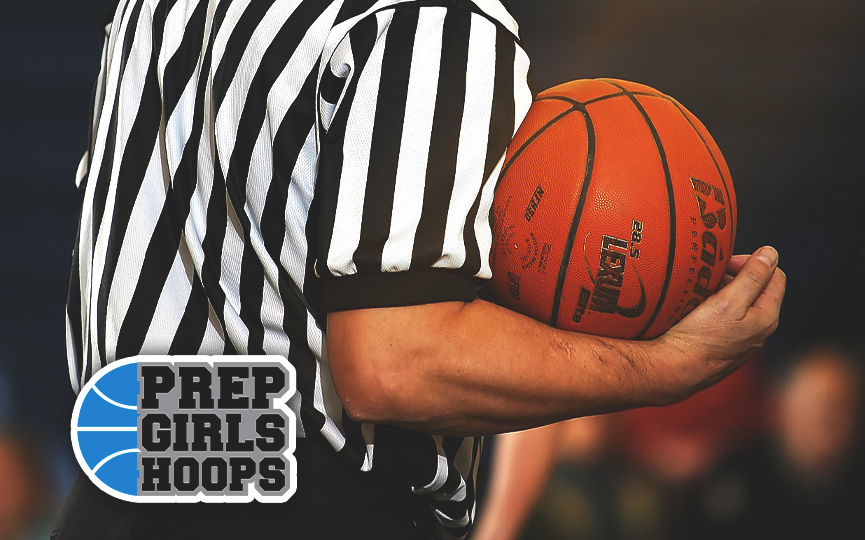 Posted On: 01/9/19 5:07 PM
Southeast Polk — whose only loss this season came against Dowling Catholic — visited Ames on Tuesday night in a showdown of ranked 5A teams. The Rams jumped out to a 14-4 lead, but then allowed the Little Cyclones to take a 25-20 advantage late in the first half.
Southeast Polk led by 14 points entering the fourth quarter and quelled a late Ames rally to hold on for the win. The No. 4 Rams improved to 11-1, while No. 13 Ames fell to 6-6.
Here's what stood out:
All eyes on Maggie
Maggie McGraw, the No. 2 senior prospect in the state of Iowa and an Iowa State commit, transferred from Indianola to Southeast Polk this year and has made a predictable splash as a multi-skilled guard.
"I didn't really know anyone coming here, but I just kind of needed a fresh start for my senior year," she said of her transfer.
On Tuesday, the 5-foot-11 guard received plenty of attention, and not just from Ames defenders. The Iowa State coaching staff, as well as several players, were on hand to watch McGraw, who entered the game averaging 19.9 points, 5.9 rebounds, 3.7 assists and 2.0 steals.
After scoring 12 points in the win, McGraw chatted with some of her future Cyclone teammates in the stands.
During the game, she impacted the game in a variety of ways. She interfered with a simple inbounds pass, forcing Ames to throw the ball away; she jumped into a passing lane for a steal and a basket; she grabbed an offensive rebound and put it back in.
But perhaps most notable was that McGraw ran the point for much of the game. Traditionally a shooting guard, McGraw said she is hoping to play point guard for Iowa State and is working on that aspect of her game.
Another all-around player
Believe it or not, McGraw isn't the leading scorer on Southeast Polk. That would be another long, athletic and versatile player in sophomore Grace Larkins, who scored 15 points to lead the Rams. Larkins showed the ability to score, especially with her floater, one of which she hit with under two minutes left to give Southeast Polk a 12-point lead.
However, she also impressed with her basketball IQ. On a fast break, she made a great decision that led to an open layup try and on the defensive end, she grabbed a steal by sneaking off of her girl and sniffing out a lob pass underneath the basket.
The No. 1 player in Iowa's Class of 2021, Larkins has a bright high school and college future ahead of her.
Defensive effort
McGraw and Larkins, of course, led the way, but Southeast Polk's other contributors made key plays. Sophomore Rylie Kruse scored in double-digits and senior Sami Albertson had the daunting task of trying to lock up Ames sophomore Caroline Waite.
Stopping Waite is nearly impossible, but Albertson did a good job staying on Waite like glue. In the second half, she drew an offensive foul and also notched a steal, while doing her best to make Waite uncomfortable.
Putting the team on her back
The stellar sophomore season of Caroline Waite continues.
Despite Albertson's incessant effort, Waite was still tremendous and finished with 30 points on 7-of-11 shooting from 3-point range. She also scored inside on a floater and made a couple of super-nifty passes around several defenders.
She 5-foot-4 point guard leads 5A in 3-pointers with 46 — and no one else is within 10 of her — shooting 41.4 percent from distance.
Playing without fellow sophomore and the Little Cyclones' second-leading scorer Ashley Iiams, who sat with a concussion, Waite had to carry even more of the load than is typical. Although Ames lost, Waite's ability to score throughout the game kept the Little Cyclones close to the Rams.
DMACC commit
Inside, Ames got a lift from Katelyn Courtney, a 6-foot-2 senior.
Courtney shot 4-of-5 from the field for 8 points, 9 rebounds and 2 blocks. Her height and interior presence gives the Little Cyclones an important edge over many opponents.
Also a standout on the Ames volleyball team, Courtney will play volleyball and basketball for DMACC next year.