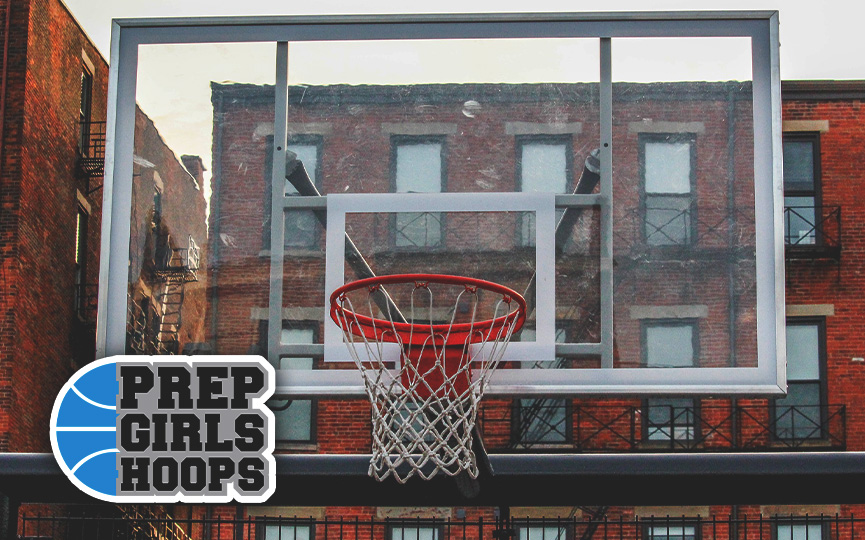 Posted On: 01/4/19 12:44 AM
In the 2016-2017 season, Clarkston High School finished with an 11-11 record. The team's season was over with by early February, while other top 2A programs played all the way into March in the State Tournament. Fast forward just two seasons and Clarkston is the only undefeated 2A team in all of Washington and ranked number one in the state. Basketball is a total team effort, but sophomore point guard Ashlyn Wallace has been a huge part of the program's quick turnaround. Her statistics and overall impact this season has been extremely impressive, but it is important to understand Ashlyn's rise to stardom before high school even started.
Ashlyn comes from a basketball oriented family and basically grew up in the gym. Her Grandfather was the head girls basketball coach at Lapwai High School (ID) for well over a decade and won 4 State Championships in 8 finals appearances. Other family members have gone onto collegiate levels and her parents (Father-Rory, Mother-Starr) are regular faces around the gymnasiums all over Eastern Washington and Idaho. It doesn't take long to find out they love their hoops! Ashlyn seems to have soaked up all of that passion and then some.
Youth Success:
Ashlyn's youth teams regularly played up against older and much bigger competition. This is much more common for teams in Eastern Washington and Idaho than on the western side of the state. The girls really challenge themselves and Ashlyn grew up used to playing against girls 4 and 5 years older than her. All of those youth years prepared her for one of the biggest moments of her basketball career when she was in just the 7th grade. Ashlyn and a group of other 7th and 8th graders were competing in the 15U Adidas Gauntlet Nationals with the Northwest Blazers organization. The true 13/14u team was down multiple players due to injury and sickness. The Blazers only had 6 healthy players and the young Ashlyn Wallace was one of those "Iron 6" as they were later tabbed. The competition was very intense at Nationals, with Adidas-sponsored teams from all around the country competing for a National Title and college exposure in Atlanta, Georgia. Game by game, they continued to win until they ultimately found their way in the title game. The Western Pennsylvania Bruins were older, had a lot more bodies to put on the floor and they had 6 plus girls that were legitimately 6 feet or taller. Ashlyn ran the point, knocked down threes, played tough on ball defense and ultimately helped the team to a 60-53 victory. The National Champion 7th grader appears to have brought the winning ways into the high school scene.
Early High School Success: 
Clarkston finished 16-6 in Ashlyn's freshman season. A solid improvement from a .500 record a season ago. Ashlyn had many big games, scoring over 30 points on multiple occasions, while also playing tough defense. They ended up losing in the District playoffs, but it was a step in the right direction. After another successful club ball season playing in the 17U Adidas Gold Gauntlet, Ashlyn was named an Adidas All-American. She traveled down to Los Angeles to participate in the Adidas invite-only camp, as one of the top players in the country. Her confidence continued to soar and it has carried into the super-sophomore campaign thus far.
Sophomore Season By the Stats:
Ashlyn is currently averaging 27.2 points per game, almost 5 assists and 5 steals per game. She's had 30-plus points four times in 10 games. The lefty also scored 27 in one half, before sitting out the second half of one game. Her defense is also consistent with steals and she had 10 takeaways in a single outing. She is shooting 49% from 3 and 55% overall from the field. Most importantly, the team is one of the favorites to win the 2A State Championship. It would be the school's first title since Jamie Weisner (Fellow NW Blazer) led Clarkston to a win in 2012, posting 33 points and 12 rebounds in the Championship game.
Quick Evaluation:
Ashlyn is a 5'6 left-handed point guard with very good foot speed and anticipation on the defensive end. She is at her best in the uptempo game where she can press, trap and fly around on defense, while pushing the ball up the floor on offense. She excels as a 3-point shooter off the catch, or off the bounce. She uses a floater/runner in the paint and converts at a high rate. Her willingness to set up her teammates opens up plenty of opportunities for her to score, because the ball moves well when she is on the floor. It is also worth mentioning that Ashlyn's teammates enjoy playing with her and she creates good chemistry on and off the floor.
Get to Know Ashlyn Wallace:
1) Did you envision Clarkston's basketball program turning around so quickly?
I knew we were going to do well. My freshman season was really about finding my place, learning my role, plays, and coaching style and what was expected from each of us. I knew once we figured all that out, things would go a lot smoother and going in the right direction. This season we came in ready to work, we knew our strengths, what worked and what didn't. We made some adjustments and it seems to be working.
2) What have you tried to bring to the program in your first two years?
I tried to bring cohesiveness and be the best teammate I can. Also, being a point guard I'm trying to take on leadership role on the court, be vocal, and get everyone involved. It's a team sport and when everyone is contributing and doing their role to the best of their abilities then we all succeed. I didn't come into the program with the idea of being the leading scorer. I came in with the idea on whatever this team needs me to do I will make sure I do it my very best, whatever it is.
3) What is the ceiling for this year's team? Are you guys taking it day by day or is "state championship talk" taking place?
State championship has always been talked about. A lot of people don't know that our starting 5 players played a lot of AAU with that goal in mind when we were 4th graders. The coaches then really tried to build that chemistry early on and it just so happens that all of our starters were part of that. We even played in Washington State AAU Championships which we made it to that state championship game which we lost to a really good ECBA Swish team (Jorydn Jenkins/Dalayah Daniels/Keeli Burton). But ultimately that chemistry was forming. I didn't move to Clarkston until junior high and the reason wasn't necessarily basketball, it was the friendships I made with the girls on the team.
4) What are your individual and team goals for this season?
My individual goal is to improve all of my stats across the board. As far as our team, our goal is to win our league and make it to state.
5) What aspects of your game have improved from a year ago?
I would say defense. It's my favorite part of the game. When going back and forth on determining moving up with the club organization, defense was brought up a lot in conversations. So last summer I really tried to work on defense and I think doubled my steals because I really tried to focus on it. And last, shooting, I think my shooting percentage has gone up. I'm always learning and trying to get better and that means not to forcing shots, making the extra pass, and just smart choices.
6) What are you currently working on improving?
I really want to up my lifting and get stronger. The Adidas Gauntlet is really physical and your weakness get exposed quick if you aren't prepared. I want to be prepared.
7) Take us down memory lane of winning the 15u adidas gauntlet nationals as a 7th grader. Where does that stand in your list of accomplishments?
Winning Adidas nationals was so much fun. Our championship game was really like David vs. Goliath, they had a full bench, it felt like our posts were the size of their guards, and really athletic. Our goal was to run, intense, in your face pressure defense, and to wear them down. It wasn't easy with only 6 players. This game really made me love playing defense. I figured if I can get the stop on the press or at least by half court that would cut down on having to rebound. I knew our best bet was to get steals, because rebounds were going to be tough that game. I think our defense really won that game. We just didn't stop the pressure, tired as we were, we dug deep to pull out that win.
It has to be up there on my list of accomplishments. Mostly because I don't think many people thought we were going to be able to pull it off with only 6 players. Between winning Adidas Nationals and being an Adidas All-American and getting to travel to Los Angeles, they both have to be close to the top accomplishments. Adidas really treats the athletes well. I am so thankful for these opportunities that Coach Steve Klees, Northwest Blazers, and Adidas have allowed me to take part in.
8) What is the typical off season day like for Ashlyn Wallace? Training, games, pick up basketball?
Typical off season you always have to stay working. The competition is getting better and better. I concentrate a lot on endurance and cardio. Last year, I did track to help stay in shape. Before high school and club, I did a ton of AAU, I'm talking a tournament every single weekend, if it wasn't AAU then it was a 3 on 3 somewhere. Now, it's a lot more training and trying to stay healthy and avoid injuries. I think being a multi-sport athlete helps with everything. Our athletic director, Shannon Wilson and coaches are always willing to open the gym for me even if it's late at night. Like everyone, June is filled with high school summer league and camps. In July traveling with Blazers. I try to fill in the gaps with staying in shape, practicing on my own time, training, and doing other sports from time to time.
9) How is the recruitment process going?
The recruiting process is exciting.  I really am keeping the options open.  This summer is going to be a big one, it will be the beginning of my junior year.  I am going to research a little more, set some goals, talk with family, make some calls to coaches and just try to enjoy the process, rather than a make it a stressful one.  
10) Who are some of the influential people in your basketball career?
It would have to be all the coaches and trainers that have put in their personal time with me, helping make me better.  I have learned something different from all of them. I really do appreciate the support they given throughout the years.  A lot of them have become more like family. And, my actual family, my sisters Taylor & Kendall, grandparents, aunts and uncles, cousins and friends are a huge support system and try to be at all my games.  Lastly, my parents with everything they do for me.
In the News:
https://klewtv.com/sports/prep-athlete/p1fcu-prep-athlete-of-the-week-ashlyn-wallace-01-03-2019