Washington state has produced a lot of talented basketball players and the number feverishly grows every year.  Grassroots programs play a big part in the development of these players and getting them exposure.  There are a few strong programs that consistently are helping their players play at the next level resulting in college scholarships for these student-athletes and even some going Pro.  Noticeably one of the top Grassroots programs for girls in the area is the Northwest Greyhounds founded and directed by all-time great, Coach Buck Buchanan.
Coach Buchanan has an impressive extended list and long history of experience developing and helping get players to college and the WNBA since 2004, such as Vivian Frieson (Gonzaga, Tulsa Shock), Alex Montgomery (Georgia Tech, New York Liberty) & Talia Walton (UW, LA Sparks).  He started the Rotary Lady Style program back in 2000, then branched off in 2017 to start his own program Excel Greyhounds.  Last year he changed the name to Northwest Greyhounds, the same year that the 8th-grade team won the Northwest JrNBA Championship. The Northwest Greyhounds currently have 14u, 15u, 16 u and 17u teams and are the only Adidas 3SSB program in the Northwest.  The 17u team this year is stacked with talent with most of the roster reigning from the young 3A Metro League Champs and 5th place State High School Team Eastside Catholic.  Here are just a few of the Greyhounds returning elite student-athletes from last season, whose names you will be hearing a lot and are taking Washington girls basketball to another level.
Julianna Walker Julianna Walker 5'5" | PG Annie Wright | 2021 State WA , Annie Wright |5'5 G |Class of 2021| – Walker's preeminent resume can speak for her game:  1A League MVP, 1A League 1st Team, State All-Tournament Team, AP All-State 1st Team.  Walker is an explosive scorer with an unlimited range and can finish at the rim ambidextrously.  Exceptional court vision and high IQ and can create for her team.  Great on ball and help defender with a natural instinct for the ball.  Will be the first female high school player to reach 3,000 points in Washington High School History.
Malia Samuels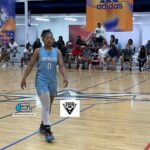 Malia Samuels 5'7" | PG Garfield | 2023 State #46 Nation WA , Eastside Catholic |5'6 G |Class of 2023| – Starter for the Greyhounds JrNBA NW Regional Championship team last year as an 8th grader as well as a starter for the 17u team.  As a freshman, Samuels has already taken the game by a storm with her atypical talent earning her 3A Metro League MVP, 3A Metro League 1st team, State All-Tournament Team, AP All-State 1st Team.  The best true can do-everything point guard in her class.  Ability to score anywhere on the court and plays 94ft of defense with non-stop intensity.  Can play unlimited up-tempo basketball and can control tempo without scoring.  Shows experienced leadership skills as a freshman with great energy, court presence and ability to get the whole team involved.
, Eastside Catholic |5'8 G |Class of 2023| – Sheppard as a Freshman left her mark this year defensively, with an undoubted strong upside which helped her clinch the 3A Metro League Defensive Player of the Year, 3A Metro League 2nd Team and State All-Tournament 2nd Team.  Sheppard is a dominant defender with her length, can guard and shut down all 5 positions.  Great body positioning and movement on offense with a very high ceiling.  Her ability to control a game with her defense when needed has proven to be highly valuable.
Zahirah Walton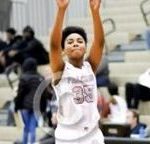 Zahirah Walton 5'11" | SG Kentlake | 2022 State WA , Eastside Catholic |5'10 F |Class of 2022| – As a sophomore rightfully earned honors as 3A Metro League 1st Team, State All-Tournament 1st Team. One of the best Forwards in her class with a very high ceiling and a strong upside.  Walton's strength & quickness with high IQ makes her deadly.  She is a prototype Division 1 player that makes her presence known both defensively and offensively, perimeter and in the paint.
Fatoumata Jaiteh Fatoumata Jaiteh 6'0" | PF Meadowdale | 2021 State WA , Meadowdale |6'1 F/C |Class of 2021| – The 3A Wesco League 1st Team Jaiteh, has great length with Division 1 player size.  Great footwork in the paint and her mid-range shot is improving expeditiously.  A vocal leader on the court for any team she is playing for and plays great team ball.
Isabel Sullivan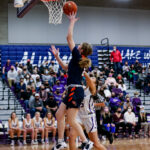 Isabel Sullivan 5'11" | SG Eastside Catholic | 2023 State WA , Eastside Catholic |5'9 G |Class of 2023| – Another dynamic freshman that we haven't heard a lot of, but definitely do not sleep on her.  A longer guard and an exceptional deadly long-range shooter, with her height, can fluently hit the contested and uncontested shot.  Underrated ball-handler who's quick and can take her opponent off the dribble to get to the rim.