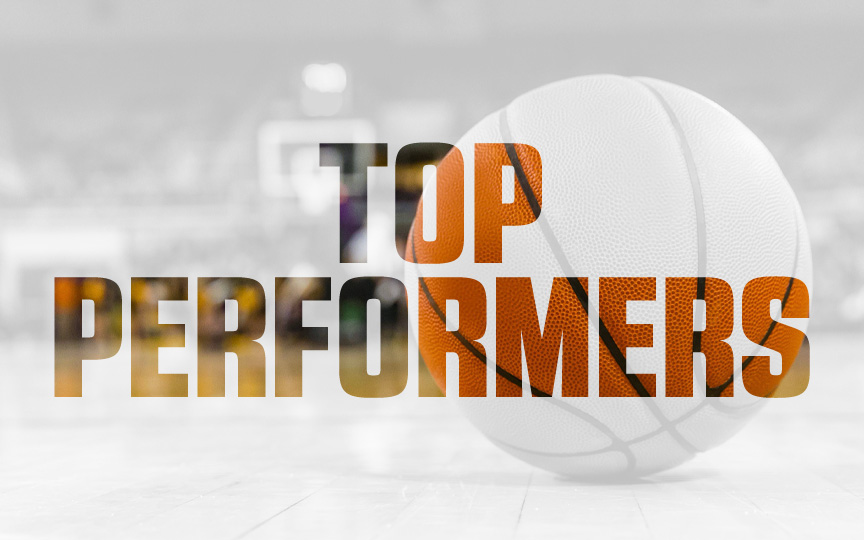 Posted On: 10/28/20 3:46 PM
We have covered the All Tournament Team for the Lady X Tournament so we will highlight some additional players that performed well at the event (1 per team) –
Mesquite HS 
Alaya Fitzgerald Alaya Fitzgerald 5'11" | CG Mesquite | 2021 State AZ (2021, CG) – Fitzgerald has been playing her best ball lately and is primed to be one of the top AIA players this year. She is a big, versatile guard that could play four positions and Fitzgerald has a very high skill level. Her steady motor, toughness, and passion are contagious, and she will be a very good get for Portland State.  Beyond that, she has a solid handle, she can make shots from the perimeter, she posts up effectively against smaller guards, she rebounds her position well, and she is a willing & capable defender. She is a ball player you win with.
Cactus Shadows 
Ella Schott Ella Schott 6'1" | PF Cactus Shadows | 2021 State AZ (2021, PF) – Schott was was extremely active on the inside on both ends of the court. She is long and wiry and seems to be turning the corner on her development.  Schott could be the X-factor for Cactus Shadows as she can create match up issues with smaller teams in the division. She has the height and talent to have a solid year and then see should see her recruitment take off. Schott was a pleasant surprise.
Pinnacle
Zoe Duggan Zoe Duggan 5'3" | PG Pinnacle | 2022 State AZ (2022, CG) – Duggan is simply a tough competitor who causes havoc on the defensive end.  She plays a hard, physical brand of basketball even at the height of 5'4''. Every team needs a player like Duggan  who does all the dirty work and doesn't need the ball to be effective. Duggan comes to play and compete.
Perry
Nicole Smith Nicole Smith 5'6" | CG Perry | 2021 State AZ (2021, CG) – Smith provides a calming effect for the young Puma team.  She can play the PG or SG equally effective and her senior leadership was outstanding at the event.  Smith has that "been there, done that" attitude and it rubs off on her teammates.  She is a good shooter to the 3 point line, she doesn't make mistakes and her court awareness is solid,
Millennium
Mia Amundsen Mia Amundsen 5'9" | CG Millennium | 2023 State AZ (2023, CG) – This was a breakout tournament for Amundsen as she contributed in a variety of ways in each of the 4 games.  She handled the ball efficiently as a secondary ball handler. Amundsen shot extremely well from all over the court and she displayed a lot of court presence. She hit a huge 3 pointer as time expired to win the championship.  That shot alone will go a long way in boosting this young soph confidence going forward. She is a top 10 player in the class for sure.
Casteel
Jaleah Hendrix Jaleah Hendrix 5'7" | CG Casteel | 2022 State AZ (2022, PG) – Super quick point guard who demonstrated that she can run a team.  Hendrix is cat quick in transition and she appears to have gotten bigger since the end of last season where she was at Gilbert High. Casteel is guard heavy but I expect Hendrix to be a big part of the team's expected success this year. She also has the potential to be a defensive stopper as well.
Westwood
Nyese Jones Nyese Jones 5'4" | CG Westwood | 2022 State AZ (2022, CG) – Jones has a solid all around skill set for the CG position.  She runs the break well with her head up, makes solid interior passes off the bounce, finishes with both hands, and has a quick three point shot.. Jones plays a lot of basketball and you can tell based on her basketball maturity and overall understanding of the game. She is a steady contributor.
O'Connor
Katy Frost Katy Frost 6'0" | PF Sandra Day | 2023 State AZ (2023, PF) – Frost was a warrior all weekend. She is an outstanding rebounder, an effective scorer in the paint with both hands and she is an instinctive player.  Frost has improved so much since her freshman year and she will be a force for O'Conner for the next 3 years.  Physical but yet a rather skilled player.