How it all shook out in '19-20
Try to keep up with the following numbers and letters as it's a bit confusing — Cañon City tied with Sierra for the 4A C.S. Metro League crown, each team 14-1 in league, 20-5 overall. Mesa Ridge was four games back, and Harrison and Widefield six. Woodland Park was 6-17, 4-12.
4A Coronado was 7-17 in the 5A-4A, where 5A Palmer was a game-and-a-half better at 8-15.
Got it?
Teams – Cañon City, Coronado, Harrison, Mesa Ridge, Palmer, Widefield and Woodland Park.
Which playoff team advanced the furthest?
Cañon City earned a first-round bye and enjoyed two double-digit victories before being overwhelmed by defending 4A champion Mullen, which rolled by 70-33 in the quarterfinals. No other league team made it out of the second round in any other bracket.
A few returning players to watch
Zion Cantres, Palmer, 2021, F, 6-0
Cantres brings defense and rebounding inside for the Terrors. As a junior last winter, she averaged 5.4 points, five rebounds and 1.7 blocks and will be a key piece of a returning core of players with high hopes for the coming season.
Mady Ley, Cañon City, 2022, G, 5-9
Key Tigers seniors graduated; now, it's her turn. Even while playing with a pair of talented seniors in 2019-20, Ley averaged eight points, 3.5 assists, 3.9 rebounds and 3.1 steals a night for a Cañon City teams that upset No. 1 overall seed Sand Creek in the second round of last year's Class 4A state tournament.
Liliani Krause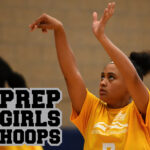 Liliani Krause 5'9" | SF Widefield | 2021 State CO , Widefield, 2021, F, 5-9
Looking to improve 35 percent field-goal shooting, Krause will likely be in the driver seat for Widefield yet again. Widefield began the year 0-7 but found its footing once it hit its league schedule and Krause, who had five double-doubles during the year and 90 offensive boards, was a big reason why. She averaged 14.3 points and 7.8 points.
Amyah Moore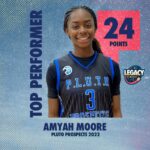 Amyah Moore 5'9" | SG Harrison | 2021 State CO , Harrison, 2021, G, 5-8
The league's leading scorer (21.8 points) returns. Moore also averaged 3.3 assists, six rebounds and four steals per game and scored 20 or more points 15 times in 2019-20 and proved herself capable of taking over a game at any time. She'll have some tough competition to fend off but Moore has to be the earlier favorite for player of the year in the C.S. Metro South.
Alyssa Rodriguez-Trujillo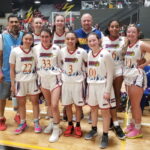 Alyssa Rodriguez-Trujillo 5'5" | CG Palme | 2023 State CO , Palmer, 2023, G, 5-3
Rodriguez led Terrors in scoring (13.5 points) as a freshman, so it will be exciting to see how far she can climb from there. Small but unafraid when attacking the basket, Rodriguez also shot 39 percent (64 for 164) from 3-point range last season and will be looking to light up the scoreboard as a sophomore in Season B.
Some other names to know
Kassidy Cargill, Woodland Park, 2021, C, 5-11
Fatinah Muhammed Fatinah Muhammed 5'10" | SF Coronado | 2021 State CO , Coronado, F, 5-10
Emily Schumacher, Palmer, 2021, F, 5-11
Emily Till Emily Till 6'0" | PF Canon City | 2022 State CO , Cañon City, 2022, F, 5-11
Marissa Spencer, Mesa Ridge, 2021, F, 6-0
A quick, early look to Season B
It's another byproduct of the coronavirus (COVID-19) – one league, seven teams and three classifications. Palmer, which has some height, will be a popular choice as the five 4A entrants took some graduation hits, But there's a league title available and a half-dozen others feel it's about as wide open as a Colorado High Plain.