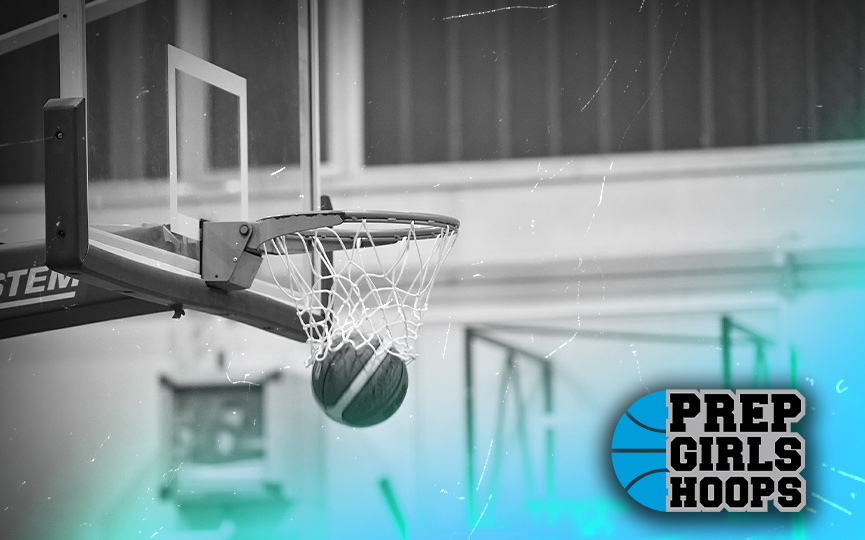 Posted On: 03/19/21 12:59 PM
Last weekend was the annual Shamrock Classic, with nearly everyone who's anyone in Indiana in terms of grassroots teams and players participating. With it only being a two-day event this year, I was unable to see every team I wanted to in the 17U-14U divisions, but I was able to catch more than 30 teams in action. Below is a look at seven individuals who I saw for the very first time in-person, and my impressions of their play over the weekend.
Olivia Faust Olivia Faust 6'0" | SF Triton Central | 2022 State IN , 2022, 6-0 SF, Franklin Central H.S., Indiana Pride Attack
I've had Olivia's name for some time now, but the way things worked out last Summer, this was my first opportunity to see her in action. She is extremely long, fairly fluid, and she plays with a great motor. She has tremendous touch on her jump-shot and is a dangerous weapon around the perimeter. She is still somewhat slight of frame, but she at least tries to get inside and rebound, defend, and mix it up at times. I think she could make for an outstanding motion offense type of wing who you set screen after screen for to get open looks.
Camiell Perry, 2022, 5-4 PG, Speedway H.S., Indy Lady Impact
Camiell is another player I have been aware of for some time, but I didn't see her on the travel circuit last Summer, and I haven't seen Speedway play in a while either. She was impressive in stretches, and fairly steady the rest of the time. She is an extremely quick/fast little water-bug who flies all over the floor. She does a nice job of changing speeds, sensing tone, and getting gaps to collapse defenses. She is a more than willing passer, as evidenced by her 7.4 assists per game this season and her 6.2 average in 64 games over three seasons at Speedway. She can also cause problems by hounding the ball defensively.
Kaitlyn Shoemaker, 2023, 5-4 PG, Noblesville H.S., IGB-Novinger
Kaitlyn is another little playmaker who understands how to play and run a team. While it might be difficult at times to get minutes in a high school backcourt that includes Ashlynn Shade Ashlynn Shade 5'10" | CG Noblesville | 2023 State #33 Nation IN and  Reagan Wilson Reagan Wilson 5'7" | PG Noblesville | 2024 State IN , Kaitlyn showed what she's capable of last weekend, as she led her team to the 16U Semifinals, losing on a last second shot. She has good length, speed and quickness, and she plays with her head up scanning the floor. She was a knockdown shooter in the two games I saw of her, but it was her ability to seemingly always make the right play, both offensively and defensively. The Millers will be tough to beat the next two seasons.
Cadence Thomas Cadence Thomas 5'7" | CG Decatur Central | 2023 State IN , 2023, 5-7 CG, Decatur Central H.S., Indiana Flight-Long
Cadence has had a pair of nice seasons for a Hawk team that isn't overly deep with talent. She is a strong and athletic combo guard with good length, and she plays with a nice motor. I had heard she was a capable scorer and a solid perimeter shooter, but watching her on Sunday, I was more impressed with her ability to handle the ball and create offense for herself or teammates. She does a nice job of lowering her shoulder level and absorbing contact, getting into the defense, and finishing at the basket. She was also fairly active defensively.
Alexis Castator Alexis Castator 6'0" | SF Carroll (Fort Wayne) | 2024 State IN , 2024, 6-0 W, Carroll H.S. (Fort Wayne), Always 100-Paul
Alexis is a highly skilled, very talented prospect who I simply missed last Summer because she was injured the times I was able to see her grassroots team play. I did see her on film a couple of times this Winter, but it was much better watching her in-person on Sunday. She has good length, a wiry strong, athletic frame, and she moves somewhat effortlessly around the court. She can handle the ball to attack, create, or run offense, plus she's capable of shooting/scoring it at all three levels. She is one of the top prospects in Indiana in a 2024 class that's deep with guards and wings.
Kristian Dinkins, 2024, 5-7 CG, Indiana Math & Science Academy, Indy Lady Impact
Sunday was my first time seeing and even hearing about Kristian. She is a nice talent who was really intriguing in her style of play. She has a fairly strong frame, with broad shoulders, some length, and she played with good physicality. She looked more like a forward physically, but she's a nice athlete in most directions, she showed a solid handle, and she just made plays the entire time I watched her against 17U competition. I'll need to see her again at length a little more, but I would say she has a lot of upside and could be a handful at IMSA next season.
Camryn Runner Camryn Runner 5'7" | CG Hamilton Heights | 2024 State IN , 2024, 5-7 CG, Hamilton Heights H.S., Indiana Flight 16U UAA
If I'm not mistaken, Camryn's grassroots team only played in one tournament last Summer/Fall, but I wasn't able to catch them, so this was my first time seeing her live after a stellar Freshman year. She has tremendous length, she's fluid and smooth athletically, and she's very skilled. She can handle it some and run offense, she has a beautiful and dangerous jump-shot, and she can get by defenders to create scores. Camryn does need to get much stronger for the next level, but she still might grow another inch or two. She's primed for a great Spring and Summer, and I can see her interest really taking off.