2021 Nicole Gardiner Nicole Gardiner 5'10" | SG Maine South | 2021 State IL , 5'10″ Guard, Maine South
Gardiner is a versatile Guard who can play the 1-3 well due to her ability to be a reliable ball-handler and score from the wing. She shoots the ball well from beyond the three-point line and uses her strength and toughness to attack the lane and finish through contact. Nicole is a big asset on the defensive end with her ability to guard multiple positions effectively.
2023 Emily Fisher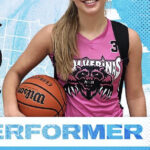 Emily Fisher 6'0" | SF Libertyville | 2023 State #48 Nation IL , 6'0″ Guard, Libertyville
A Top 10 player in Illinois' Class of 2023, Fisher is a confident and highly skilled Guard who can play on or off the ball. She uses her strength to drive the lane and absorb contact at the rim, as well as exceling in the post on both ends of the floor. Emily shoots the ball well from deep but does most of her scoring in the lane with her great footwork and craftiness.
2022 Nakia Bardney, 6'1" Guard, Simeon
Bardney is a high upside Shooting Guard who impressed during her first game with Simeon. She is a great athlete with a terrific motor, which allows her to excel in an up-tempo game and bring down several rebounds per game. Nakia is a great passer and uses her speed and length to find success in the transition game.
2024 Xamiya Walton, 5'7" Guard, Butler College Prep
A top player in the Freshman class, Walton made her high school debut this week with a pair of impressive performances. She is a skilled ball-handler who makes good decisions with the ball in her hands and has a basketball IQ well beyond her years. Xamiya is a knock-down shooter from deep and tough on-ball defender against opposing Guards.
2021 Sydney Affolter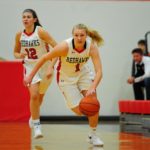 Sydney Affolter 5'10" | SG Marist | 2021 State #75 Nation IL , 5'10″ Guard, Marist
The #3 Ranked Player in Illinois' Class of 2021 picked up right where she left off last season as one of the toughest Guards to contain in the state. Affolter is a great shooter from deep and uses her strength and physicality to dominate inside. The Iowa commit is a versatile defender and all-around outstanding competitor who does whatever it takes to bring home a win.
2022 Hailey Markworth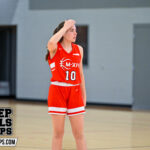 Hailey Markworth 5'9" | CG Lyons Township | 2022 State IL , 5'9″ Guard, Lyons Township
An underrated Guard in the Junior class, Markworth has had a strong start to the season on both ends of the court. She is a composed ball-handler who looks to attack off the dribble and uses her strength to finish through contact at the hoop. Hailey continues to develop an impressive shot from deep, and obviously takes pride in her play on defense.
2022 Whitney Dunn Whitney Dunn 5'8" | CG Kenwood | 2022 State IL , 5'8″ Guard, Kenwood
A high-level Combo Guard with a high-level shot from deep, Dunn continues improve an offensive skillset that was already among tops in her class. Whitney is a quick, confident ball-handler who is tough to stay in front of and often beats her defender before showing off her playmaking ability in the lane.
2021 Emma Morrisey Emma Morrisey 5'7" | SG Saint Viator | 2021 State IL , 5'7″ Guard, Saint Viator
The talented Shooting Guard had big-time week scoring the ball and leading her team to impressive wins. Morrisey is a excellent shooter from beyond the arc and has the ability to drive past defenders who don't close out under control so that she can make plays in the lane.