Raised in a small Colorado mountain town and having lived in several places in the state I have a bit of a soft spot for Colorado teams who find their way to Kansas events.  Especially when they are from places I have lived.  I lived in Colorado Springs for a couple years around the turn of the century and spotting this young team with the coolest uniforms ever, I had to learn more about 719 Tribe 16U.  I saw them play twice on day 1 and the team found themselves in two very similar games.  The first they could not quite get over the hump to make plays and pull out a win.  A few hours later they took a lead and broke a game open late by being able to make plays and finish with a double digit win.  Win or lose, they showed solid team chemistry and strong, consistent energy on the floor.  Below is a look at each player on the team.
Dayshaynay Bruner, 5'11", PG/C, Coronado, 2024 – Bruner will be one to watch as her game grows.  She has a good build and showed the ability to get into the lane from the wing off the bounce with her left.
Bailey Darneal, 5'4″, CG, St. Mary's, 2023 – Darneal played three positions including the point at times and transitioned end-to-end well.  She operated well in space and with her head up when handling, especially on the wing.
Allison Leisher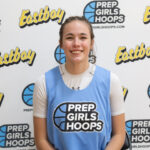 Allison Leisher 6'0" | SF Coronado | 2023 State CO , 5'11", SF/W, Mesa Ridge, 2023 – Leisher showed diversity in her game including three point range and creativity around the basket.  She has handles and athleticism to get into the lane and can absorb contact on the finish.
Kieren McCormick, 5'10", F, Mesa Ridge, 2023 – McCormick showed versatility to play several back court and front court positions.  Running the point from time to time she showed solid handles to distribute.
McKenna Rempel, 5'8″, SF, Coronado, 2023 – Rempel has the potential to be a very strong defender.  Continued growth in her lateral quickness and she will be on her way.  Rempel had a nice made three on the wing and showed she has athleticism to finish in transition at speed.
Angel Riser, 5'4″, PG, Palmer, 2023 – Riser was in the rotation running the point often and showed solid speed with the ball.  She plays with confidence but needs to cut down on a consistent handling issue and improve shot selection.  When in a good grove she blew the doors off defenders in the half-court to get into the lane.
Alyssa Rodriguez-Trujillo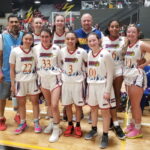 Alyssa Rodriguez-Trujillo 5'5" | CG Palme | 2023 State CO -Trujillo, 5'5″, CG, Palmer, 2023 – Trujillo showed quick feet on both ends of the floor and the ability to handle solidly at speed.  She created well off the bounce and showed deep three point range.  I would like to see her get more air under the ball in all shooting situations.
Tara Sandoval, 5'7″, G, Palmer, 2023 – Sandoval has some scorer's mentality.  While I would have liked to have seen more speed, she navigated traffic end-to-end with the ball.  She also made the athletic shot off the lane drives.  Sandoval will take the step-back perimeter jumper.  As she improves her shooting percentage her ability to rack up points at all three levels will take off.
Featured image: Front left to right; Angelina Risler, Tara Sandoval, Alyssa Rodriguez-Trujillo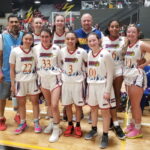 Alyssa Rodriguez-Trujillo 5'5" | CG Palme | 2023 State CO -Trujillo, Bailey Darneal. Back row; Asst. Coach Ray Sandoval, Kieran McCormick, Allison Leisher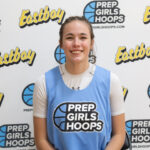 Allison Leisher 6'0" | SF Coronado | 2023 State CO , Head Coach Eric Trujillo, Dayshanay Bruner, Makenna Rempel.