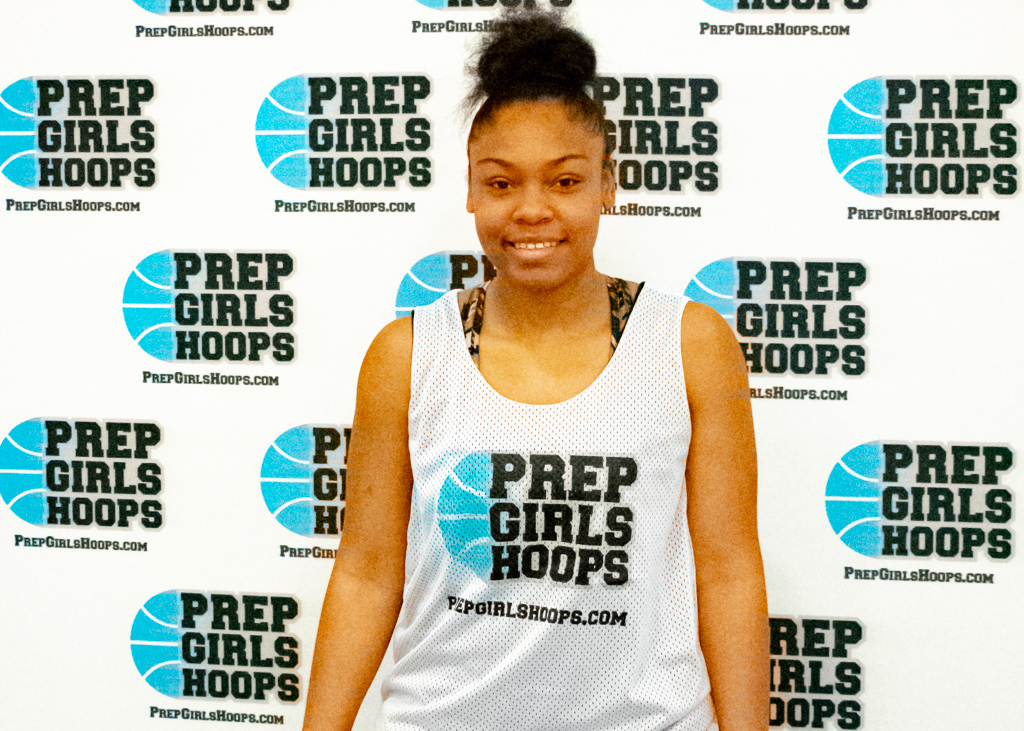 Posted On: 05/24/21 9:18 AM
The featured image is of Samara Douglas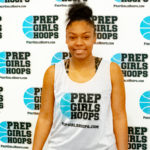 Samara Douglas 5'11" | PF Covenant Christian | 2022 State IN (2022) of Covenant Christian High School and Indy Magic BlueStar-Blanding 17U.
This past Saturday was the 4th Annual Scouting Indiana Uncommitted Showcase, and the second consecutive time it has been operated in conjunction with Prep Girls Hoops Indiana. Throughout this week, I will go through and highlight a number of girls from the event in a variety of categories. Doubling as the event coordinator, it was tough to sit down for long stretches and evaluate everyone at length, but I will do my best to include as many girls as possible throughout this week's coverage.
In this first article, I wanted to focus on what I'll call "eye-catchers". These are the young ladies who I quickly noticed each time I stepped onto a new court. Maybe they did or didn't perform the most consistently for their teams throughout the event, but they were easily noticed when I got glances of them and their teams during the game portions of the showcase.
Kuryn Brunson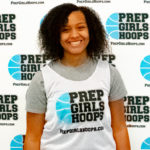 Kuryn Brunson 5'10" | SF Franklin Community | 2022 State IN , 2022, 5-10 W, Franklin Community H.S.
When Kuryn is determined, she can be one of the more dominant players on the floor in most games. During the second half of the day, she seemed to really step up and assert herself at both ends of the floor. She has a strong frame, she's willing to be physical, but she's highly skilled with the ball in her hands and can make plays at all levels. She is a point guard by nature, but she can play a wing or forward spot out of necessity as well.
Samara Douglas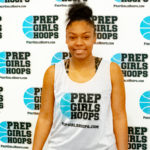 Samara Douglas 5'11" | PF Covenant Christian | 2022 State IN , 2022, 5-11 PF, Covenant Christian H.S. (Indianapolis)
Samara is another kid who is just so strong and athletic, plus she plays with a nice motor. She really stood out by out-working her opponents and using that strength to crash the boards. She got out in transition well and seemed to finish around the basket pretty strong and aggressively. She has shown the ability to face the basket to about 15-feet in the past, and I think her mid-post offensive game will really help her recruiting.
Olivia Faust Olivia Faust 6'0" | SF Triton Central | 2022 State IN , 2022, 6-0 SF, Franklin Central H.S.
Everyone talks about under-the-radar kids, but Olivia is primed to have a huge Summer. She hasn't really played a lot of grassroots basketball in front of many coaches until this Spring, so I think she could have a huge July if she continues to just be herself. She is extremely long, fluid, and she is a knockdown shooter. You can't give her any space, and even then she can hit tough, contested shots. She has a unique talent for shooting it.
Gabrielle Hoover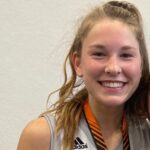 Gabrielle Hoover 6'2" | PF Penn | 2022 State IN , 2022, 6-2 PF, Penn H.S.
Gabi is on as much of an upward trajectory as anyone in 2022 right now. I had to look at my roster a couple of times Saturday to see who #76 was, because she looked so much stronger and more physical than I ever remember her being. She looked more fluid, she was making quicker decisions, and she was consistently good each time I saw her play. As she continues to gain strength, look for her to draw more and more college interest.
Montasia McAllister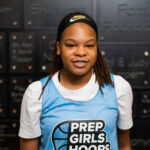 Montasia McAllister 5'10" | SG Lawrence Central | 2022 State IN , 2022, 5-9 SG, Lawrence Central H.S.
Montasia stood out in a much different way than most of the girls at the showcase Saturday. She has a natural smoothness to her game, that it almost looks effortless at times. She has really good length, she can put the ball on the floor and create space, and she has a nice pull-up jumper. But she moves differently, more fluidly, than many of her peers. She is a legitimate scoring threat each time she catches it, and her stock is rising quickly.
Taylor Treat Taylor Treat 5'5" | PG New Albany | 2022 State IN , 2022, 5-5 PG, New Albany H.S.
Taylor is one of the more underappreciated small guards in Indiana in 2022, but she can play. Every time I looked over, she was breaking down a defender or knocking down a tough shot outside. She has very good speed and quickness, and she always plays with a motor. She has a nice feel for the game, she willingly finds teammates at the basket, but she also seems to take a lot of pride in her defensive effort each game.
Riley Makalusky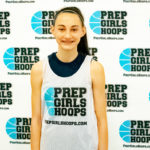 Riley Makalusky 6'2" | SF Hamilton Southeastern | 2023 State IN , 2023, 6-1 W, Hamilton Southeastern H.S.
Riley definitely stood out as much as anyone Saturday, because it's tough to miss a 6-1 wing breaking down defenders around the perimeter. Her transformation from being regarded as more of a shooter a couple of years ago, to now being a multilevel scorer who can pull up or get to the rim and finish has been impressive. I think as she's gotten stronger, her confidence has grown, but she's becoming a real matchup problem.
Emma Haan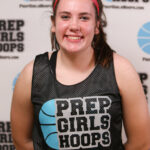 Emma Haan 5'7" | SG Zionsville Community | 2024 State IN , 2024, 5-7 W, Zionsville Community H.S.
There are a lot of kids who play hard, but somehow Emma takes that to a whole different level each weekend. She has always been a strong, physical, effortful wing, but this past year she has made noticeable strides in developing her handle and her perimeter shooting. She's doing a much better job of absorbing contact while maintaining her dribble, and if she gets her feet set and has rhythm, she's knocking down jumpers consistently.