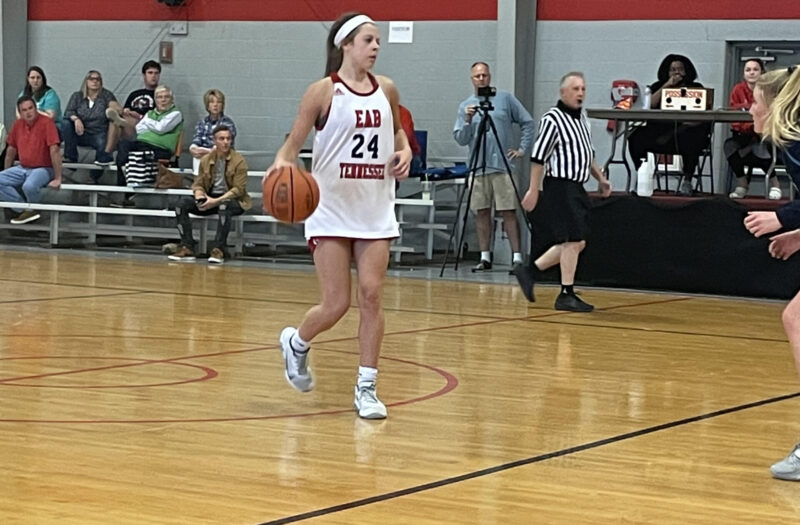 Posted On: 05/5/21 5:18 PM
The TOA Center was on fire all day at the Music City Showdown. There were a lot of games where teams traded buckets back and forth. Girls displayed their athleticism, court awareness, heart, pride, and showed grit while they grinded towards victory. Saturday night showcased young ladies who are on the cusp of greatness. Achieving that opportunity of being seen was on tap, and these ladies definitely didn't disappoint.
It may have been dark outside, but these young ladies shined brighter as they found ways to stand out amongst the talent in the gym. Here are a few prospects that stood out from the night session at the Music City Showdown.
Macy Runner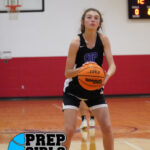 Macy Runner 5'6" | PG Nelson County | 2023 State KY (Jr./ SG/ OTP)- The 5'7 hooper from Kentucky was carrying her team throughout the course of the night. Macy was lighting it up from downtown as well as slashing to the hoop to finish at the rim. She is a very heady player who shot the ball well at a high clip consistently throughout the game from all levels. Macy moves well without the ball in her hands, finding areas to exploit to put up shots. Look for her to attract the attention of coaches moving forward this summer.
Jada Driver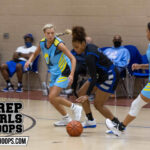 Jada Driver 5'8" | SF Marshall County | 2022 State KY (Jr./SG/ Tennessee Sol)– The 5'10 SG is long and athletic. The Marshall Co. product was a threat from deep during the night session. Her size creates many mismatches to where she can use her body to her advantage. She has a nice mid-range game that compliments her ability to shoot it from deep. Jada displayed great court awareness down low, finishing around the bucket. Defensively, she has great instincts that allow her to jump passing lanes, leading to transition buckets for her club. She handles the ball well for her size. Look for her to continue on an upwards trajectory and gain plenty of eyes from college coaches.
Emiyah Cobb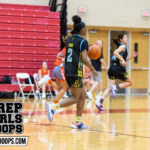 Emiyah Cobb 5'10" | CG Clarksville Northwest | 2023 State TN (So./ CG/ Tennessee Sol Black)– The 5'10 shift guard was a handful all night long. Cobb has the ability to slash through the lane and unleash a nice mid-range game. She has a quick first step, great handles, and is a mastermind with the ball in her hands. She knows how to set up her defender, creating space to attack or either shoot a stepback shot. She shot the ball consistently well from long range. Defensively, she was a lockdown defender. Multiple times she was up in her opponent's face creating havoc. This prospect is someone exciting to see. She gives off a cool and calm vibe, but this young lady has a dawg attitude about her. Look for her to jump on the radar of collegiate coaches.
Torri James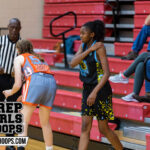 Torri James 5'11" | PF Rossview | 2024 State TN (Fr./ PF/ Tennessee Sol Black )– The 5'10 Rossview product was a beast down low. She established a zip code in the paint, grabbing boards on both ends of the floor. She plays the game with a high motor and moves well for a big. Torri has a great basketball IQ. She has a nice touch from the mid-range and creates footwork around the block. Though she maybe young, look for Torri to play a pivotal role in the success of her club this summer.
Iyanna Curtis (So/ CG/ Tennessee Sol Black)– This 5'9 kid from Clarksville, Kenwood High, is very athletic. Her forte is defense, where she plays with a high motor that leads to success at the other end. Iyanna can shoot the ball well, but as she continues to develop, look for her to add much more to her game. Her athleticism is off the charts. She was blocking shots, locking up defenders, and jumping on the floor for loose balls. Offensively, she was slashing to the rim, shooting mid-range shots, and distributing the rock efficiently. Look for her to take huge strides this year as she will be looked upon to play a major role both in travel and at her high school.
Sierra Kemelgor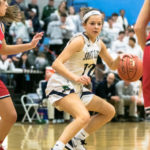 Sierra Kemelgor 5'8" | CG South Oldham | 2022 State KY (Jr./ CG/ EAB Tennessee)– She's a fierce competitor. The 5'8 guard is a hidden gem. She plays the game with grit. Doesn't matter if it's defense or offense, Sierra is going to go toe to toe with the opponent's best player. Saturday night was a coming-out party for this ballin diva. She was launching 3 balls, hitting mid-range jumpers, delivering behind-the-back passes, and breaking girls down to finish at the cup with ease. She was a catalyst to EAB's high pace attack. She brought not only the leadership to the floor, but the energy as well. Sierra was a go-getter that set the tone for her club. You could tell the girls on the team gravitate towards her by the way she plays. Look for her to be on a lot of collegiate radars this travel ball season. She's a steal for any program looking to build around someone special.
Zyion Shannon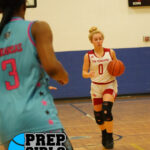 Zyion Shannon 5'7" | CG Stewart's Creek | 2022 State TN (Jr./ CG/ EAB Tennessee)– Silky smooth with the ball in her hands, Zyion is a triple threat guard who can fill it up. She possesses a quick first step that allows her to unleash her mid-range game or take it to the rim. She shoots the ball at a high clip at all three levels. She has great counter moves that leave defensive players wondering how to guard her. Defensively, she has incredible instincts that allow her to poke balls away from offensive players or jump gaps to steal passes. She is definitely someone colleges should keep an eye on.