As I said previously, the PGH Battle in the Sunflower was loaded with talent and choosing this All-Tourney team is not an easy task. The PGH Circuit is already one of the elite circuits in the country in just it's first year and we are seeing that weekend after weekend. High-caliber players are all over the floor and sometimes the margin between talent levels can be razor thin. With all of those excuses out of the way, here are the five players who stood out amongst the group of very, very good basketball players.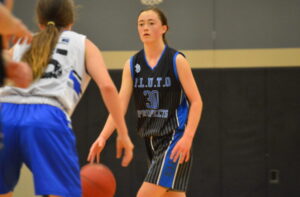 Emily Huxtable | 5-7 PG | P.L.U.T.O Prospects 2023 / Rampart | 2023 | @PLUTOBasketball
This pick for first team was a no-brainer. Emily was the best player on the court in every game that she played. She scored 20 or more in two games and had double-digits in the other two. She isn't the biggest player (5-7 may be a stretch), but her play is as big as it gets. She has a dribble drive that was unmatched on the weekend, weaving through traffic to get to the rim and finish with ease. She isn't just a finish at the rim guard, though. Not by far. She is a ridiculously good shooter with an absolutely gorgeous jump shot that is silky smooth. She is also clutch. As a college coach walked up to talk to me, he asked if there was anyone in the game worth knowing. With the game tied with one minute to go, her team was inbounding the ball from their own baseline. I said, "This number 30 is the best shooter here and if they leave her open, she's gonna win the game." Next thing you know she came off a screen, found herself open in the corner, got the pass and won the game with a three. I am willing to bet that this particular coach – who talked to her and her family after the game – was not the only one that walked away impressed after the weekend that she had.
Aleah Moree | 6-1 F/C | ICT Surge 2023 / Winfield | 2024 | @CoachLipMD
They just don't make many players like Aleah. She is big and strong and long and tough and physical and plays with finesse and has touch… I could go on and on. Obviously. I keep notes on players and add over the course of the weekend just a few words here and there. This is word for word the notes that I wrote down. She just kept showing me things that I hadn't seen before. She scores inside and midrange, but she isn't limited to just offense at all. Aleah plays tremendous defense down low and can shut down any inside scoring threat that she faces. She plays smart defense, getting good position and using quick hands to disrupt shots and knock the ball loose as it comes into the paint. Not many players in high school will reach up with one hand to snag a pass meant for the opposing center and actually corral it rather than knock it loose and cause a mad scramble for it. Moree can do it all. She is just a different kind of post player and as only a 2024, it will be very fun to see how much better she gets as she progresses.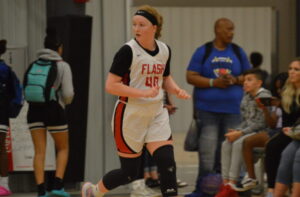 Alex Darling | 5-11 PF | Flash KC Red 2023 / Liberty | 2023 | @FlashPerform
When there are five games going on in the 16U age group spread out around 10 courts, it can be hard to see everyone and everything. I usually check with the scorer or the refs when I first get to the court where a game is going on to find out who is having a good game. Every time I walked to the court where Flash was playing, I heard the same thing. "Watch 40." "That lefty is nasty." "She's a beast inside." When I finally sat down and got a look, Alex did not disappoint. She has very good post moves and her left handedness throws a lot of defenders off. She just moves different when she spins underneath. She is strong and has a body built for the beating under the basket. Though, I should say she is definitely not limited to just a post role. She brings the ball up the court a lot and can shoot it from outside, too. She is a definite hybrid type of player and a consistent "bucket-getter" who scored double digits in every game.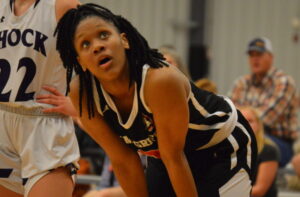 Aubrey Hishaw | 5-10 G/F | Team Griffin 2023 Select / Union | 2023 | @AubreyHishaw
I feel like I might have overlooked Aubrey going into the tourney because I see a lot of her. I cover Oklahoma for PGH and she literally goes to the same school and is in the same class as my son. Sometimes you just take players for granted when you see them a lot and they perform at a consistently high level. To see her do her thing at Union High is one thing, but when she goes to a tournament that is loaded with talent like the PGH Circuit is and stands out even more, then you know she is the real deal. She is long and strong and can pretty much play all five spots as needed. She plays outstanding defense and has the ability to lock down the opposing teams star. She is a good teammate who communicates well and is a huge asset to every squad that she is on. Even if she isn't filling it up in any given game, her presence on the floor is enough. She is the key cog in whatever it is that her team is trying to do. She is a smart player who does all of the little things that a coach could want. With her work ethic and the tutelage of coaches like Chuck Cobbins and Joe Redmond, I think that Hishaw is a D-I caliber player.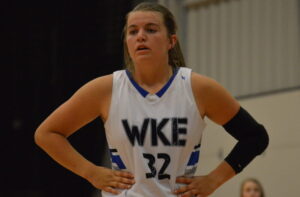 Madi Denison | 5-11 F | Western Kansas Elite 2023 / Minneola | @DenisonMadi
When I write something like the "Day One Standouts" piece I did Saturday, I usually try not to highlight players that I already feel like will make the first team – so as not to write about the same player twice in a row. However, when a player like Madi stands out after the first day and then just keeps standing out every time that you watch her, sometimes that very thing happens. Denison just kept on scoring. She also kept on doing the little things that coaches and scouts love to see. She guards the point in the zone defense and has the length to disrupt the guards vision and the quickness to stick with the guard should they try to blow by her. She is resilient and smart and you can see that she is always thinking of the best thing to do to put her team in the position to win. Her coach bragged about her "coachability" and her willingness to work on things. She fills it up from inside – and sometimes outside – and has very, very good footwork for a big. She has soft hands to receive the ball and does a great job – probably better than anyone I saw this weekend – of getting turned to the basket and putting herself in a position to score. Denison is one to watch and it sounds like she is a coaches dream!
Stay tuned for the PGH Battle in the Sunflower All-Tourney Second Team tomorrow!