Prep Girls Hoops Live: Lena's Day 1 Standout's 
The largest event thus far in the Prep Girls Hoops circuit and it has not disappointed. The schedules are stacked and the teams clearly came ready to compete. With plenty of scouts and coaches watching, it's making for some very head-turning performances. 
I promise you- there was not one bad game in the gym today. If you're looking for players with high ceilings, well-developed skills, and exciting energy- PGH Live is the event. Let's break down a few of the players that stood out on Day 1.
Nevaeh Thompson | Wisconsin Playground Club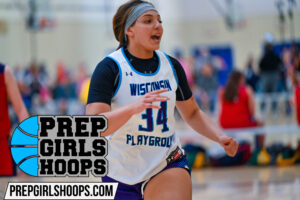 Thompson displayed incredible strength in the lane and versatility when she was attacking the rim. She is such a unique player that brings a lot of things to the table, her energy is simply just fun to watch as a scout. The way that she uses her body when attacking from the perimeter is what sets her apart from her opponents. She also has an underrated basketball IQ that coaches should pay close attention to. 
Cora Olsen | Nebraska Attack 
A noticeably athletic guard that plays with a high motor- Olsen was having herself a game early Saturday morning against the Wolverinas. Her first step from the perimeter is explosive and she can finish with either hand against contact at the rim. She showed glimpses of impressive facilitating as well for her team. 
Emily Fisher | Wolverinas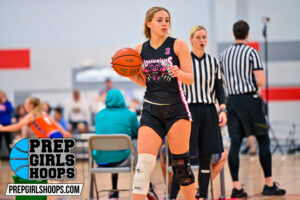 Coming into the weekend fresh off an offer from the University of Michigan, all eyes were on Fisher. She's a high major guard that has gifted athleticism and skills to match. Her face-up game is elite. Her ability to split the defender and get to the lane is unlike anything I watched all day. She does a nice job of squaring her shoulders before the shot-making her very consistent in the mid-range. 
Savannah James | Wisconsin Playground Club 
James continues to impress me every time I watch her play. She's scrappy yet aggressive and can take over a game with her offensive ability. She contributes some of everything for this team, passing, scoring & high-pressure defense. She finished with 10 points in a victory over Omaha Sports Academy. 
Audi Crooks | CY Select Wolves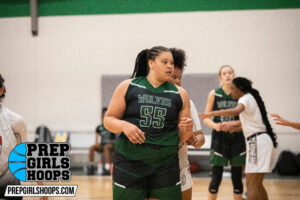 I cannot mention "Standouts" and not mention Audi Crooks. The Top Player in Iowa's Prep Girls Hoops rankings is always at her best. She is simply, elite. She's as strong as they come in the paint and her ability to use her body without committing a foul is impressive. She has a great touch on the ball and finishes consistently inside. She has shown elite passing out of the post as well which has been fun to see for both her and her teammates. 
Kamyra Barber | Kansas Bluejays 
Barber put together a very nice performance today for her team. She has elite handles and creativity finishing at the rim. I was impressed with her offensive flow and feel for the game, she's a super quick guard but doesn't force anything! She showed patience and composure before attempting a shot and did well dishing to her open teammate. 
Paige Lambe | Let It Rain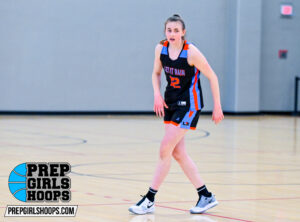 The first thing I noticed was the clear athleticism that Lambe has. With each possession she is getting up and down the floor efficiently, as the tallest player on the squad and the go-to "post" player, she is just as quick as all of her teammates. She was successful tonight playing post defense, she's a versatile defender as she can certainly step outside when necessary. Keep a close eye on Lambe, her future is bright with this program.
Sidney Fillbach | Team Wisconsin
Fillbach was turning heads today offensively. She has a really nice feel for the game. Fillbach found her way around some tough Southeast Dynasty defense this morning. She will be a key player for this team moving forward- if she's doing well I believe the rest of the players will work off of that. An impressive re-bounder for Team Wisconsin too, Fillback had a solid overall performance today. 
Allison Hampel | Wisconsin Fuel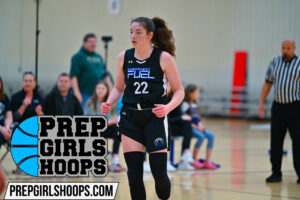 Hampel continues to raise her stock this summer and show how mobile she can be on the court. She's taking a lot more risks offensively than she has in the past and it's been very beneficial for her. She's attacking frequently from the perimeter and showing her range far outside of the lane. Her ball-handling has improved tremendously as well as her overall feel for the game. Always been a fan of Hampel on the block so watching her continue to develop different assets of her game is exciting! She earned "Top Performer" with a game-high 17 points for her squad.
Sydney Hurd | CY Select Wolves
Incredible positional size by the 2023 wing. Hurd did an excellent job today getting up and down the court in transition play. Her eyes are always up and her hands are always ready for the ball. She sets really hard screens for this team and impressed me by the way she opens up and cuts towards the basket afterward. A high ceiling wing who could also be dominant in the paint. 
Alliyah Thompson | CY Select Wolves
Thompson's stock is rising! I'm so glad I was able to see the CY Select standout compete today. Incredibly composed and smart handling the basketball. She was truly scoring at every level today which was fun to watch during such a talented tournament. She has the footwork to maneuver her way into the lane and can draw the foul in the lane effortlessly. I can't forget to mention she might have the quickest release from behind the arc I saw all tournament. Thompson led her team in scoring 17 points against a tough South Dakota Attack squad. 
Molly Ladwig | Nebraska Attack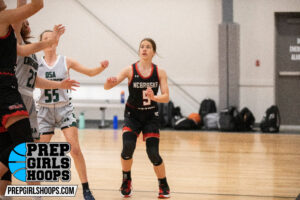 I enjoy the game of Nebraska Attack's Molly Ladwig. She's a two-way guard that showed smart decision-making to find her teammates. A scoring machine, Ladwig is a consistent shooter and a fantastic slasher. Great explosiveness around the rim, she is absolutely a player I want to see more of. Ladwig (2025 G) finished with 25 points against Team Factory. 
Alex Flattery | South Dakota Attack 
Flattery is another player that stood out first for her overall athleticism. She has the energy and agility to play a lot of minutes and remains consistent throughout. Her skill isn't far behind as Flattery has a great offensive game and the ability to handle the ball and finish coast to coast. She led her team in scoring against CY Select with 12 points. She showed glimpses of elite on-ball defense as well. 
Amaya Bridgewater | Wisconsin Playground Club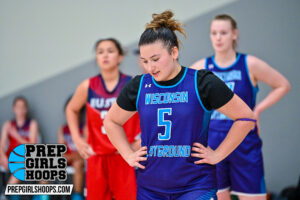 Bridgewater is another player that is coming into her own. She does a lot of things right for this team but most noticeable in my opinion is her ability to make the right decision for her team. Do I think she could take over offensively in every game & put up major numbers? Yes. However, that's not always the role she will take. Bridgewater seems to always do what is in the best interest of the team. She can defend multiple positions, handle the ball, facilitate or create for herself. Her work ethic and ceiling for success are high. 
Reagan Howe | Southeast Dynasty 
How displayed some big-time offensive today for her team. An energetic wing who can score at multiple levels of the court. She creates the tempo for both teams when she is on the floor- which is very impressive at this level. I like her composure against the tough Team 2911 defensive pressure she faced this afternoon. She has the positional height and footwork to be an impact player against any opponent she faces. She also did a nice job playing the middle of the 2-3 zone, keeping her hands high and making contact without drawing the foul.