Over the next couple of days, I will take a look at some of the top 15U performers from the PGH Victory Region Finals held in Fishers, IN last weekend. I did get to see every team play at least once, and this is what I saw while I was sitting courtside at their games.
Paityn Isom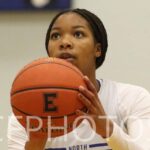 Paityn Isom 5'5" | PG North Hardin | 2024 State KY , 5-5 2024, Overtime Performance 1
A very solid point guard who displayed good handles under pressure, and has very good court vision. An excellent passer, Paityn was able to use her athleticism and body control to lull the defender then get by her to score at the rim or distribute. Impressed with her poise and demeanor both offensively and on defense. Able to play solid on-ball, solid ball pressure. (feature photo above on defense)
Alessia Nesbitt, 5-8 2025, TN Sol 2024 United
Can play either guard spot, and the more I watched her, the more I liked what she brings to the table. She showed a lot of energy and hustle with a nose for the ball. She displayed good handles and was productive when she had the ball in her hands. Poised player with a strong upside, as she heads into her freshman season, I expect her game to continue to grow.
Skyler Mills, 5-7 2024, Overtime Performance 2
Another talented guard who can run the floor well in transition, and is able to finish the play at the rim with contact. Her on-ball defense is solid and has the ability to use either hand when needed. Sees the court well, able to produce from a variety of ways. Smart player.
Carrington Boards, 5-4 2024, Hype Athletics 2024
Plays for a solid program and Carrington showed a good skill set from the point guard spot. She displayed good handles and was able to play at a good tempo. Showcased a nice perimeter game, while defensively she had good on-ball pressure and was able to suffocate her opponent with her speed and athleticism.
Taelyn Russell Taelyn Russell 5'2" | PG Westfield | 2024 State IN , 5-4 2024, IN Showcase 2024 Gorman
Very talented point guard who will find her teammates. Sees the court well, able to penetrate and dish for the open shot as she is capable of finding her open teammate on the move. Quick guard who can shoot with good range, not afraid of playing through contact.