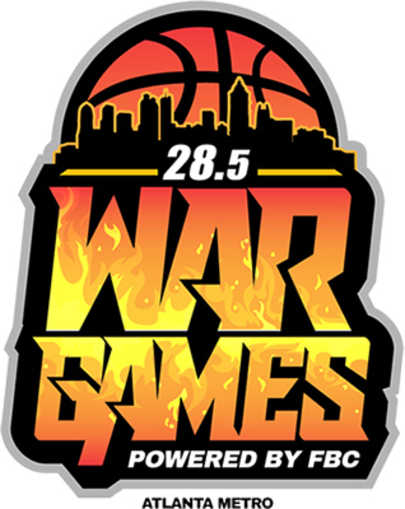 Posted On: 07/23/21 4:49 PM
Several programs traveled to Atlanta for the Insider Exposure's War Game event. Big shoutout to John McGraw for putting together another great event for the evaluation period and the hospitality whenever I check-in. College coaches lined the baseline for the early week action and several players took advantage of the opportunity. I had a chance to drop in on Wednesday and Thursday to catch a few of the programs across the southeast plus a few more. Here are the players that caught my eye.
Guards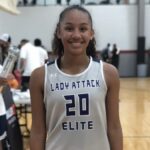 Cassidy Geddes | 5'6 | PG | 2023 | Lady Attack Elite National 2023 – A solid point guard whose biggest asset is the ability to control the flow of the game using tempo. Her head and eyes were up immediately after receiving outlet passes and she consistently pushed the ball with speed to keep pressure in transition. In the halfcourt, she did well taking on the pressure while still being able to facilitate or get a basket herself. A valuable piece on the defensive side as well, she picked up several steals using good instincts and an IQ of how to defend actions. She blew up dribble-handoff, stripped post while digging from help spots, and closed off gaps on drives. She'll be a PG at the next level.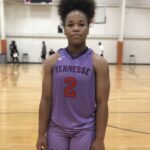 Jalisa Sanders | 5'5 | PG | 2022 | FBC Reign 22 TN – Jalisa was a pinball on the court. She has a frame that jumps out when looking at her and uses it to her advantage on the floor. Primarily a driver, she muscled defenders when putting her head down to get to the rim and show a good ability to finish through contact. On defense, she was able to use her strength and quick feet to stop drives or force guards to pick up the ball. She is a willing pass that still understands her own scoring opportunities.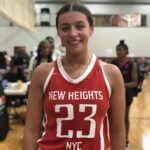 Grace Sundback | 5'10 | SG | 2023 | New Heights NYC – Grace has that hoopers demeanor that coaches can pick up on when watching a player in warmups. Nothing cool about it, but you can tell they are confident in themselves and their game. She put on a show from deep hitting four in a row on five possessions. She has a knack for getting lost and she knows when defenders have lost awareness of where she is on the floor. She's a winner as well and is willing to do what it takes to grab a victory. In the final seconds of her championship game, she set a neck-snapping screen which ultimately led to the game-winning assist. I'm sure coaches are going to be in on her heavily.
Summer Henderson | 5'8 | PG | 2023 | New Heights NYC – Quick in transition, gets into her running floater quickly even with a defender on her hip leading to fouls. She is an intelligent player and consistently made the right read when the ball was in her hands. A true facilitator that let the game come to her without forcing decisions.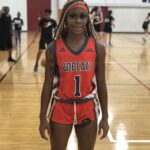 Charity Hinton | 5'4 | PG | 2022 | MBA Bobcats 2022 – Charity was a headache for opposing guards. The small guard is lightning quick and very shifty. She was able to penetrate the defense no matter who was in front of her. She has good ball-handling but rarely needed to use dribble moves in the game I watched because her first step and acceleration were enough to get it done. On defense, she is as pesky as they come. She picked up steals on and off the ball and is a lock to force turnovers every game.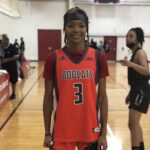 Mylani Galbreath | 5'9 | G | 2022 | MBA Bobcats 2022 – Mylani is the bigger of the chaos causing backcourt for MBA. Like her counterpart, she is very fast with the ball. She scored repeatedly in transition quickly turning her defense into layups at the rim. She is great defensively and had the speed and instincts to shoot the passing lanes or bait players into making passes only to close the gap and come up with steals. A seasoned finisher, she made some tough layups around the rim.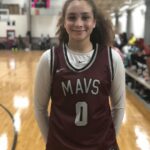 Kaya Goldsby | 5'7 | PG | 2022 | Mavs Elite Strong – Creed – Kaya is a floor general that leads through words and actions. She was relentless on both ends of the floor and did things that do not necessarily show up on the stat sheet. On several occasions she was able to disrupt the opposing offense by blowing up dribble-handoffs, fighting through screens, or making guards uncomfortable with the pressure. She is primarily a facilitator that relied on her IQ to make timely cuts for some tough finishes around the rim.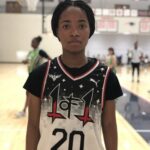 Michaela Bogans | 5'6 | PG | 2024 | 1 of 1 Elite 17U – Coaches should get familiar with Michaela. Playing up at the 17U level did not stop her from impacting the game in multiple ways. Her ball-handling and shiftiness are her calling cards without question. She has the ball on a string and can freeze defenders with moves followed by quick bursts to change speeds. She dribbles around defenders and through traps with ease. Her vision is also ahead of its time. She was able to make some last-second reads dropping passes off to post when making baseline and middle drives alike. She'll have a few double-doubles in points and assist as she goes through her high school career.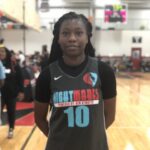 Ezaria Adams | 5'8 | PG | 2023 | FBC Nightmares Teal 2023 – Checking out the Nightmares has been on my to-do list for some time and they did not disappoint. Ezaria is a winner and I could not readily find a weakness in her game. Offensively she did everything you look for your PG to do. She penetrated to scored at the rim, connected from deep off the bounce when defenders sagged off and executed the pick and roll effectively. She was also a spark on the defensive end, which ultimately sealed a close victory. She got a quick strip on a late inbound play and scored the game-winning layup. The awareness to make a play on the ball instead of just conceding to the foul was impressive. Another under-the-radar guard in the Nightmares program.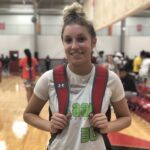 Victoria Drevna | 5'9 | G | 2023 | SLAMM 23 Woodson – Victoria had a great game which was almost enough to pull out a win. When scoring was needed to keep her team in it she showed up as a true playmaker. She scored from the two-guard spot by making some heady cuts and some acrobatic finishes. She also turned it up defensively and forced a few turnovers followed by quick assists to get her team ahead in the game. She did not shy away from the moment and had the composure to put her team on her back in the second half.
Alissa Cheek | 5'6 | PG | 2024 | Lady Royals 2024 – Alissa is a true playmaker. She was a blur in transition whether she had to weave through traffic or there was a clear path to the rim. She quickly got her eyes down the court and placed passes perfectly to teammates like Julie Janus. The two guards had great chemistry and found each other multiple times. In the first half of the game I watched, Alissa assisted or scored on more than half of her team's points. She does most of her scoring when getting downhill finishing at the rim or pulling up in the mid-range.
Wings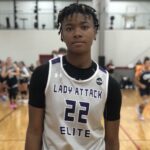 Jamecia Huntley | 5'9 | SF | 2023 | Lady Attack Elite National 2023 – Great motor on both ends and a slasher on offense. She is constantly moving and her activity leads to a lot of positive things. She rebounded well from the guard position and got her hands on a lot of balls on the defensive end. Great at using her length and anticipation to get steals and pick-up deflections. Runs the floor hard which leads to easy transition scores when switching from defense to offense.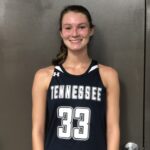 Clara Collins | 6'0 | W | 2023 | East TN Air Thunder – Clara can shoot the ball. At six-foot, it is hard to get a good contest on her shot. She has great mechanics and confidence that it's going in every time she gets one up. She was able to find open looks all over the floor and showed that she is consistent from the mid-range and from distance. The long guard is an effective ball-handler and showed that she could manage lead guard responsibilities in spurts. Defenders should be very reluctant to help off of her which opens the floor for some of the driving opportunities her teammates are able to get.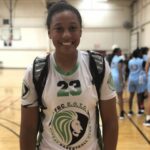 Jordan Kierbow | 5'8 | SF | 2022 | FBC EOTO Black – Kierbow had a good game, doing a little of everything for her squad. She has great versatility because she is willing to bang on the interior against slightly bigger posts players. She showed the ability to consistently hit the catch and shoot jumper from the high post and short corner. She showed her vision win making accurate passes in high low actions against the zone. Her effort on the defensive side allows her to defend just about every position on the floor. A nice player to check out for colleges outside of Division 1.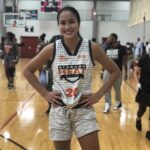 Elyse Hughes | 6'0 | SF | 2022 | Alabama Heat Elite 2022 – Elyse was one of my favorite players at War Games. She brings a combination of skill, toughness, and effort to the floor. She was able to put together dribble combinations that created space for her to get clean looks at the rim, and she converted. She used her length well to defend quicker guards on the perimeter and contested shots effectively even if there was a moment of separation. She was not hesitant to hit the glass either as one of the longer players on her team. D1's should give her a look as she would likely add value to many rosters.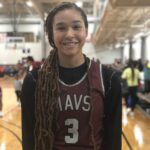 Karrigan Powell | 6'0 | SF | 2022 | Mavs Elite Stong – Creed – Karrigan is the true definition of a tweener. She does enough on the wing and on the block to split time in games. When on the perimeter she is not overly aggressive but has the strength to make straight-line drives through contact after a move to set up defenders. On the block, she is a great facilitator. She recognizes quickly when her cutting guards are open and uses patience when allowing them to clear before attempt to score it with a post-move. A good player that can be used in multiple ways and likely create mismatches.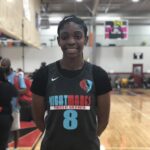 Bailey Gilmore | 6'2 | PF | 2023 | FBC Nightmares Teal 2023 – The potential is high when evaluating Bailey. She passes the eye test in the best ways. When watching her on the court the first thing that stood out to me was how fluid her movements are. She runs like a gazelle which leads to some easy transition baskets. She also showed a nice jump shot from the high post and when attempting to score from the block she does not give up on the play. She is capable of grabbing 2-3 offensive boards in a single possession, not stopping until the ball is scored or the whistle is blown for a foul. When her ball-handling takes that next step forward, paired with her athleticism, she could really be a problem on the perimeter.
Posts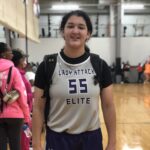 Amanda Sacoto | 6'1 | C | 2023 | Lady Attack Elite National 2023 – It is always fun to watch a post do post things. Sacoto was aggressive in the pick and roll. She seemed to truly understand the value of a good screen and the opportunities it creates for her to score. I called her a sticky screener because opposing guards really had a hard time getting off of her cause bigs to really have to help up. She rolled with an expectation to receive the pass and used good size and soft hands to catch over the top and get the ball to the rim. She was good on the glass and moved towards the rim after every shot attempt which helped her pick up some offensive boards.
Alona Allen | 5'11 | PF | 2022 | FBC Reign 22 TN – Alona had a quietly effective game. She did not fill it up with scoring but did a lot of the dirty work for her team. She showed good toughness and some skill from the center position. She was instrumental against the press where she was able to out-jump defenders for catches and half-court and use a good control of the dribble to get to the rim for finishes through fouls or passes to teammates for easy lays. She also banged around in the paint winning battles for boards against similar-sized interior players.
Clemisha Prackett | 6'2 | PF | 2023 | Team Thad – Colleges that love an uptempo style of play and versatile post players should get eyes here. Clemisha has all the intangibles for heavy pressure defense and a fast-paced offense. She has good athleticism and that valuable length when defending. She runs the floor hard consistently and can get out ahead of most opposing bigs in transition. She defended well on the block and rejected some shots while altering several others. I am curious to see how she is used at the next level because she can fill a lot of roles on the floor especially on the defensive side.
Aaliyah Del Rosario | 6'6 | C | 2023 | New Heights NYC – I am certain I am late to the party when it comes to evaluating Rosario. Elite size at the center spot, she was extremely hard to move off of her spot. She showed some good footwork at times after making some good catches on the block. When she decided to grab a rebound there was not much that could be done to stop her if there was no assistance from the referee. She is a handful in the paint and certainly a high-major talent.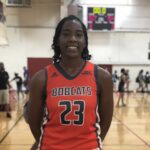 Roge'Ne Hillard | 6'1 | C | 2023 | MBA Bobcats – A force on the interior there was little the opposing team could do with her. She demanded touches on the block and made good on them often. She showed nice touch and some skill when finishing on the run or with reverses to get away from challenging defenders. She contested several shots at the rim and used a quick second jump to grab boards. A true post player that seemed to enjoy the physical play in the paint.
Ava Leroux | 6'3 | C | 2023 | SLAAM 23 Woodson – Ava looked like a player in her limited action as foul trouble forced her to sit in the first half and eventually lead to her fouling out. Nevertheless, she stood out when in the game. She has the size and skill to stretch the floor from the forward position. She possesses a nice-looking jumper, with range to the three-point line, that is almost impossible to effectively contest. She also showed some rim protection ability around the rim when coming over from weakside help. Her value was easy to see when on the floor.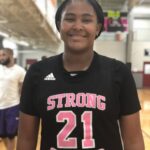 Sara Strong | 6'2 | PF | 2024 | Lady Strong 2024 – Sarah will be an impact player at the college level. It is already clear that her skill set and size are a big difference-maker. She was dominant in her game. Whether rebounded, defending, or scoring there are not too many players in her class that can match her production. She also has an elite understanding of the game at her age and does not just rely on her size to be impactful. She sees the floor very well and understands what defenders are trying to do to stop her. She made some very nice passes after drawing defenders. Even though she could take advantage of her talents every time she touched the ball, she did not hesitate to share the ball making sure all teammates were involved.