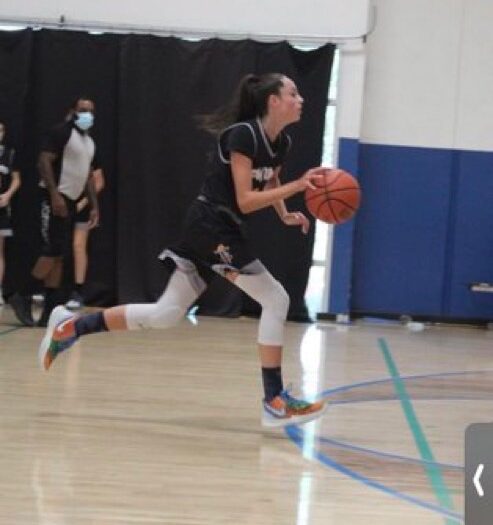 Posted On: 07/22/21 4:38 PM
This past weekend at the Las Vegas Basketball Center The Las Vegas Showcase was able to do just that. Showcase a number of players with some undeniable talent. 45 teams from along the west coast were in attendance to the NCAA certified event. Among those 45 teams was a wide variety of skill ranging from all ages.
In this past weekend's time of play four key players stood out in the tournament,
Ava Rawlins Ava Rawlins 5'8" | CG State CA of Sacramento Team Forbes. Folsom High School 5'10 Guard 2025.
Ava is an all-around explosive player especially for her young age. Ava is a fast guard with exceptional ball handling skills and a solid finish. Despite her age no challenge deemed to big for her while she competed every minute of play. Being an active defender forcing several steals and keeping herself and teammates locked in during some intense games that came down to the last few seconds. Ava Rawlins Ava Rawlins 5'8" | CG State CA will definitely be making some noise going into the high school scene with so much talent already at a young age. Keep an eye out.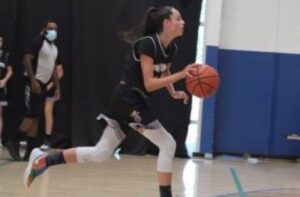 Alayna Boss of Lady Nation. Millennium High School 5'7 Guard/ Forward 2023.
This past weekend Alayna dominated the boards offensively and defensively. The bigger guard has a solid frame and made her presence known. Alayna is a great on ball defender forcing turnovers and getting nearly every 50/50 ball she went after helping her team to going 4-2 on the weekend against some tough competition. Alayna is that player who "get their hands dirty." Constant hustle, up for any challenge, competes. As the guard heads into her jr. year, she looks to be a standout at Millennium High and begin her recruiting process.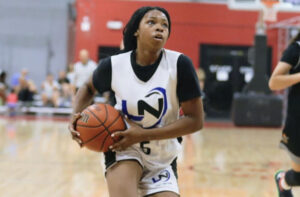 Steffy Cervantes Steffy Cervantes 5'7" | SG St. John Paul II | 2023 State AZ of Lady Nation, St, John Paul II Catholic High School 5'8 Guard 2023.
Cervantes has got to be one of the top up and coming players in the state of Arizona. Grit, Skill, and a high basketball IQ. Steffy was one of the most talked about kids at the showcase. What was all the talk about? Her high arched jumper. Steffy's jumper is textbook. Great form, never flat, great ball rotation. It was unstoppable and the go to move when Lady Nation needed a bucket. She wanted the ball in her hands and was a standout leader for her team. If Cervantes isn't on your radar, she definitely should be now.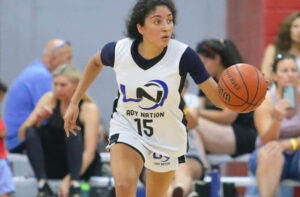 Syrene Sanders Syrene Sanders 5'5" | PG Cactus Shadows | 2022 State AZ of Lady Nation Shadow Mountain High School 5'6 Guard 2022.
Sanders is one of the best defenders in the state of Arizona and she came to play in Vegas. In game one of six played, Sanders was the spark her team needed in the second half to come back from a 10-point deficit with only a few minutes left of play. Not only was she the spark for her team, she also hit the buzzer beater 3 pointer to win the game. Sanders was one of the best athletes in the gym for sure. As she goes into her senior year, she is excited to be back on the floor and finish strong as she is coming back from a torn ACL the past basketball season. Sanders predicted to be one of the most dominate players in Arizona high school basketball this season.