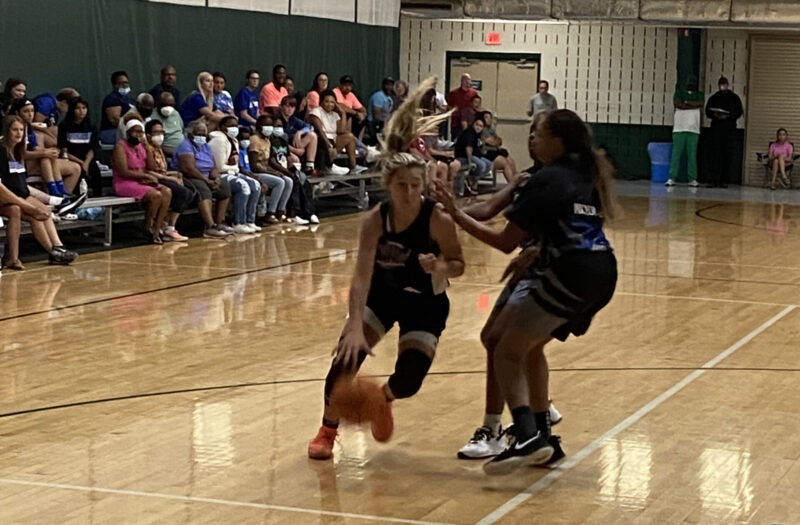 Posted On: 08/6/21 10:30 AM
The players on this list are names you must know. I can see all these players playing at the next level. With a few being division 1 players. These players either had a great year with their freshman team last year or they contributed to the varsity team. So this season I'm looking for them to have a breakout year and make some noise individually and be a key part to their respective team having a successful season.
Taleigha Ealy Taleigha Ealy 5'11" | PF Russellville | 2024 State AR | Post/Wing | 6'1 | 2024 | Russellville High School
Taleigha is a post player but possesses some skills of a wing player. When playing the post position she can finish with either hand around the rim or pass out of the low block to the cutter or spot-up shooter. Taleigha is effective out the pick and roll. She's great at rolling or popping and has good enough hands and footwork to catch the pocket pass in motion and make a dribble move under control for the bucket. She can handle the ball in transition under control and make the on-target pass to an open teammate. Defensively she controls the paint with her shot-blocking and rebounding.
Jordan Marshall Jordan Marshall 5'11" | SF Central | 2024 State AR | 6'0 | Wing | 2024 | Little Rock Central High School
Of all the players on this list, Jordan has the most potential of anyone. A 6'0 wing player that can play and defend multiple positions, shoot it, and get to the rack. Her size and athletic ability only enhance her skill set. You try to guard her with a smaller player, Jordan can take her to the post. If you try to guard her with a big she can use her athletic ability and handle to get to the rim. Jordan has the ability and potential to be one of the best players in the state, despite classification, by the end of the upcoming season.
Aven Sasser Aven Sasser 6'1" | PF Central | 2024 State AR | 6'1 | Wing | 2024 | Little Rock Central High School
Aven Sasser Aven Sasser 6'1" | PF Central | 2024 State AR has the potential to be one of the best players in the state of Arkansas before she graduates high school. She's a stretch 4 but has been developing her skills to become more of a wing player. She's long, athletic, and possesses all the tools to become a lockdown defender. her offensive skills are coming along nicely too. She can get the rebound and push it herself, finish in transition, post up, beat the defense off the dribble, and makes the occasional three-pointer.
Wesleigh Ferguson Wesleigh Ferguson 6'0" | SF Benton | 2024 AR | 6'0 | Wing | 2024 | Benton High School
Wesliegh is a wing player that can play with finesse or physicality. She loves to give the defense a hesitation off the catch to get them off balance and then attack the basket hard for one of her many finishes. If the defense closes out short, Wesleigh will make the defense pay with her catch and shoot three-pointer. She is not only a wing player that can run the lane in transition, but she can also push it herself and finish. Her length makes it tough for her opponents to score over the top of her.
Kayden Porter Kayden Porter 5'10" | CG Sheridan | 2024 AR | 5'10 | Wing | 2024 | Sheridan High School
Kayden is a scorer that can put the ball in the basket in a number of different ways. She can attack off the bounce, shoot the three, and can finish around the rim with variety. When Kayden attacks, she attacks hard. Often she's playing through any contact and still being able to make the play. She's not just a scorer, but also a playmaker. She can make plays for herself or her teammates in the half-court or in transition.
AbbiGrace Cunningham AbbiGrace Cunningham 6'1" | C Atkins | 2024 State AR | 6'0 | Post | 2024 | Atkins High School
Here's a big that has good size and understands how to use her size to her advantage. She does a good job of playing at her own pace. AbbiGrace never gets rattled or plays too fast when pressured. Her skills are as good as any big I've seen in her class. She's often asked to handle the ball on her AAU team and she makes good decisions with the ball. She rebounds well, can play through contact, defends the low block, and can make free throws.
Dessie McCarty Dessie McCarty 6'2" | C Mt. Vernon | 2024 State AR | 6'1 | Post | 2024 | Mt. Vernon High School
I got a chance to see Dessi at the HoopPlay Nationals and she immediately got my attention. She has good footwork on the low block with the ability to finish with either hand. Dessi rebounds well on the offensive and defensive ends of the floor. She rolls hard to the basket after setting good on-ball screens. If she doesn't get it on the roll then she post up big and wide looking for the post entry. Dessi is also comfortable on the perimeter. If you give her too much room she'll knock down the open three-pointer.