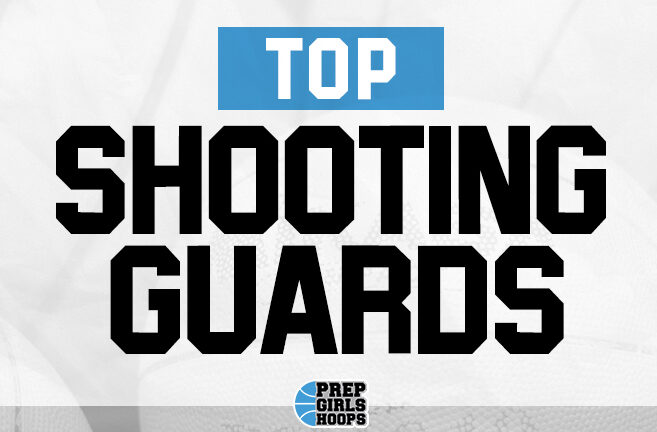 Posted On: 09/30/21 3:32 PM
The top positional debate continues! Now we highlight who are the top shooting guards in the state of Tennessee. Now, this position can be rather tricky as some girls who can play PG, may slide off the ball and attack from the wing position. Regardless of how dynamic they may be, these girls can score the rock at a high clip. No matter the year or classification, the shooting guard position is an intricate part of any team's offense. 
The 2 spot on your dry erase board, these girls are dynamic and can be the focal point of any offense. The main goal of any basketball game is to score buckets and these girls can do just that. Whether it be dialing it from deep, shooting the mid-range, or getting to the rim, these girls are the ones their coaches call on to deliver time and time again.
Here are some characteristics that make this position so lethal.
Athletic
Tough
Competitive
Ability to defend multiple positions
Ability to create space
Ability to anticipate
Playmaking ability
Ability to get into the lane
Ability to read defenses & screens
High IQ
High motor
Great feel for the game
Instinctive
Runs the floor well
Shooting (Is a must! From a catch n shoot position, feet set position, or put the ball on the floor)
Now that you have a great handle on what we are looking at, here are the top ladies in the state of Tennessee who are the dynamic playmakers at the # 2 position.
| | | | | | |
| --- | --- | --- | --- | --- | --- |
| Tier 1 | First Name | Last Name | Height | Classification | School |
| 1 | Karly | Weathers | 5'10 | Senior | Loretto |
| 2 | Serena | Lee | 6'0 | Senior | Whitehaven |
| 3 | Avery | Strickland | 5'11 | Senior | Farragut |
| 4 | Sydney | Mains | 5'11 | Sophomore | Knoxville Catholic |
| 5 | Amelia | Goehring | 5'10 | Junior | Trinity Christian Academy |
| 6 | Regan | Trumm | 5'8 | Senior | Powell |
| 7 | Sydney | Ryan | 5'10 | Senior | Brentwood |
| 8 | Sarah | Burton | 5'8 | Senior | Clinton |
| 9 | Nevaeh | Scott | 5'7 | Junior | Bartlett |
| 10 | Olivia | Lee | 5'11 | Junior | Trinity Christian Academy |
| | | | | | |
| Tier 2 | First Name | Last Name | Height | Classification | School |
| 11 | Brianna | Burgess | 5'9 | Junior | Creek Wood |
| 12 | Bre'Aria | Cannon | 5'10 | Sophomore | Webb-Bell Buckle |
| 13 | Alindsey | Long | 5'7 | Senior | Arlington |
| 14 | Tambryn | Ellenburg | 5'5 | Junior | Greenville |
| 15 | Keeleigh | Rogers | 5'9 | Senior | Farragut |
| 16 | Molly | Masingale | 5'8 | Sophomore | McMinn Central |
| 17 | Lilli | Wilkin | 5'9 | Senior | Page |
| 18 | Maddie | Hawk | 5'8 | Sophomore | Lakeway Christian Academy |
| 19 | Sammy | Taylor | 5'9 | Sophomore | Fulton |
| 20 | Brooke | Dowlen | 5'11 | Senior | Jo Byrns |
| | | | | | |
| Tier 3 | First Name | Last Name | Height | Classification | School |
| 21 | Carleigh | Wilson | 5'10 | Senior | Oakland |
| 22 | Anna Claire | Milam | 5'9 | Junior | Dickson Co. |
| 23 | Emily | Gonzales | 5'8 | Senior | Bearden |
| 24 | Shelby | Davenport | 5'11 | Senior | Greeneville North Greene |
| 25 | Aubree | Laney | 5'10 | Sophomore | Lakeway Christian Academy |
| 26 | Jada | Anthony | 5'7 | Senior | Cane Ridge |
| 27 | Carrington | Jones | 5'8 | Sophomore | Houston |