Best sophomores in the Georgia Top 250 Expo? Here are our 2024 All-Expo teams.
First Team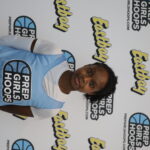 Taliah Cornish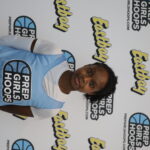 Taliah Cornish 5'5" | PG Maynard Jackson | 2024 State GA | 5'7 | PG | Maynard Jackson
Taliah showcased just about every part of her game. She looked really good when handling primary point guard responsibilities. She is both a willing passer and a capable scorer. She showed a consistent ability to knock down the long-distance jumper through the day, but she was probably most impressive on the drive where she showed some toughness finishing at the rim through contact. Whether getting to the rim for her own layup or finding open teammates after recognizing help defenders fully committed to stopping her, she made the correct read often. Her passing ability stood out as well as she placed the ball in great spots with either hand off the bounce. She has a pretty good all-around floor game and will be one to track this year.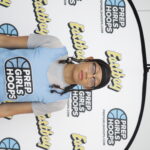 Yazmine Allen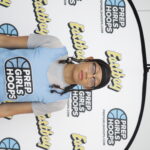 Yazmine Allen 6'0" Forest Park | 2024 GA | 6'0 | SG | Forest Park
Yazmine was recognized as one of the best scorers in the event so it may not come as a surprise that she is on this list. The long guard showed that she could fill it up during the event. She's a true scorer. She has great mechanics on her jumper and very good elevation whether shooting the catch and shoot or two dribble pull-ups. She relies on a quick first step when making drives but can also use her ball-handling to get defenders guessing. In transition, if she does not see a wall of defenders she is very likely to put her head down and use her long stride to beat everyone to the rim. With her length at the position, there is no question coaches are all over her.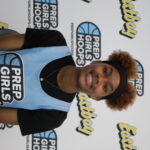 Jada Bates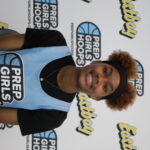 Jada Bates 6'3" | SF McEachern | 2024 State GA | 6'2 | G | Dominion Christian
Do not let the 6'2 listing height fool you, Jada is without question a perimeter player. She can be trusted to play on and off the ball using her length and skill to her advantage on every touch. She can be explosive in transition and does a good job of reading the floor before shifting gears and getting to the rim where her length is a challenge for anyone to contest. She also has a very consistent jump shot. She can hit the mid-range and the deep ball jumpers alike, off the bounce. We were able to see her in some pick and roll actions as a ball-handler where she again used her size to see over extended arms of defenders and place passes to rollers for good scoring opportunities. A big-time matchup problem with bigger players being too slow to stay in front and players with the speed needed are typically too small to contest her scoring attempts.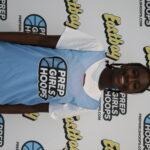 Toni Warren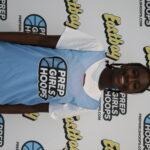 Toni Warren 6'0" | SF Cherokee | 2024 State GA | 5'11 | W | Cherokee
Toni will be a player to check out this year. She has length and advanced scoring ability. She connected from all over the floor and did it in an eye-catching fashion at some points. She hit jumpers while drifting in the mid-range, connected on fadeaway jumpers on the block, and knocked down catch and shoot threes. She was tough to get around on the defensive end as well because of her long arms and good lateral quickness. She takes some tough shots at times but that is because she can make them. Should be a top player at the wing position in this class throughout her high school career. There is a lot of upside to her game.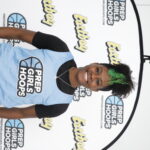 Jaedyn SHARP Jaedyn SHARP 6'0" Gadsden City | 2024 GA | 6'0 | P | Gadsden City (AL)
This makes the third player from Alabama making an All-Expo team with a fourth below. They came to Georgia to do work. Some really good players from the state. Jaedyn is a post that can play at the forward or center spot. She has the mentality to be physical in the painted area where she bullied defenders at times. She fights hard on the glass and showed good rim protection on defense. She also has enough skill and mobility to play the forward position which is probably her more natural spot. She has some touch on her jumper in the mid-range and can hit a three or two here and there. Has enough ball-handling ability to initiate the break and if not definitively stopped can take it the full length of the floor. Because of her consistent motor, she will find herself at the FT line quite a bit which is always a plus when strategizing for games.
Second Team
Karma Wynn Karma Wynn 5'4" Pelham | 2024 GA | 5'4 | PG | Pelham (AL)
Sanaa Tripp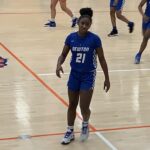 Sanaa Tripp 5'8" | PG Peachtree Ridge | 2024 State GA | 5'8 | G | Newton
Madison Ruff
Madison Ruff 5'8" | PG Baldwin | 2024 State GA | 5'6 | G | Baldwin
Tianna Thompson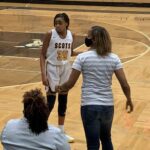 Tianna Thompson 5'10" | PG Galloway | 2024 State GA 5'10 | G | Galloway
Jazmin Thornton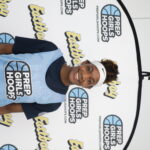 Jazmin Thornton 6'0" | SF LaGrange Academy | 2024 State GA |5'11 | F | Callaway
Honorable Mention
Alyssa Green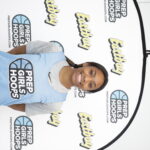 Alyssa Green 5'8" | PG Buford | 2024 State GA | 5'9 | G | Buford, Stella Chartrand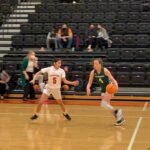 Stella Chartrand 5'9" | SG Westminster | 2024 State GA | 5'9 | G | Westminster, Caroline Mullins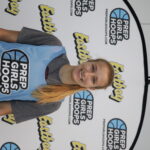 Caroline Mullins 5'9" | CG Pickens | 2024 State GA | 5'9 | G | Pickens County, Micheala Bogans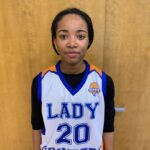 Micheala Bogans 5'5" | PG Cross Creek | 2024 State GA | 5'4 | PG | Cross Creek, Jasmine Perez
Jasmine Perez 5'6" | PG Centennial | 2024 State GA | 5'6 | G | Centennial