Kara Stricklin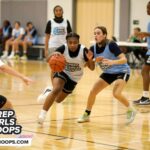 Kara Stricklin 5'6" | PG Bellevue East | 2024 State NE – Kara was quick and strong with her handle on the ball. She would use her ball skills to penetrate gaps with speed, power, and quickness. You could see her ball-handling translated into her being a good passer that can drive and kick, quickly moving the ball.
Maya Dolliver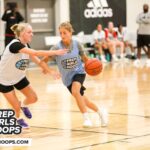 Maya Dolliver 5'6" | PG Pender | 2025 NE – Maya's handle on the ball surprised me the most and she had one of the top ball-handling skill-sets. She had the ball on a string and because of that she confidently pushed the ball and would attack the lane, while keeping her handle on the ball.
Molly Ladwig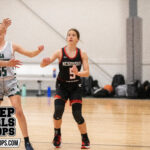 Molly Ladwig 5'9" | CG Omaha Skutt Catholic | 2025 NE – Molly was toying with her opponents with her handle. She put on a display of skill, power, and finesse with the ball. She used her handle on the ball to separate herself from the pack. Her first-step was quick and she was able to get to the rim.

Jenna Luebbe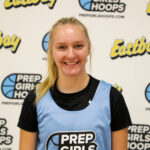 Jenna Luebbe 5'8" | SG Lincoln Lutheran | 2024 State NE – Jenna is a young point guard that handles the point like a Senior prospect. She understands how to relieve pressure with her handle and she simply has a solid ball-handling skill-set that makes her the player she is.
Brooklyn Busby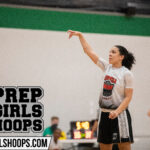 Brooklyn Busby 5'8" | CG Omaha Northwest | 2022 State NE – Brooklyn is a 2022 that has a skilled handle on the ball. She can breakdown a defender with skills and power. She can do a series or combination of handling moves that keeps the defense alert.
Paris Devers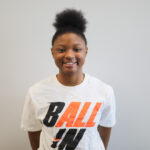 Paris Devers 5'4" | PG Omaha Central | 2024 NE – Paris' quickness and creativity with her handle was quite evident. She used her handle to drive straight at the defense and make a move as they were off-balance. She was tough to contain when she was at speed and attacking.
Addison Klahn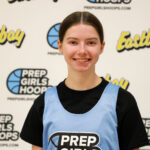 Addison Klahn 5'8" | CG Millard West | 2023 State NE – Addison has a smoothness about her handle when she brings the ball up with her dominant left hand. She uses her ball-handling skills to penetrate to score herself or to make a play for her teammates.
A'yanna Hill A'yanna Hill 5'4" Hoops Elite Omaha Ne | 2025 NE – A'yanna was most impressive by her overall speed with the ball and her ability to change direction at such a quick pace.
Jordan Metzler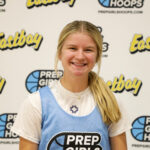 Jordan Metzler 5'6" | CG Wakefield | 2024 State NE – Jordan has the ball in her hand a good amount of time, so her ability to control the ball well is crucial. She uses her handles to play fast, drive gaps, and it carries over to being such a great passer.
Sammy Leu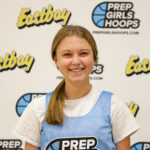 Sammy Leu 5'9" | SG Wahoo | 2023 State NE – Sammy is smooth and skilled with the ball. She handles pressure well and can get by the defense fairly easy with a couple of moves. She's creative with the ball and has all the tools. You can tell she has a strong basketball IQ.