Week 1 across the state officially tipped off this past Monday. Girls from all over were excited to lace'em back up and hit the hardwood. There were some exciting early-season matchups, coupled with some pre- Thanksgiving tournaments. Overall, this past week laid the foundation for what should be an exciting season to come.
From the inner cities to the countrysides, this past week showed fans in attendance why Tennessee represents some of the best in girls basketball. I like to say, we just built a little differently around here. Basketball is a passion and our young ladies who suit up for their perspective schools, love competing. Though it is early in the season, week 1 provided some early season predictions. From MVP talks to state championship contenders, people started to imagine who may hoist the trophies come February. Here are some notable players from Week 1 who stood out in Middle Tennessee.
Kennedy Cambridge Kennedy Cambridge 5'8" | CG Ensworth | 2022 State TN (5'10/CG/Ensworth)– The senior standout showed why she is one of the best players in the state. Playing against a pretty good Webb team, Kennedy played locked down defense for 32 minutes. Her pressure defense created havoc which lead to easy buckets. She was a multi-level scorer, slashing to the rim, knocking down 3s, and letting it go from the mid-range. She was poised with the ball in her hands, creating opportunities for her teammates.
Jaloni Cambridge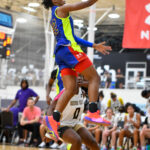 Jaloni Cambridge 5'8" | PG Ensworth | 2024 State TN (5'7/ PG/ Ensworth)– Saucy. This girl is the energizer bunny. Jaloni showed people at the Nxt Lvl tournament why she is one of the best in the country. With incredible handles and court vision, Jaloni knows how to manipulate the game. From knocking down 3s to getting to the cup, watching her play is almost like she does it effortlessly. She's hard to stop or contain, yet she plays the game with poise no matter how many defenders may come at her. She is the backbone of this Ensworth ball club. Look for them to make another run for state contention.
Aubrey Blankenship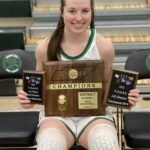 Aubrey Blankenship 6'1" | SF Green Hill | 2023 State TN (6'1/SG/ Green Hill)– A scoring machine, she posted 27pts and 29pts in both of her games during this first week. Her offseason work is starting to pay off. This young lady obviously can shoot the ball at a high clip from multiple levels. She doesn't force things, yet waits for the game to come to her. She's tough to defend and can pass the ball efficiently when her shot isn't there. Look for her to continue on this impressive streak of being a high-volume scorer.
Shelby Higgins (5'11/SG/ Richland)– A 3pt scoring threat this young lady loves to let it fly. From being a catch-and-shoot threat to shot faking and putting it on the ground, this young lady loves to shoot from beyond the arc. Though she is only a freshman, look for this young lady to make a big splash in her first high school season.
Abigail Johnson Abigail Johnson 6'0" | C Upperman | 2023 State TN (6'0/C/ Upperman)– Ms. Consistency. Abigail just knows how to get the job done. Night in and night out, she posts close to a double-double in both points in rebounds. She has a nice back-to-the-basket game that compliments her ability to shoot the mid-range. Rebounding, all day. She knows how to anticipate and go after the boards on both ends of the floor. Look for her to be the catalyst to help lead this talented Upperman basketball team.
Imari Berry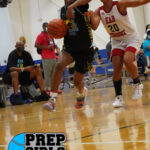 Imari Berry 5'10" | SG Clarksville | 2024 State TN (5'10/CG/Clarksville)– One of the most talented girls in the 931 area, this young lady who dons the purple and cold is an exceptional talent. Posting 40 points in one game, she is on pace to set multiple records this upcoming season. Imari is freakishly talented, who can use her length and size to her advantage. She has the ability to play inside and out,  score from multiple areas on the floor, and guard multiple positions. She plays the game at a high pace, creating havoc on both ends of the floor. Look for her to gain even more division 1 looks as the season progresses.
Ava Jarrett (5'6/SG/ Lipscomb Academy)– This young lady may be in the 8th grade now, but she provides a lot of energy for this Lady Mustangs club. Ava is a sniper, a multi-level scorer who can handle the ball and finish well around the rim. She's strong, a good defender, and plays the game with GRIT. She will only get better as she progresses through her high school career.
Karly Weathers Karly Weathers 5'11" | CG Loretto | 2022 State TN (5'11/SG/ Loretto)– This Crimson Tide commit scored her 2,000th point this past week. Karly is an incredible talent who just plays the game the right way. A hard-nosed kid who can shoot the ball from anywhere on the court. Selfless, yet scores the ball with ease. Though she scores at a high clip, she does other things even better. From assisting to rebounding, she is a team player who is a steward for women's basketball. She embodies the term GRIT & Gratitude. The Bama program is definitely getting a game-changer.