'23 Olivia Vick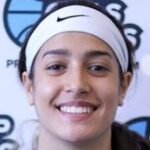 Olivia Vick 5'6" | CG Whitney Young | 2023 State IL | 5'7 Combo Guard | Whitney Young
The 28 points on opening night was a statement piece for Vick. A talented guard who can put the ball on the floor just as well as she can shoot it.. and if you've seen Olivia shoot, then that's saying a lot. There was a time where she shot a 3 from the corner and yelled off.. but it was all-net. Shooters touch I guess. She's high energy and a complete leader. Multiple times I saw her helping her teammates figure out their positions on defense.. no berating or yelling just simply explaining. 
'23 Grace Carstensen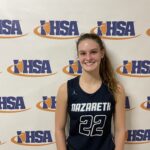 Grace Carstensen 5'11" | SG Nazareth Academy | 2023 State IL  | 6'0 Wing | Nazareth Academy
Another top-tier shooter of the tournament. Grace is at the table with some of the best shooters in the state, and she sits in that seat comfortably. A solid and big guard that can control the game in multiple ways. A buzzer-beater trey ball at the half on Day 4 got the fans out of their seats.. a jab step, look in the eye, and then she rose up to let it fly. The confidence in this kid is noticeable and it'll take her far. 
'22 Taylor Charles Taylor Charles 6'1" | SF Burlington Central | 2022 State #54 Nation IL | 6'1 Post | Burlington Central
Maybe one of the tallest players in the building. The Princeton commit knows what and who she is, and she showed that during each of her games. She can completely dominate on the defensive side. In the paint, she'll swat it out the door. She can creep out to the perimeter as well and contain some smaller guards knowing that she can recover if she gets beat. A true defensive specialist who can give you a solid 10-15 on the offensive side.
'23 Layla Henderson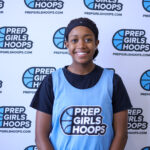 Layla Henderson 5'9" | CG Naperville North | 2023 State IL | 5'9 Combo Guard | Naperville North
A tough guard to cover when she's coming downhill, but even tougher on the opposite side. Henderson has that locked-in defense gear that most players wait till crunch time to show, she's in that stance from tip-off. She can score the ball in multiple ways. Countless times thought out the tournament she hit some big 3s or got to the bucket to play make for all the other weapons on her team. Her defense seems to be contagious for the entire team. 
'23 Lizzie Baldridge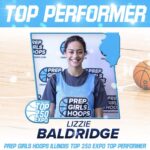 Lizzie Baldridge 5'9" | PG York | 2023 State IL | 5'10 Point Guard | York
The new age point guard is built like Lizzie. Tall, lengthy, and a playmaker at heart, but can score when the team needs her to. Her personality seems to be quiet on the court, but her game is far from it. She's not flashy, but very technical and swift. Perfect strides on her euros, a well-timed step back, and a perfect behind that back move that creates space every single time. Her IQ is top tier and it's showcased on both the offense and defense. She's steady and plays at her own pace, never rushed or rattled. The skillset will continue to increase.
6th Woman
'22 Hope Aniceto | 5'3 Combo Guard | Naperville North
The lefty had an average of 2 3s a game, and at least half of them were big-time 3s that her team needed to stay afloat. In the comeback win against Whitney Young on Day 2… Aniceto had all 8 of her points in the 4th quarter. Her spark in contribution m off the bench is an extra tool in the team's already deep bag of talent. The senior SUNY Canton commit plays her role to perfection and was always ready for the big moment when her number was called.