Day 3 had a game-winning buzzer-beater, an upset, and a couple of games that just kept the crowd engaged from start to finish.
Loyola vs. Burlington Central
'24 Kelsey Langston | 5'9 Guard | Loyola Academy
A do it all guard whose main focus is hustle and effort. Kelsey can affect the game in multiple ways, on the offensive side she can get to her spots when she wants due to her constant moving and just overall aggression with or without the ball. She can knock the trey, get to the basket or make a play from every angle. Defensively, she's a menace. She doesn't give up and she's always the first one on the floor for a loose ball. Kelsey has no problem doing the dirty work for her team. 
'22 Taylor Charles Taylor Charles 6'1" | SF Burlington Central | 2022 State #54 Nation IL | 6'2 Post | Burlington Central 
A tall slim forward who's a security blanket for any team she suits up for. The 6'2 senior is a nightmare for offenses who look to score in the paint. Charles consistently finds good position around and under the rim, she times her blocks well, and barely goes for any up and unders, or pump fakes. A disciplined defender who can average 3-4 blocks per game.. and if deflections and shot alterations were tallied.. those numbers would be out of the roof as well. High defensive IQ and awareness. 
Montini vs. Taft
'24 Alyssa Epps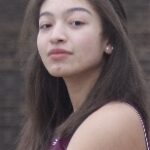 Alyssa Epps 5'9" | SG Montini | 2024 State IL | 5'9 Wing | Montini Catholic
A strong-bodied guard who is tough-minded when playing on-ball defense. She stays low and moves her feet well. Epps has a knack to be in the right place at the right time for rebounds and pulls them down with strength and protection. She's aggressive on the drive and shows the confidence to let it fly from the arc and beyond. Alyssa's contribution isn't always stat recorded but her presence in the game is felt when she's on the court and is needed when she's off. A solid wing who is impactful to a lineup.
'25 Elena Gonzalez | 5'7 Guard | Taft
A steady-paced player that loves to run the floor and get her team moving. Elena takes a couple of dribbles and quickly gets the ball out of her hands for fast points and on-the-move 3s. She hits the paint hard but is always looking for the kick if the lane is too crowded. Elena has a good shooting form and shows it off when she's taking those deep 3s… and will knock them down if left open. Defensively, Gonzalez shows consistency when jumping the pass lanes and reading the defense for easy steals. A solid guard that can carry the load when needed.
Naperville North vs Lyons Township
'22 Hope Aniceto | 5'3 Guard | Naperville North
A threat on the drive and an even bigger threat from the arc. Hopes size doesn't deter her from wanting to make big plays. The lefty has a smooth and fluid jumper that is money from the arc and back. She uses her size and swiftness to attack the paint and can either score or create for someone else. On the other side of the ball, she shows the same effort and doesn't back down from the challenge. Great balance, quick hands, and even quicker feet when jumping the lanes. She can go coast to coast or find and make the better play in one motion. 
'22 Isabella Lee | 6'0 Forward | Lyons Township
A lengthy two guard who can defend & contain multiple positions. Her length allows her to challenge bigs in the paint or catch up with guards that get by to the basket. She gets timely blocks, steals, and deflections. Those interceptions usually end in Izzy taking it coast to coast and finishing with no problem. Her length allows her to snatch in long rebounds as well. Her frame matched with her effort makes her a walking double double on any given night. 
York vs Huntley
*GAME OF THE DAY*
'25 Anna Campanelli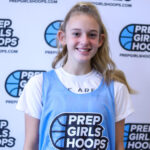 Anna Campanelli 5'9" | SG Huntley | 2025 IL | 5'9 Combo Guard | Huntley
A high athletic and talented combo guard who's just as effective without the ball as she is with it. She can handle it, shoot it and get to her spots with her craftiness. In this game, Campanelli left her mark in multiple ways on the court. Fighting for rebounds, staying aggressive, and completely disrupting the opponent's offense. She had only 2 points going into the 4th.. but that didn't stop her from asking for the big shot. Late in the 4th.. down 1… Anna got to her corner spot, and received a kick from the block, and knocked down the 3 ball game winner like it was shooting practice. Shooters stay ready.. and Campanelli was. The freshman will do nothing but improve as the years go on.
'22 Stella Kohl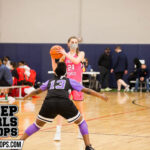 Stella Kohl 5'11" | SG York | 2024 State IL  | 5'10 Wing | York
Kohl's stretched frame is a key asset to her skillset. The sophomore guard is lengthy and uses it in every aspect of her game. When she's cutting, the extension on her arms allows for easier entry passes,and when she's going to the rim, her strides are wide and the attack is aggressive, but timed.. so she can use her length to score around and over the last line of defense. Stella has the confidence to shoot the long ball & the mid when open. 
Whitney Young vs Nazareth Academy
'23 Skylar Jones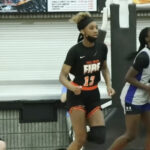 Skylar Jones 5'9" | CG Whitney Young | 2023 State IL  | 6'1 Wing | Whitney Young
Sky's the limit.. for Sky and that might not be the limit. She's poised, alert and beyond aggressive when she gets to the rim. She shows her length, speed, and craftiness when finishing… and her motor is something to take notice of as well. The lefty has a set jumper that's lethal at the midrange and lasered from the arc. She crashes the boards of both sides and takes up the challenge to defend the post and the perimeter when needed. She plays the game like she's been in every situation before. A very talented player who just gets better every time I see her play. Whitney Young is in great hands with this kid.
'24 Danni Scully | 6'1 Elite Wing | Nazareth Academy
You notice the frame first.. but definitely taken back when you see that her skillset is guard-like but very versatile. She can keep the ball on a string, lace the long ball, and body up in the paint with the stronger or bigger girls. Scully is one of the most all-around talented girls in her class and has shown in since day one. Defensively her discipline and balance are the top reasons she can switch out and guard the 1-3 and her strength takes care of the 4-5. A competitor from buzzer to buzzer.