The junior class of 2021-2022 is loaded with outstanding point guards. Here's a profile of a few of them:
Sienna Cherwinski Sienna Cherwinski 5'7" | PG Xavier Prep | 2023 State AZ is a five-foot-seven point guard who plays for Xavier College Prep in Phoenix. She also plays for the Cal Stars, her club team. This year the Gators are 6-0 and Sienna is averaging 13.2 points a game, 3.5 assists, 3.5 rebounds, and 3.7 steals. A three-year starter on the varsity, she leads the team in assists and steals and hits 85% of her free throws. She was nominated for Player of the Week last season when she had a career-high 24 points against Chaparral High School to go along with seven assists and five steals. Her profile talks about her goals. "My goal is to be a hard worker and put myself in a position to have college choices to choose from. I am bilingual having learned Spanish from my mother who is from Colombia. I strive to be a great two-way player, a player that coaches can count on both offensively and defensively."
Hannah Beard Hannah Beard 5'5" | PG Verrado | 2023 State AZ is a five-foot-five point guard who plays for the Verrado High School Lady Vipers in Buckeye. She also plays for Lady Nation, her grassroots team. Last year Verrado finished with an overall 18-2 record but lost to Millennium in the state tournament,47-24. Hannah averaged 4.0 points per game last year to go along with 6.2 assists, 4.6 rebounds, and 4.5 steals. She plays for her father, Head Coach Vernon Beard. He talked about his daughter as a basketball player. "She is a point guard that can run any offense to get players easy shots while being able to create her own shot when needed." Hannah led her team in both steals and assists as a freshman and as a sophomore. She has already been recruited by a number of the Historically Black Colleges and maintains an unweighted GPA of 3.33.
Olivia Arvallo Olivia Arvallo 5'2" | PG Valley Vista | 2023 State AZ is a five-foot-two point guard who plays for Valley Vista High School as well as West Coast Elite, her club team. As a sophomore, she averaged 5.8 points per game along with 2.2 assists and 1.7 steals. The Monsoon has won state titles in four of the last five seasons (2017, 2018, 2020, and 2021). Olivia has already received an offer from the University of Southwest to play college basketball. She is considered an outstanding passer in finding her teammates and is a very good defensive player as well. Her Head Coach, Rachel Matukas had this to say about her. "Olivia, as an athlete, has grown in many ways."
Cambria Medina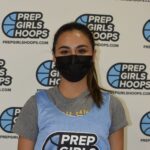 Cambria Medina 5'5" | CG Salpointe Catholic | 2023 State AZ is a five-foot-five point guard who plays for Salpointe Catholic High School in Tucson. She also plays for her club team, TNT. Last year the Lancers finished 19-2, losing in the state championship game to Seton Catholic, 70-62. Bria averaged 8.5 points per game as a sophomore along with 2.7 rebounds and 4.0 steals per contest. As a freshman, she averaged 6.8 points a game and 2.0 assists. Through 50 games in two years, she averaged 7.5 points a game. She made the sports 360AZ All-Academic First Team, maintaining a 4.0 GPA. She is also a National Honor Society inductee and a member of the Lancers track and field team. Additionally, she was also a member of the All-Tournament team at the recent Girls Hoop Expo Top 250 in Gilbert. One scout about Bria's game said she has "great ballhandling skills and court awareness."