Arizona has many sophomore assist leaders for the 2021-22 season. Here's a look at a few of them:
Dominique Nesland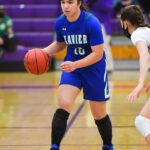 Dominique Nesland 5'10" | PG Xavier College Prep | 2024 State AZ is a five-foot-nine point guard who recently transferred from Xavier College Prep to Arizona Elite Prep. She also plays for her grassroots team, Arizona Elite. This year, as a sophomore, she is averaging 16.2 points per game along with 4.2 assists, 4.5 rebounds, and 3.7 steals. As a freshman, Dominique averaged 9.2 points, 4.0 rebounds, 3.1 assists, and 2.7 steals per game. In February, she was selected by Max Preps as Player of the Game against Tucson High School with a performance that included 20 points, four rebounds, four assists, and 11 steals. She is also shooting 80% from the foul line. As a sophomore, she has already received a scholarship offer from Bellarmine University and has been selected to the All-Sophomore Defensive Team for 2021-2022.
Eanae Dagons Eanae Dagons 5'3" | PG Desert Vista | 2024 State AZ is a five-foot-three point guard who, now a sophomore, plays for Desert Vista High School in Phoenix as well as her club team, Arizona Elite. An outstanding shooter, Eanae led the Lady Thunder in scoring as a freshman, contributing 14.4 points per game. She also led her team in both assists and steals and was named by AZCentral as one of Arizona's Top Fifty Girls Basketball Players for 2021-2022. She played extensively in the spring and summer for Arizona Elite and should be coming into her own this season. Besides scoring and improving each year both offensively and defensively, she is an outstanding distributor of the basketball.
Meisha Caserio Meisha Caserio 5'4" | PG Gilbert | 2024 State AZ is a five-foot-four point guard from the Gilbert High School Tigers who is averaging, this year as a sophomore, 12.4 points per game to go along with 7.3 assists, 3.7 rebounds, and 2.2 steals. As a freshman, Meisha averaged 13.4 points. 3.3 assists and 2.4 steals. Although she is only played on the varsity for a year and a half, she has been selected as Player of the Game a total of 12 times by Max Preps. She was the Arizona Player of the Week in week four last February and is considered an outstanding three-point shooter. She is also one of the best assist players in the state. Her father is the Head Coach of the boy's team at Gilbert.
Isabella Majarucon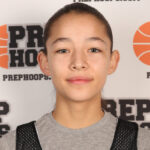 Isabella Majarucon 5'5" | PG Deer Valley | 2024 State AZ is a five-foot-five point guard who plays for the Deer Valley Lady Skyhawks as well as her club team, Arizona Elite. As a freshman playing in the competitive 4A West Valley Region, she averaged 9.1 points per game to go along with 3.5 rebounds and 3.8 steals. She also shot 62% from the floor. Deer Valley lost to Salpointe Catholic in last March's state tournament, 54-45. An outstanding dribbler and passer, one scout had this to say about Izzy's game. " She has a calm persona on the floor and the game just seems to come to her with ease. She has a high basketball IQ and will make the smart decision first. She can score at all three levels, even as a smaller-bodied guard, and does not seem to be afraid of a challenge."