South River vs Friends School Standouts
South River looked sharp with crisp passing and transition play to break open a close game enroot to a 56-35 victory over the Friends School of Baltimore.  The Quakers, (not to be confused with Sidwell Friends Quakers) hung in there early on went into the second quarter tied at 14 after a three pointer at the buzzer by Maya Carnes.  As the game went on South River proved to be too deep leading by 10 at the half and finishing with a 21 point victory.
Ryleigh Adams Ryleigh Adams 5'10" | PF South River | 2025 State MD – 5'10″ – Forward – South River – 2025
Ryleigh had 18 of her 20 points in the first half.  She showed a soft mid-range shot after catching the ball in the high post and finished well inside.  She ran the floor very well in transition looking like a wide receiver on a post route finishing with 20 points on the day.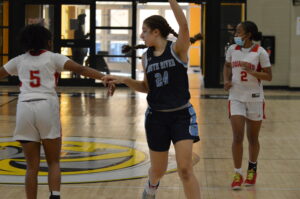 Karlee Hawkins Karlee Hawkins 5'10" | PF South River | 2025 State MD – 5'9″ – Wing – South River – 2025
Karlee played very aggressive for a freshman, looking to attack the basket with the ball in her hands and moving without the ball.  She made quite a few trips to the line but, was unable to convert finishing 2 of 6 from the line with 6 points.  Once she tightens up her free throw shooting you will see her stat numbers increase.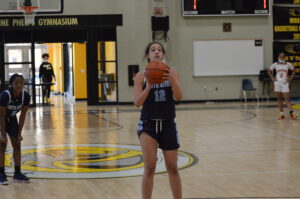 Louise Mickle Louise Mickle 5'4" | PG Friends School of Baltimore | 2025 State MD – 5'6″ – Combo Guard = Friends School – 2025
Goes by Lulu, she had good hands on defense and some quickness jumping the passing lanes.  She also showed the ability to hit the deep ball as she knocked down 3-pointers finished with 5 points.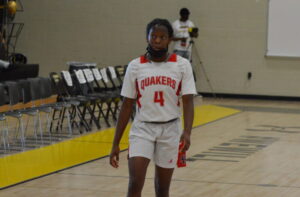 Maya Carnes – 5'5″ – Point Guard – Friends School – 2022
Maya was the best player on the floor and showed the ability to play at the next level.  She has three-point range and has a good handle.  She is a good finisher in traffic and was perfect from the free throw line.  She was so much of a threat that the Seahawks ran a triangle and two defense on her for most of the game, something I haven't seen in over 30 years.  Despite it all she still ended with 20 points.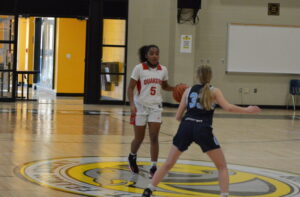 Skylar Woodyard Skylar Woodyard 5'9" | SF South River | 2025 State MD – 5'7″ – Guard – South River – 2025
It looked as if Skylar was set for a huge scoring game scoring the first four points in a blowout win.  She was still stuck at four by halftime and finished with 6 points.