The featured image is of Morgan Roberts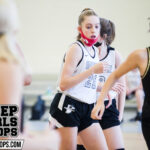 Morgan Roberts 5'11" | SF Fishers | 2024 State IN (2024) of Fishers High School and Indiana Showcase Select 17U.
Saturday morning the PGH River City Run kicked off in Louisville, Kentucky, with 15 teams participating in the 17U division. I am working to cover all 15 of those teams and based on the teams I was able to see Saturday, below is a look at five perimeter players who I felt stood out in the time I was able to see them.
Janiesse Armstrong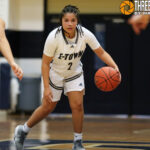 Janiesse Armstrong 5'3" | PG Elizabethtown | 2023 State KY , 2023, 5-2 PG, Elizabethtown H.S. (KY)
– Janiesse was a stable element to Team Firstep's offense throughout the day. She is strong, physical at her position, and she does a nice job of taking care of the basketball. She can get downhill and attack the basket, she can knock down an open rhythm jumper, or she can initiate the offense and find open teammates. I also enjoyed her motor defensively. If I'm not mistaken, she moved in this year from the state of Washington.
Sydney Baird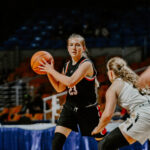 Sydney Baird 5'7" | CG Webster County | 2023 State WV , 2023, 5-6 CG, Webster County H.S. (WV)
– Like Armstrong (above), Sydney was a steady piece of the OV Lady Dragons Black team's success. Sydney has nice length, wiry strength, and she's a fluid athlete in most directions. She can knock down the occasional shot, but she's solid attacking the basket as well. She also showed the ability to defend multiple positions. She could be a really nice, versatile, small college guard who can take on multiple roles at the next level.
Natalie Gentry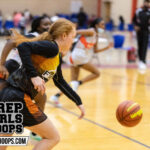 Natalie Gentry 5'9" | CG LaRue County | 2023 State KY , 2023, 5-8 CG, LaRue County H.S. (KY)
– I saw Natalie a year ago at the Victory Region Finals, and I thought she had a lot of athletic potential. This year, she looks more skillful, and she's asserting herself more at the offensive end of the floor. She is long, wiry-strong, and she's a fast and bouncy athlete. She does a nice job of pushing the ball in transition and finding open teammates early in possessions, but she can also slice through the defense and cause problems.
Autumn Rucker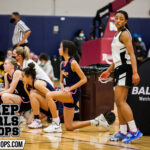 Autumn Rucker 5'8" | SF Pike | 2023 State IN , 2023, 5-8 SF, Pike H.S. (IN)
– Over the years, Autumn has gotten stronger and stronger, while maintaining her athleticism/explosiveness. She has a fairly strong frame with some length, she possesses good North/South speed, and she absorbs contact well. She is still best off the bounce, but she did show some touch from around the perimeter. I have always enjoyed her motor, and she rebounds her position well. She could have a breakout year for Pike in 2022-2023.
Morgan Roberts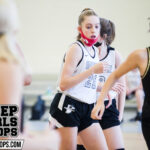 Morgan Roberts 5'11" | SF Fishers | 2024 State IN , 2024, 5-11 SF, Fishers H.S. (IN)
– Morgan has taken on quite a transformation over the years, as she's grown about four to five inches the past two years, and she looks noticeably stronger this Spring. She has tremendous length, and she's a fairly fluid athlete in most directions. She has always handled the ball reasonably well and initiated the offense, she has some touch outside, but her newfound strength has also allowed her to attack the basket more aggressively.