We have arrived at the final weekend for the PGH Victory Region as the spring season ends with the Championship weekend underway. Two days will conclude on Sunday with the champions being crowned.
My all-tournament team will be released later, but tonight I will take a look at some of the players who played well today on Day 1 of the big weekend.
Olivia Kappes, Fusion Basketball Academy 2024 Clifton
Olivia showed a lot of different skills in their win over Team Evolution United in the opening game of the weekend. She did a great job anticipating the play well, a very smart, skilled player who can score at the rim with either hand. She has good body control when she gets into the lane. From the perimeter, Olivia is also effective and a threat.
Alli Linke, Wolverinas 2- 2026
I have seen the older team in this club program several times, but it was my first time seeing the future stars. A solid group, I really liked Alli and her length and ability to defend and trap well to cause mistakes. She has good footwork in the paint and is able to create shots in the paint and around the rim. She is a good rebounder and is you leave her open from the perimeter it will likely cost you .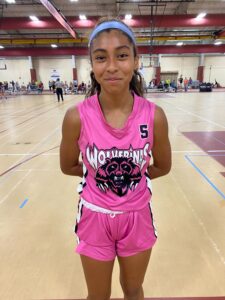 Anahya Castro, Wolverinas 2- 2026
Like her teammate, Anahya (pictured left) is a player with a good future in the game. She is nearly 6' with good length and athleticism. Does a good job affecting shots on the defensive side of the ball. When she has the ball, Anahya has the ability to put it on the floor and maneuver through the defenders.
Izzy Robinson, Sun Badgers 2024
First time I have seen them play this year. Very talented bunch who finished 2-0 in pool play and will head into the bracket on Sunday. Izzy showed me some good all around skill as a physical player who was always around the ball. Connected on a couple of big perimeter shots showing her versatility. Good court vision and can pass the ball well on the break. Gets into position well.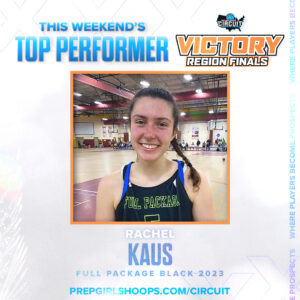 Rachel Kaus, Full Package Black 2023
From what I saw, she is able to guard anyone on the floor. Can guard the perimeter with her size, and appears comfortable to defend the perimeter. Moves well without the ball and can help her team when she doesn't have the ball. Offensively she has good handles and can knock it down from the perimeter. She can put a body on you and play through contact. Can slash and score. Really like her game. (pictured left)