June is a time where athletes can compete with potential high schools and showcase their talents.  Here are some of the young standouts that competed with 1 of 1 Prep this June at the Cox Mill Charger Shootout.
Zaria Gool | 2024
Gool could run a full court press on her own with her speed and ability to anticipate what her opponents are going to do each time.  She doesn't have to use her speed, though, as she can hit a three in transition with ease.  She releases easily making herself available for a fast break lay up as well.
Sophia Zoerb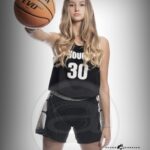 Sophia Zoerb 5'10" | SG Hough | 2025 NC | 2025
Zoerb was showing off her versatility setting herself up around the three point line for a shot or using some spin moves to get in the paint.  She can score herself at the rim, or she does a nice job finding her teammates underneath the hoop for a better shot.  Her length is an asset on defense getting in the way of her opponents scoring.
Jodi King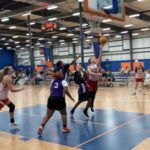 Jodi King 5'10" | PF 1 Of 1 Prep At Chestnut Park | 2025 State NC | 2025
King (featured photo) is already a strong post showing off her moves inside grabbing rebounds and putting the ball through the hoop.  She has a great ability of positioning herself perfectly to make sure she can score whether she seals off her opponent before getting the pass or going to work when she gets the ball.  She's expanded her game with the way she can defend quick guards, and she is effective even away from the basket.
Camri Hobbs | 2026
Hobbs handles the ball well knowing how to keep her eyes peeled for the open teammate, and she passes right to the spot they are moving to in order to get her team some points.  She can score the ball herself from behind the arc, or she can drive against anyone.  She has great size to be able to guard anyone on the court and battle through contact when driving.