These kids are what we call defensive stoppers or lock up artist on the basketball court, they are the kids that have the assignment to guard the other teams best player on the floor.  They have to take this one on the chin and make sure that player does not attain their average ppg in the game in question.  These kids were watched by us and also we took some nominations from the social media fans we have following us @pghcalifornia
2023, Genna Wienecke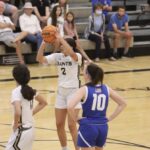 Genna Wienecke 5'9" | PG Xavier College Prep | 2023 State CA – Genna is one of the athletes that is called upon to make stops, she is not only a great defender, but she is also a focus on offense for her high school team.  She has great size for a guard and she knows how to play the game of basketball.  She is a lockdown defender and she has proven that by guarding the best player from the other team, she is very defensive minded, her club coach demands it.
2023, Ari Long Ari Long 5'9" | SG Valley View HS | 2023 State CA – Ari is a long body guard that knows how to play the game of basketball as well, she is great at scoring the ball, but she will pick up the best players from the other team and keep them at bay.  She knows how to frustrate her opponents, keeping them from scoring is her plan and she has become very good at this skill.  Ari can score in many ways also, she is a bucket waiting to happen, but we are focusing on her defensize abilities in this article.
2023, Ashley Chea Ashley Chea 5'6" | PG Flintridge Prep HS | 2023 State CA – Ashley is a dynamic player to watch, she is very skilled on the offensive end of the floor and she is a focus for most defensive teams in her own right.  She not only can score, she is a stopper, she is a defensive maniac that has the skills to keep a player from scoring their average.  If she is able to keep you frustrated on the floor, she is doing her job and that job is to keep you off of your average for that game and possibly win against you.  True defensive player in my opinion.  
2023, Kaiya Mack Kaiya Mack 5'4" | PG Esperanza HS | 2023 State CA – Kaiya impressed us with her game on the defensive end of the floor in a couple of games we watched her play.  She has great agility, she is quick and she is a leader on the floor, which allows her to be a great defender in our opinion.  She can cut off her opponent and keep them in front, she contains with great precision and knows how to make her opponent get off the ball in a hurry.  Kaiya can also score the ball, she is the primary scorer for her squad and she is quite good at that as well, we love watching her play the game.