As the 2023 rankings were updated, the top 10 combo guards could all be found in the top 60 spots. I broke down the top 5 CG's yesterday, but now let's take a look at the next 5. All of the following players have skill sets that would allow them to play at the next level.
Ellie Heid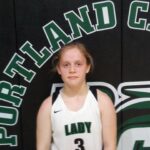 Ellie Heid 5'6" | CG Portland Christian | 2023 State KY | Portland Christian | 2023 Louisville Lady Trojans
Heid can put the ball in the basket no matter who she's playing with. She has excellent speed and quickness, ball-handling skills, and a scorer's mentality. She can knock down shots from deep, get all the way to the hoop, or anything in between. Heid can finish with contact and she does a good job shifting around the rim to get better looks. When she's not scoring, she tends to stay involved by drawing help and finding her teammates. She can create for them as well. Heid is often one of the smallest players on the floor, but that doesn't stop her from being a great defender and rebounder.
Ka'Niah Edelen Ka'Niah Edelen 5'6" | CG Male | 2023 State KY | Male HS | Nike Lady GymRats 17U
Edelen simply makes a difference when she's on the floor. She can play off of the ball or bring the ball up the floor. She handles pressure well and has excellent strength. Edelen is also a skilled scorer and she can score in a variety of ways. Tough finishes at the rim and knocking down 3's are regular parts of her game. Male had so many scoring threats last season, so they didn't necessarily need Edelen to score to win games, but she definitely can put the ball in the basket. However, even when she isn't scoring, she makes plays, sees the floor, and delivers passes. She also was a reliable defender and her heavy pressure led to a lot of steals. With Male having graduated 2 of their top 3 scorers and shot takers, I'd expect double-digits from Edelen next season.
Kaela Ballard Kaela Ballard 5'11" | CG Portland Christian | 2023 State KY | Portland Christian | 2023 Louisville Lady Trojans
Ballard has the size of a forward with a guard skill set. She is a very efficient scorer. In fact, she shot nearly 50% overall in her junior season. Ballard can be a match-up nightmare. If you put someone small on her, she can either shoot over them or score on them inside. If you put a big on her, she'll be able to drive right around them or knock down the 3 if they play off of her. She sees the floor well and can deliver passes through traffic as well. Ballard can handle the ball and she does a good job crashing the boards. I was also impressed with her ability to block shots inside. The dynamic duo of Ballard and Heid will look to finish out their high school careers with a bang as they suit up for Portland Christian next season.
Graci Risley Graci Risley 5'8" | CG Henderson County | 2023 State KY | Henderson County HS | 2023 Lady Vision Adidas Gold
In my opinion, Risley is the most underrated shooter in the 2023 class. She can really shoot the ball at a high level. In her junior season, Risley made 94 total 3-pointers on 45.6% shooting from deep. That not only earned her a spot in the top 50 for 3-Point Field Goal Leaders (per KHSAA), but it landed her the #2 spot overall. Taking that a step further, she actually shot the ball at a higher percentage than the player who finished in the top spot, so with a few more shot attempts, she likely would've been #1. Risley has great form, a quick release, and she catches the ball ready to fire. She can also knock them down from deep range. Risley can hit on the move and in transition as well. Teams focus on not letting her hurt them from 3, but she constantly moves and works to get open. I expect big things from Risley in her senior season.
Mary Smith Mary Smith 5'7" | CG Mercy | 2023 State KY | Mercy Academy | United Basketball Club 17U
When you play on a team full of talented scorers, it's easy for some players to get overlooked. Despite playing on a team that boasts some of the top talent in the state, Smith will make you pay if you overlook her. She has been a staple in Mercy's offense since her freshman year with her role growing larger and larger every season. She consistently puts the ball in the basket no matter what talent is surrounding her. Smith makes some really great drives to the baskets, utilizing shot fakes or her quick first step to get past her defender. If help defense steps over, she finds the open player and can throw some phenomenal passes in the process. Smith can also shoot the ball from anywhere on the floor and she's a reliable shooter. She has good ball-handling skills, handles pressure, rebounds, and can block shots. On the other end, she's a great defender. It's not surprising to see her grab multiple steals in any given game.