There are a ton of talented players across the Bluegrass. Within that group of talented players, there are multiple point guards in the 2023 class that have showed they have the skills to play at the next level. I discussed some of the top floor generals yesterday, but let's continue on that by breaking down more of the top point guards across the state in the class of 2023.
Logan Ortega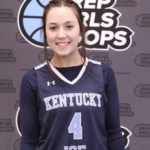 Logan Ortega 5'7" | PG Bullitt East | 2023 State KY | Bullitt East HS | 2023 Kentucky ICE Select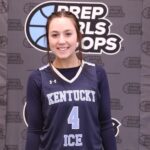 While Ortega competed in every contest for the state runners-up last season, she is poised for an even bigger role in her Senior season with the Lady Chargers after they graduated two Division-I prospects in Emma Egan and Gracie Merkle. Ortega can bring the ball up the court or play off of the ball, but either way, she finds ways to make an impact. Even when her shots aren't falling, her hustle and grit always make a difference. She really sees the floor well and she doesn't try to force much. Once she gets a step on her defender, Ortega can take it all the way or create for her teammates. She has a good outside shot and while she struggled to get it to fall some last season, she's proven throughout the Spring that she's ready to knock them down from deep this season. Ortega is also an impressive defender. She has really been putting in the work and it's certainly paying off.
Courtney Hoskins Courtney Hoskins 5'7" | PG Leslie County | 2023 State KY | Leslie County HS | Kentucky Dream 2023
Hoskins does a great job running point, but she has a natural scorer's mentality so she puts up a lot more points than what you typically see from a point guard. In fact, she's racked up 1,034 total points throughout her sophomore and junior seasons at Leslie County. This past season, she finished as a top 40 scorer across the state. However, she also has the passing and ball handling skills that you want to see in a point guard. Hoskins is an excellent rebounder as well. She actually led her team in rebounds, along with points, this past season. She does a great job of grabbing rebounds and weaving through traffic to beat everyone else down the court to score. Hoskins can handle physicality and finishes through contact. She's a very versatile scorer overall. Tough finishes, runners, pull-up jumpers, and 3-pointers are all consistent staples in Hoskins' game.
Camryn Poole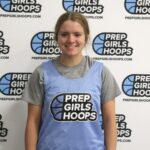 Camryn Poole 5'7" | PG Whitefield Academy | 2023 State KY | Whitefield Academy | 2023 Kentucky ICE Select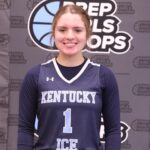 Poole is the kind of player that other players love to have on their team. Unselfish, reliable, and smart are a few words I'd use to describe her game. What makes her even more impressive is her ability to put the ball in the basket. Poole was Whitefield's leading scorer last season, as well as their 2nd leading rebounder, and yet, I still expect even bigger things from her as she enters her Senior season. Why? Because she has legitimately gotten better every time I've watched her play this Spring, and I've probably watched her team more than any other team, so that's saying a lot about the work she puts in. Some other strengths in Poole's game include excellent court vision, the ability to deliver passes perfectly, handling pressure, consistent cuts, and the use of really solid fakes.
Desaine Mhango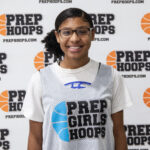 Desaine Mhango 5'4" | PG Male | 2023 State KY | Male HS | 2023 Kentucky ICE Select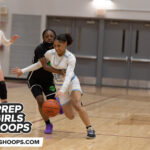 Mhango is a true floor general. She facilitates the offense and comes up with multiple assists nearly every game. She does a great job of getting past her defender and creating for her teammates. Once help steps over, she delivers the ball to the open player. However, if help doesn't come, Mhango can make you pay by finishing in the paint or around the rim. She's got a lot of toughness in her game and she plays fearless. Defensively, she can lockdown an opposing team's best ball-handler or grab steals in the passing lanes. She stays up as a defender and doesn't make anything easy on the offense. With Male having graduated 2 of their top 3 scorers from last season, don't be surprised to see Mhango contribute more on the scoring side of things for the Lady Bulldogs next season.
Jermyra Christian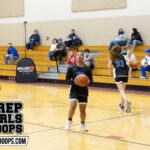 Jermyra Christian 5'6" | PG East Jessamine | 2023 State KY | East Jessamine HS | OTP Select Black 2023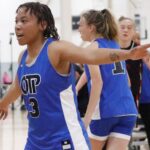 Christian managed to catch the eyes of multiple PGH scouts this Spring. What is really impressive about that is the fact that she did this at various events and the scouts were all from different states, so they had no idea how impressive she was in her Junior season with East Jessamine. Christian plays with a high motor and does a great job at controlling the speed of the game when she's out there. If the defense gets lazy, she will drive right around them and score. In fact, her scoring ability was on full display last season as she finished as a top 10 scorer in the state and averaged 22.3 PPG. Christian can score inside or out, and she can score in a variety of ways. She sees the floor well and makes great passes. She also is an excellent defender and it's not surprising to see her notch multiple steals in any given game.