June is is a time where athletes compete with the high schools that they may be potentially competing with in the winter.  Here are some of the 2024s that have been performing well this month.
Lili Booker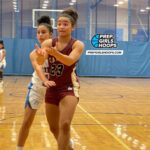 Lili Booker 5'7" | CG Cannon | 2024 State NC | Cannon
Booker is so smooth handling the ball, but her best asset is definitely her defense playing aggressively to grab the steal.  She continues to expand her game all over the court going all out every minute that she plays, and she will out hustle anyone baseline to baseline.  Her quick release on her shot is difficult to defend, and she can drain it from anywhere.  She also looks for her teammates cutting to the hoop making nice dishes to them for their own points.
Jasmine Harris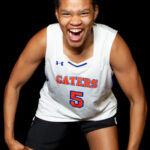 Jasmine Harris 5'8" | CG Northern Guilford | 2024 State NC | Northern Guilford
Harris (featured photo) has such a high IQ already, and she shows that on both ends of the court.  She can anticipate passes on defense grabbing steals and taking them the other direction.  Her quickness with the ball makes it difficult for opponents to defend the basket against her because she gets by with ease.  Look for her to make some old fashioned three point plays.  Her athleticism makes it easy for her to track the ball grabbing a rebound, too.
Skylar Adams | Northwood
Adams is smooth handling the ball showing patience when it comes to running her team's offense.  Her ability to change speeds and increase the tempo sets her apart from other guards, though, as she pushes the ball up the court.  She finds her open teammates with ease threading the needle with impressive passes, and she can maneuver her way to the hoop for her own points.
Courtney Taylor | High Point Christian
Taylor was tasked with guarding the best player on the opposing team, and she definitely got her rattled.  She's quick laterally making it difficult for anyone to try to get by her, and she knows how to anticipate the next move to always be a step ahead.  She doesn't shy away from contact when it comes to driving to get her points on the other end.