June is is a time where athletes compete with the high schools that they may be potentially competing with in the winter.  Here are some of the 2024s that have been performing well this month.
Aaliyah El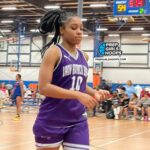 Aaliyah El 5'8" | CG Julius Chambers | 2023 NC | 1 of 1 Prep | 2023
El is a 2023 but fits right in with some of these standouts from 2024.  She has some nice handles she uses to get around her opponents, and she isn't scared to show off various moves in the same drive.  She is quick on defense jumping into passing lanes, and she explodes to the hoop when scoring on fast breaks.  Her decision making sets her apart knowing when to take the ball herself or find an open teammate underneath the basket.  When she doesn't handle the ball in transition, she still makes sure to get back just in case there is an offensive board to grab.
Jael Poole | 1 of 1 Prep
Poole showed tough defense at the top of the key making the ball handler go to their weaker side.  She used this knowledge to handle the ball herself getting to the rim for some nice finishes.  She is certainly quick on both ends of the court using that to her advantage to score points and defend the basket.
Sheree Gidney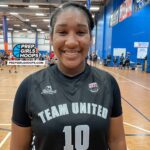 Sheree Gidney 5'11" | PF Hickory Ridge | 2024 State NC | Hickory Ridge
Gidney runs the floor well making sure she's ready to catch the ball in transition to score some points.  She can score moving with the ball on her own driving hard to the basket battling through contact for some old fashioned three point plays.  Her ability to seal off her opponents makes it easy for her to get points near the basket or even open up jump shots for her teammates.
Ella Hobbs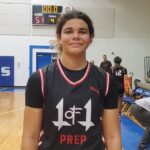 Ella Hobbs 6'3" | SF 1 of 1 Prep | 2024 State NC | 1 of 1 Prep
Hobbs continues to be dominant in the paint.  She makes effective cuts to get open, and she can seal off anyone who is tasked with guarding her.  She showed off a nice reverse layup catching the pass in stride and putting it up with a finger tip roll through the hoop.  There's a reason many opponents decide to double down on her in an effort to stop her.
Delanie Hill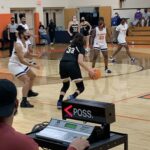 Delanie Hill 5'7" | CG 1 of 1 Prep Academy | 2024 State NC | 1 of 1 Prep
Hill is still showing off her consistency shooting from behind the arc.  She does a great job finding the openings on the court to show off her stroke.  She does well controlling the tempo of the game to help her team.  Her defense was great being tasked with guarding the opponents' best player and finding ways to strip the ball from her.