These girls are what we call the Do it All Players, they get it done on the floor for their team each and every time they step on the floor.  We want to show some support and recognize these players we identified this season as a DIA Player, which we believe is a high-regard title we give these girls on this platform.
Nyah Buntun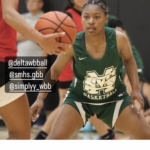 Nyah Buntun 5'4" | PG St. Mary's | 2025 State CA – This young lady can flat out play and is a pure point guard. A great ball handler, hardworder and see's the court very well and a tenacious defender.  In addition she can take a game over in a moment's notice and can knock down the three point shot.
Deana Thompson Deana Thompson 5'7" | CG Harvard Westlake | 2025 State CA – Hard worker and runs the floor well and can get to the rim.  For an 8th grader this young lady can flat out play.  Shoots the mid range and is a really good defender, passer and can handle the ball. 
Ava Rawlins Ava Rawlins 5'8" | CG Folsom | 2025 State CA – Ava is an all-around explosive player especially for her young age. Ava is a fast guard with exceptional ball handling skills and a solid finish. Despite her age no challenge deemed to big for her while she competed every minute of play. Being an active defender forcing several steals and keeping herself and teammates locked in during some intense games that came down to the last few seconds.
Jazmyne Shamburger Jazmyne Shamburger 5'8" | CG Lawndale | 2025 State CA – An incoming freshman, this was my first time watching Shamburger play. She's a wing who can handle the ball a little bit, especially on the break. She dribbles with her head up and looks to see who is out in transition with her. She can finish at the rim. Her handle can definitely get a little tighter, but she has the skills. Unselfish pass first player. Defensively, she can lock up and she gets deflections and steals.