My New York evaluations for the '23 class have been released, and I wanted to touch on the top ten prospects I saw throughout the spring. This list is a reflection on performance from my perspective over the last couple of months. Some of the factors I considered were: Individual performance, impact on team success, and the level of competition a player faced. Most importantly, the list is based on what I saw;.  So, as I continue to travel and watch prospects, the list is bound to change as I post evaluating updates each season. 
#1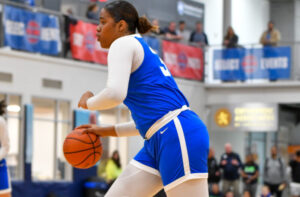 Aalyah Del Rosario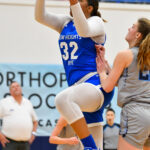 Aalyah Del Rosario 6'6" | PF Webb | 2023 State NY | New Heights|6'6''|PF/C
This was an easy choice for #1. Del Rosario's intimidating presence, strength, and skill set made her a lock for the top spot, and her selection to the USA U18 National Team was the icing on the cake. Del Rosario has the mobility and footwork to dominate the paint and uses those tools to be an impactful defender. She is a high IQ big who knows where to be defensively and doesn't clog up the middle on offense. Del Rosario can dominate a game on both ends of the floor and does so for the entirety of games. 
#2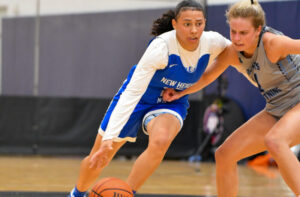 Angelica Velez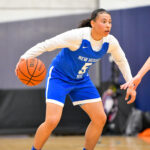 Angelica Velez 5'8" | PG Webb | 2023 State NY | New Heights| 5'8''| PG
Velez is the best at controlling the tempo. With the ball on a string, Velez knows when to push the pace and when to slow down and execute in the halfcourt. She is an excellent passer and throws one of the most beautiful and accurate lead passes you'll see. The velocity, placement, and touch on Velez's passes are mind-blowing, and she can always give New Heights a bucket when needed. A fearless attacker of the rim, Velez has zero difficulty getting into the paint and creating for herself and her teammates. 
#3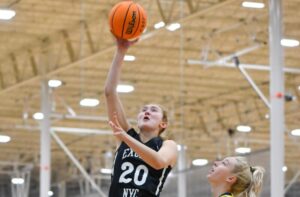 Mary Ashley Groot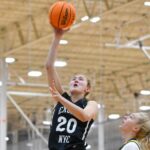 Mary Ashley Groot 6'1" | SF Dalton | 2023 State NY | Exodus EYBL|6'1''|SF
Groot's performance at Spooky Nook in the Prime Event East Championship vs. the Lady Rivals was one of the more impactful performances I saw that weekend. She gave Exodus a spark that closed the gap on a significant Rivals' lead. Groot was disciplined, recognized a mismatch in the post, terrorized her defender with elite post moves, and finishes over both shoulders. She also has a nonstop motor and was wearing out the defense by constantly staying in motion. I like Groot's versatility at both forward spots and her ability to play both sides of the ball at a high level. 
#4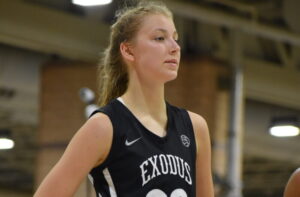 Clara Strack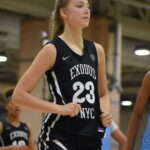 Clara Strack 6'4" | PF Hamburg | 2023 State NY | Exodus EYBL| 6'4''| PF/C
Strack, like Groot, also had a monster performance at the Prime Event East. Even before that, I saw Strack string together a handful of big games starting on the defensive end. Her towering presence in the middle forces teams to take out-of-control shots or settle for low percentage outside jumpers. Strack does a good job patrolling the paint and has good timing on her help side rejections. 
#5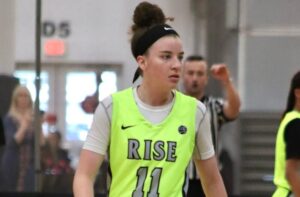 Gretchen Dolan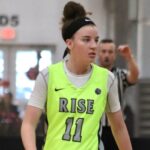 Gretchen Dolan 5'11" | PG Williamsville South | 2023 State NY | Philly Rise EYBL| 5'11''|PG
I like how Dolan can be as impactful as the primary or secondary option of a team. When she has the ball in her hands, she does a good job getting downhill and finishing but also is unselfish and locates the open teammate when drawing the defense. When not monopolizing the basketball, Dolan can be a reliable spot-up shooter and moves the ball well when on the wing. I was also impressed with Dolan defensively. She does a good job closing out to shooters and using her length to disrupt shot rhythm. 
#6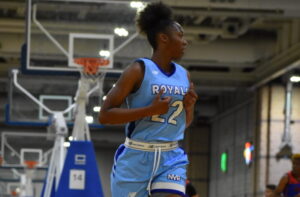 Nevaeh Wingate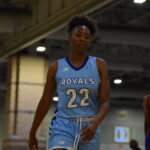 Nevaeh Wingate 6'1" | SF Liverpool | 2023 State NY | NY Royals|6'1''|SF
Wingate really popped in Atlantic City and carried that momentum into every event after that. She was a significant factor on the glass and around the basket against some of the best teams and also displayed her defensive versatility. Wingate runs the floor as well as any forward and is a nightmare to defend in transition when she is coming at you full speed. Wingate also has a soft shooting touch from the outside. 
#7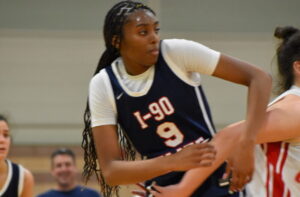 Caydence Hadley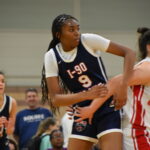 Caydence Hadley 6'1" | SF Bishop Kearney | 2023 State NY |I-90 Elite|6'1''|SF
Hadley is another long, athletic combo forward who can impact winning in multiple ways and on both sides of the floor. Hadley has a beautiful jump shot and can consistently bury catch and shoot threes. She can also put the ball on the deck and create for herself off the bounce. Hadley is comfortable shooting and converting over the top of the defense. On top of her perimeter game, Hadley is also a high-motor athlete who crashes the boards hard and will be physical inside. 
#8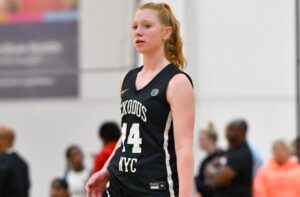 Rylie Theuerkauf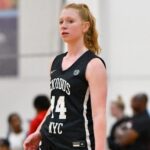 Rylie Theuerkauf 5'9" | CG Tenafly | 2023 State NY | Exodus EYBL|5'8''|CG
Theuerkauf's shooting is mind-blowing. She will pull up from anywhere beyond the three-point line and execute efficiently. If you give Theuerkauf the tiniest bit of space, she will make you pay. What makes her an even greater threat is that if you crowd Theuerkauf, she has the quickness and handle to dissect the defense, knife into the paint, and get to the rim. 
#9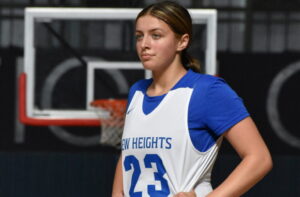 Grace Sundback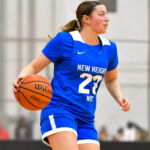 Grace Sundback 5'10" | SG Westtown | 2023 State NY | New Heights|5'9''|CG
I don't only like Sundback's skill set, but intangibly she is one of my favorite players to watch. When I watched her during New Heights' Intersquad Scrimmage, one of the things that stood out to me was how Sundback galvanized the team and communicated with them. Those qualities in practice I have seen during live game action, so Sundback is consistently that kind of leader. She can play both guard spots and shoot off the dribble, standing still and on the run. Sundback also has the upper body strength to withstand contact when attacking. 
#10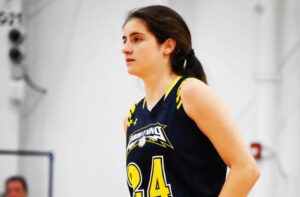 Riley Weiss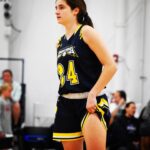 Riley Weiss 5'11" | SG Hewlett | 2023 State NY | LI Lightning|5'11''|SG
Weiss is one of the most dangerous scorers I saw this spring, and at 5'11'', she makes it look easy. I was very impressed with her movement off the ball. Weiss knows how to use screens and is an aggressive cutter who has no issue getting open. I like Weiss' in-between game too. She can take her defender off the dribble with either hand, keeps her center of gravity low, and elevates nicely right into her pull-up. Weiss is a polished offensive player who doesn't need the ball in her hand to make an impact.