There was some very impressive talent on display this spring on the Prep Girls Hoops Circuit. In order to highlight the talent on the circuit, we'll look at some player highlights and some of the things that they do well on the basketball court.
Bryar Duwe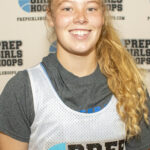 Bryar Duwe 5'7" | PG Decorah | 2023 State IA (2023, PG, Iowa Prep 17u, Decorah, IA)
Bryar Duwe!

Highlights from #PGHLegacyRegionFinals @TNT5Basketball | @BryarDuwe
🎥 @AndOneFilms pic.twitter.com/4xdD3Ol4se

— Prep Girls Hoops Circuit 🏀 (@PGHCircuit) June 2, 2022
Duwe is a solid perimeter prospect. She always makes sure to swing the ball and she never lets it stick in her hands. This helps her force the defense to move and benefits her with looks at the rim when the ball gets reversed. Duwe works really well of a screen and works very hard off the ball.
Katy Eidle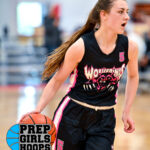 Katy Eidle 5'11" | CG Hersey | 2023 State #45 Nation IL (2023, CG, Wolverinas 2023, Hersey, IL)
Just a glimpse of what @katyeidle is bringing to @umichwbball 〽️ pic.twitter.com/cbHRWJ2KnN

— Prep Girls Hoops 🏀 (@PrepGirlsHoops) June 8, 2022
Eidle is committed to the University of Michigan and the Wolverines are bringing in a winner. She can fire a pass out of her hands and hit it with pin point accuracy. Eidle can score in a variety of ways including a step back jumper and using a jab step to test the defender and create space. She has quick hands on defense and can turn D into offense in an instant.
SaMiyah Ellis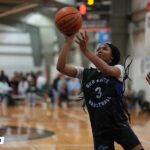 SaMiyah Ellis 5'7" | PG Sunrise Christian Academy | 2025 State KS (2025, PG, Kansas Bluejays 2023, Sunrise Christian Academy, KS)
Samiyah Ellis!

Highlights from #PGHBattleInTheBigFriendly!@KBluejays | @SamiyahEllis25 pic.twitter.com/0ETlueiolt

— Prep Girls Hoops Circuit 🏀 (@PGHCircuit) May 30, 2022
Ellis is very dangerous with the ball in her hands. She pounds the dribble and looks to attack off the bouce. Ellis can change speeds and directions quickly, which makes her a very tough cover. She terrific in the open floor where she finishes with flare and solid body control. Ellis is the type of player that makes tough play look ordinary.
Allison Heathcock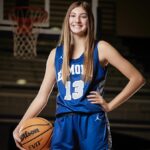 Allison Heathcock 5'11" | CG Edmond North | 2024 State OK (2024, CG, Buddy Buckets Elite 2023, Edmond, OK)
Allison Heathcock!

Highlights from #PGHDynastyRegionFinals @bbuckets2024wbb | @Aheathcock2024
🎥 @Johnny_Heuer pic.twitter.com/6KZn61HVYg

— Prep Girls Hoops Circuit 🏀 (@PGHCircuit) June 1, 2022
Heathcock has the look of a playmaker. She goes downhill, gets in the lane, and makes things happen. Heathcock has a tremendous mid range game where she can shoot as well as fire off an accurate kick out pass. She's a big time threat in the open floor as well, possessing the ability to finish and pass effectively.
Kamaria Page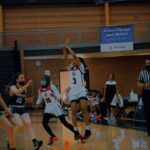 Kamaria Page 5'2" | PG Southfield A & T | 2025 State MI (2025, PG, Michigan Lady Playmakers 2024, Southfield A & T, MI)
Kamaria Page!

Highlights from #PGHGreatLakesChallenge! @kammy3_ @Lady_Playmakers
🎥 @Hoopcity6 pic.twitter.com/RGaCJxVtNa

— Prep Girls Hoops Circuit 🏀 (@PGHCircuit) May 25, 2022
Page is a bona fide playmaker off the bounce. She can handle and attack with both hands and can work both left to right or right to left. Page is smart with the ball when she gets to the lane, showing the ability to finish at the rim, hit a soft mid range shot, as well as finding teammates in scoring position with a pretty dump off pass.