Berry Wallace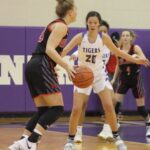 Berry

Wallace

6'1" | SF

Pickerington Central | 2024

State

OH

– 6'1, SF, Pickerington Central: 
(
Below, shooting)
Berry displays such a calm demeanor on the court, and can execute so well on both ends of the court. She has no problem rising over defenders for rebounds, as well as finishing plays in traffic. Strong mid-range to three point land shot, from any location.  Outlets and finishes plays in transition, and no problem dribbling coast to coast. Its no wonder that Division 1 coaches have been knocking on her door! She's the real deal!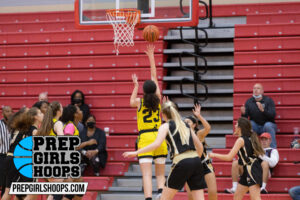 Emily Bratton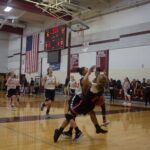 Emily

Bratton

5'7" | SG

Bloom Carroll | 2024

State

OH

– 5'7, PG/SG, Bloom Carroll: 
Bratton is an athletic, explosive guard with hands that flat out knows how to take care of the rock! She is strong at attacking the basket, not afraid of contact, and is money from the free throw line.  Her outside shot is impressive. Emily can shoot deep, and opponents cannot give her an inch- otherwise, it's too late! Love her quickness, and never ending battery! High basketball IQ. (
Featured Photo, with ball)
Jamisyn Stinson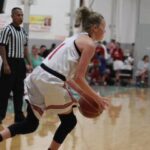 Jamisyn

Stinson

5'9" | SF

Thornville Sheridan | 2024

State

OH

– 5'11, SG, Sheridan: 
(
Below with ball)
Shooters shoot, and Stinson is one of the best in Ohio to do so! She has a scorer's mentality, and has no problem pushing the tempo and finishing strong on fast break situations. Jamisyn keeps the defense honest beyond the arc, and can hit nothing but nylon from any spot.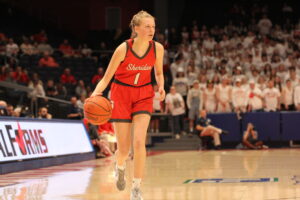 Lauren Gerken

Lauren

Gerken

5'11" | PF

Findlay Liberty Benton | 2024

State

OH

– 6'0, SF, Findlay Liberty Benton:
Lauren is one of those players that is going to fill up every stat category, because she can simply do it all!  Her footwork is strong on the block, knows how to use the glass, and her outside shooting is spot on!  She's consistent- Gerken puts up points, is going to rebound, block, and pick pockets/ read passes that result in steals, every game.
Daniya McDonald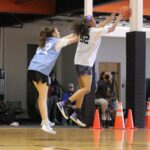 Daniya

McDonald

5'11" | PF

Whitehall | 2024

State

OH

– 6'1, SF, Reynoldsburg: 
(Below, shooting) College
coaches, I'm telling you, the potential that Daniya has is so high! One of the most athletic players I've seen, and a double-double machine. Her aggressiveness is very difficult to contain, whether it be attacking the basket, or on a mission to grab rebounds. Excellent hands, runs like the wind, and plays with such fire and passion. Defensively, she alters shots, and is quite frankly, intimidating to go up against.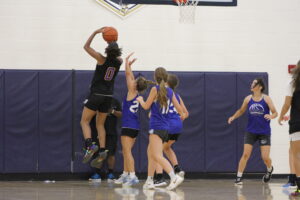 Katie Puletti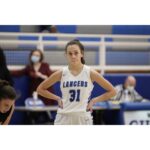 Katie

Puletti

5'9" | CG

Gilmour Academy | 2024

State

OH

– 5'9, CG, Gilmour Academy: 
Energetic, fast guard, who is quick off the bounce, and finds ways to the basket. Katie plays under control, no problem going through multiple defenders with her split second decision making skills, and capitalizes with scoring or finding her teammate. She's a floor leader, confident with the basketball, and good things happen when the ball is in her hands.