Here is a team you will never be able to shake, where contact means nothing to them and from the starting five to the last player on the bench, they are all ready to play at the next level.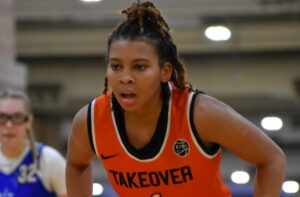 Madison McDaniel '24 | 5'7″ | PG
McDaniel was getting doubled teamed in every game but not once did it slow her down. The way she handles the ball, bringing up the court with the amount of confidence she has, you would think no one is guarding her! She has strong enough handles to go up against anyone and any defense from any team.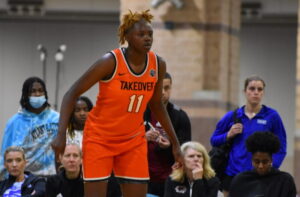 Sahnya Jah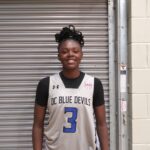 Sahnya Jah 6'1" | SF Bishop McNamara | 2023 State #50 Nation MD '23 | 6'2″ | PF
If anyone's talent on the court were to match the exact definition of the word dominate it would be Jah. She was unstoppable! I was able to notice quickly that Jah is very athletic. The way she moves up and down the court, when she jumps or is on defense, she has complete control over her body which is not always the case in a 6'2″ power forward. She was able to put herself in a position to succeed every time and went right through any contact she faced.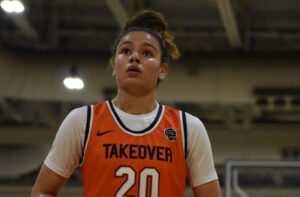 Delaney Thomas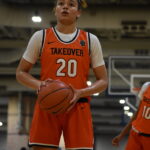 Delaney Thomas 6'2" | C St. John's College | 2023 State MD '23 | 6'3″ | C
Thomas was one of the biggest defensive threats I watched at Atlantic City. There was not one rebound she didn't go after. Not one time did she forget to box out or not use her body to go after the ball on either end of the floor. Most centers focus on getting rebounds when on defense but not Thomas. I wish I kept track of how many offensive rebounds she had every game because I am pretty confident she would have a crazy number of them.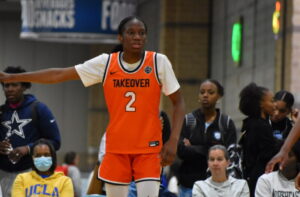 Jadyn Donovan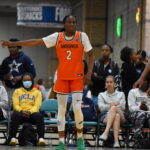 Jadyn Donovan 6'1" | SF Sidwell Friends School | 2023 State #21 Nation MD '23 | 6'0″ | SG
It is almost impossible to stop Donovan on the court. She is a huge offensive threat to this team as she has a calm yet incredibly powerful presence during every game. Donovan is a playmaker. If she needs to score, she will find a way. She plays a clean, strong style of play that is so fun to watch!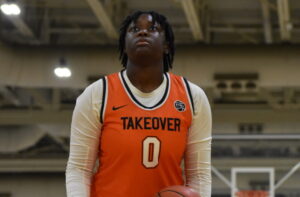 Hawa Doumboya '23 | 6'5″ | C
Doumboya was also a huge defensive threat. I was excited to see how well she moved, I had never watched a 6'5" girl as active as she was. She had great footwork and played with such purpose. Doumboya is a great addition to this team because of all this and her smart, confident decisions.