A steep amount of talent is going to pour out of Region 6 this coming year. With the possible best scorer in Class B and one of the top defenders from the class we'll take a look at the best of both worlds in this article.
Ellie Braaten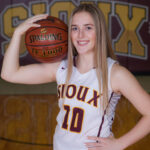 Ellie Braaten 5'3" | PG Westhope-Newburg | 2023 State ND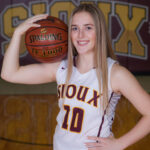 – Westhope/Newburg – (5'3/PG/2023) – Starting our list is Ellie Braaten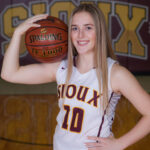 Ellie Braaten 5'3" | PG Westhope-Newburg | 2023 State ND . By now she's a household name in North Dakota being possibly one of the best scoring guards throughout Class B. A shifty, quick, dominant guard that can do it all on the court. Braaten possesses real leader characteristics and has shown she has the capabilities to take over games. What more can be said about this legend in the making? She's a player that is going to get 20 points, 5 rebounds, and 5 assists a night regardless of the defense. A high IQ player that is going to be fun to watch for her senior year.
Mia Aberle Mia Aberle 5'7" | CG Surrey | 2023 State ND  – Surrey – (5'7/CG/2023) – Mia has all the capabilities to be an elite level defending guard. She's got a quick first step on the offensive and defensive side of the ball and sticks with defenders at hip level. She's got a lot of scoring opportunities being a lefty and explodes to the rim with the best of guards in the Dakotas. I think Aberle is as underrated as they get and I predict another breakout season from this fiery guard.
Deanna Heinze Deanna Heinze 5'7" | SG Glenburn | 2023 State ND  – Glenburn- (5'7/SG/2023) – Deanna returns to a fairly young Glenburn squad that struggled through last year. Heinze I predict will have a blow up season. She's quick, versatile on the court and plays hard nose defense that coaches love. She's not flashy by any means, but a player that can flat out get the job done. With a solid summer and a proficient jump shot going into this year she's going to be one tough player to guard.
Magee Rovig Magee Rovig 5'5" | CG Bishop Ryan | 2023 State ND – Bishop Ryan – (5'5/CG/2023) – Magee is a player that doesn't get enough credit. A starter for Bishop Ryan a team that went 19-6 and fell short of a State appearance. Rovig is a skilled player offensively showcasing a soft touch around the rim and the ability to shoot the trey ball consistently. Magee plays solid help side defense using her speed and versatility to snag or deflect weak passes and she see's the court with great vision on a fast break. A skilled player that will surely push Bishop Ryan to another close State appearance.
Olivia Passa Olivia Passa 5'8" | SG Velva | 2023 State ND – Velva – (5'8/SG/2023) – Olivia is a nightmare to deal with defensively. A solid help side and gap defender that pesters the offensive into making mistakes. She averaged above 3 steals a game and shot more consistent this season than last. She scored over 10 points in most every contest and will be looked at as one of the main players on this Velva squad for this coming season.