Dan Olson has been a prominent name in girls' basketball for decades! This past weekend we were able to see some great talent across the board! Here is a list of girls who stood out!
Longwing/forward is a good athlete and played four positions versus a good Carolina Flames team. Has excellent range of lateral foot movement she can slide her feet and get from side of the floor to the other on defense at a high level. One time she got pinned on a great screen and was still able to get a great block from behind! That was great recovery from a great athlete, good prospect!
Laniya Scales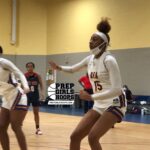 Laniya

Scales

6'2" | PF

Quality Education Academy | 2024

State

NC

6'1 2024 CP3 Flames
No doubt she knows how to use her length when she is on the floor. She always has active hands and good movement around the basket on the defensive end. Her production is not just in points but instead with her presence. On one stretch her team struggled to score she got back-to-back blocks on two possessions and then found her teammate for a nice dish! I like her game and she has much more room to grow!
A big wing coming off the bench and had an instant impact in the game! She had a nice cross-over dribble gliding through the lane for a layup. Then she had a coast-to-coast skate back out to the three-pointer! Physical by nature with her size I see a lot of untapped potential. Definitely, a luxury for this team to have a player like this coming off the bench!
Mia Woolfolk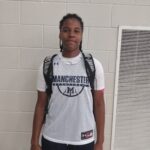 Mia

Woolfolk

6'2" | PF

Manchester HS | 2024

State

VA

6'2 2024 Boo Williams 17U EYBL
Mia made her presence felt very early with her physical play with three and one baskets in the first five minutes! Mia is such a defensive force as well with her intimidating frame, you can tell she's growing into the 6'2 frame going into her junior year. She was able to alter shots in the paint, including a block shot that went out of bounds!
Maya got off to a fast start to her game as well scoring 9 of her team's first 12 points. A really good pick-and-roll player was able to get to the free-throw line five times in the first half. She was active on the defense versus a good Boo Williams team, also able to pick up some steals in the half-court.
With a team full of athletes Louis looks like she's the consistent glue piece for this talented team. An extremely crafty heads-up player that seems to always get open. Tough hard nose player that you can count on to get easy buckets. She lead her team in points and rebounds in the first half, in the beginning of the second half she saw some more versatility hitting a nice pull-up jumper on the wing and a nice drop step in the post!
Reychel Douglas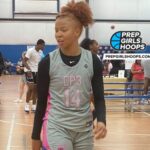 Reychel

Douglas

6'0" | SG

Millbrook | 2023

State

#

41

Nation

NC

6'0 CG 2023 Carolina Flames
Strong physical combo guard that plays and looks like a college player already. She has a nose for scoring, one move she had a great off-hand layup in traffic, and one basket! Reychel team was down 11 she scored five points in a minute span including a deep three-pointer. A very attentive player on defense who understands help defense concepts with is key for the next level!