There are June team camps – then there are June team camps that welcome over 100 teams to one's campus as was the case with this weekend's get together at the University of South Carolina.
In the case of this weekend's team camp at the home campus of the Gamecocks, it did welcome that number of teams and it included a number of junior varsity compilations. As one could also expect for a camp hosted by a coach as well-respected as Dawn Staley, a number of those teams traveled to Columbia from out of state.
We at Prep Girls Hoops also managed to make the trip to the home courts of the Palmetto State's flagship university. Here is who stood out among the rising juniors at the weekend camp.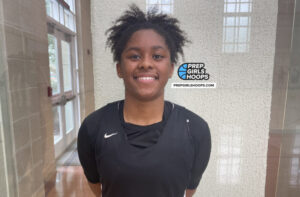 Jasmine Frierson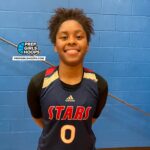 Jasmine Frierson 5'5" | PG Hartsville | 2024 State SC – Hartsville HS – A.C. Flora's loss has turned into Hartsville's gain as Frierson has taken her talents to the Red Foxes. Along with showcasing her impressive ball handling skills, Frierson delivers a great deal of all-around hustle and can make plays at will. With as potent a scorer as she is, she attracts double teams from many a defense and can also haul in rebounds. Frierson is also unafraid of contact that can place her at the free throw line. She competed in 24 matchups for a Falcons team that finished with 19-9 record along with an 8-2 mark against Region 4-AAAA foes.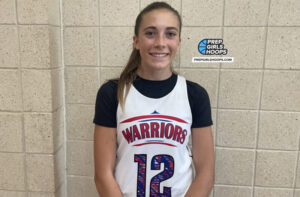 Miah Johnson – Riverside HS – Johnson stands at 5-foot-7 and appears poised for a noteworthy 2022-23 sporting Warriors red and royal blue. Johnson also excels in the cross country realm and those traits can carry over between it and basketball. She will make plenty of plays near the rim and is also unafraid of drawing contact which can place her at the free throw line. Johnson will also make efficient passes and can make the most out of the minutes she receives on the court. Johnson has a great deal of rim attacking ability and can assist on double teams to make things precarious for opposing ball carriers.
Keziyah Sanders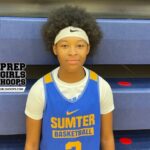 Keziyah Sanders 5'1" | PG Sumter | 2024 State SC – Sumter HS – It is only fitting that a Gamecock had herself a stellar outing at the home campus of the Gamecocks. She has been a key element in Sumter's success as of late. Sanders is hard to contain as she combines speed and agility with a knack for taking care of the ball and limiting turnovers. She finishes strong at the cup and is unafraid to absorb contact which can place her at the free throw line. She will also put herself in position to make accurate passes and haul in rebounds. Sanders approaches every game she plays in with a fearless attitude.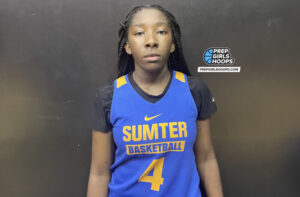 Rickell Brown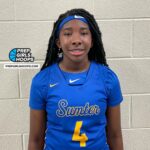 Rickell Brown 5'6" | SG Sumter | 2024 State SC – Sumter HS – Speaking of Sumter Gamecocks that impressed where the South Carolina Gamecocks call home, the 5-foot-6 Sumter guard did so as well. Brown gives a team a scoring presence from behind the perimeter in addition to what she can do as a ball handler. Defensively, she presents problems for opposing teams with the number of steals she can compile. Brown also knows how to make plays by running the floor in transition. Basketball has not been the only sport she has participated in as she has also taken part in track and field/cross country events throughout her athletic career.