One would expect that any girls basketball team camp hosted by Dawn Staley and the University of South Carolina would be one of the largest in the region – if not the country. This year's camp certainly fit that description.
Over 100 teams made the trek to Columbia for the weekend festivities. Games were held at the main South Carolina home court – Colonial Life Arena – as well as at the old Coliseum as well as practice courts in the same building. The Strom Thurmond Wellness and Fitness Center also hosted matchups at its four courts.
We at Prep Girls Hoops made it to the Palmetto State's flagship campus as well. Here is a look at the rising sophomores who were certainly on the rise at the home of the garnet and black.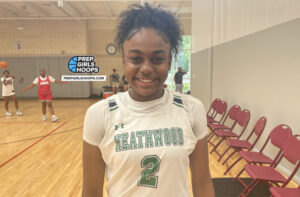 Lauren Jacobs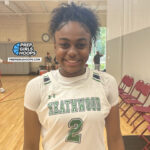 Lauren Jacobs 5'8" | PG Heathwood Hall | 2025 State SC – 2025 – Heathwood Hall – Jacobs now has at least two connections to the school that hosted this weekend's team camp. She now plays for the same school that was Gamecock great A'ja Wilson's alma mater. At Cardinal Newman, she played alongside Ashlyn Watkins, now a rising South Carolina freshman. Jacobs combines quickness with the ability to take care of the ball and limit turnovers. Along with being a standout who can put points on the board from virtually anywhere on the floor, she gets herself into position to grab rebounds and is a heads-up player which puts her in position to up her steal totals. The Highlanders finished finished 8-8 in 2021-22. With Jacobs sporting Heathwood Hall green and blue, one would expect a banner 2022-23 from the school that will now compete at SCISA's new 4A division following reclassification.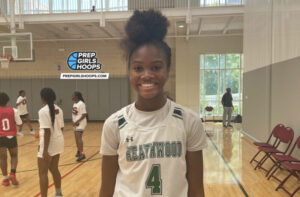 Camillea Gore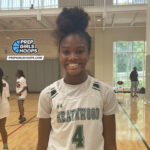 Camillea Gore 6'0" | SF Heathwood Hall | 2025 State SC – Heathwood Hall – After running on the grassroots circuit with A'ja Wilson Elite 2025, it was time for Gore to once again sport the blue and green of the Highlanders for camp month. She is 5-foot-9 and is familiar with playing alongside Jacobs – both are A'ja Wilson Elite 2025 teammates. In addition to the points she places on the board she certainly bolsters the team's rebounding efforts. Gore is every bit as active on defense as she is on offense and the built in chemistry she already has through AAU should work wonders for the Highlanders in the coming season.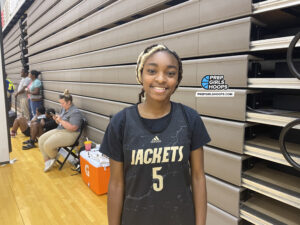 Jamyllah Handy – TL Hanna HS – Handy may have been a freshman this past season but she played like anything but for the Yellow Jackets. In addition to what she does as a scorer, she also can make the right passes. Handy certainly makes the most of the many minutes she receives and is a consistent threat to steal the ball as effective a defender as she is. Along with how she excels on the basketball court, she also is a dual sport athlete who makes waves on the track and field/cross country circuit. With her numerous hoops gifts, she is sure to continue to display her "net worth" as her career blossoms.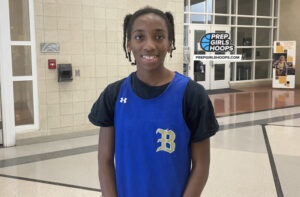 Christiana Robbins – Berkeley HS – Robbins previously hooped a part of the Stags' junior varsity team and now looks to log some productive varsity minutes. Her outing at Coach Staley's Gamecocks camp was a step in the right direction. The defense she plays – particularly on the perimeter – can confuse and fluster many an opposing ball carrier. On the other end, she finishes strong at the rim, can get out in transition and has no issues absorbing contact and getting to the free throw line. Robbins is tough as she also is not afraid to fall to the floor in other to complete a play.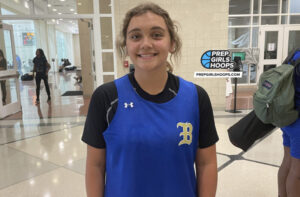 Riley Guerry – Berkeley HS – Guerry is another dual sport athlete as the softball diamond serves as her field of choice whenever she puts away the basketball. When she has the ball in her hand, she understands how to take care of it and limit turnovers. Guerry has seen some time with the junior varsity team and is now garnering varsity minutes. One way she puts points on the board is by being proficient as a 3-point shooter. Guerry makes the most of the minutes she gets on the floor and is sure stabilize her footing with the varsity squad of the Stags.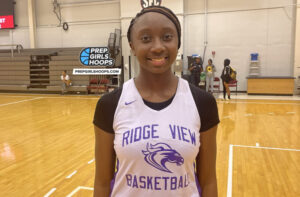 Anasia Harvey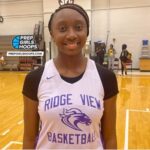 Anasia Harvey 5'11" | C Ridge View | 2025 State SC – Ridge View HS – Harvey managed a breakout freshman campaign for a Ridge View team that qualified for the 5A postseason. She is listed at 5-foot-11 and uses every bit of that height to her advantage when working in the painted area. Harvey can bring down rebounds and wins plenty of battles on the boards. Her length compliments her height and it enables her to showcase her skill at a shot blocker on defense. The offensive boards she brings down can translate to two-point putbacks and she will also convert from midrange. Another attribute to her game is the ability to draw contact and get to the free throw line.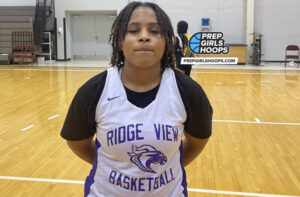 Sherron Waters – Ridge View HS – Between Harvey and Waters, Blazers fans have plenty to look ahead to regarding the team's rising sophomores. She is listed at 5-foot-4 and can assume the role of a usual floor general. Along with setting up a team's half court offense, she plays heads up defense which enables her to be in position for steals. Waters will also make accurate passes to her teammates and has no issues absorbing contact which can place her at the free throw line. She plays the game with a toughness that can be appreciated by many a teammate, many a fan and many a coach.