The summer rankings update of Kansas' 2023 class was released Thursday, June 24.  Dozens of prospect additions have ballooned the total included to 185.  Since the last release many players have been removed.  Most due to not playing anymore.  The previous release included 160 prospects.  Shawnee Mission West's S'Mya Nichols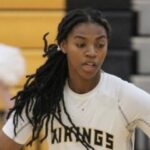 S'Mya Nichols 6'0" | SF Shawnee Mission West | 2023 State #16 Nation KS remains at the top but some significant movement has occurred in the top 10.  And with big changes in player development in the past six months there has been substantial moment down the ranks as well.
My Kansas colleagues Joel Hannagan, Adrian Maloney, and Phillipe McCree have been hitting gyms, watching streamed games and highlights, coaching and training, reading reports, and communicating with a wide range of people to distill the information down to compile an extensive list.  With the amount of out-of-state travel some teams do and with appearances at Prep Girls Hoops Circuit events, many players have also been seen by other PGH scouts as well.  Players out due to injury have not been removed.  As before, I personally would like to thank the parents, fans, other media, coaches at a variety of levels, and especially the players for helping keep our knowledge level high.  The news, photos, video, reports, and comments you have shared with me has been immensely helpful.
Featured image: Washburn Rural 2023 Brooklyn Deleye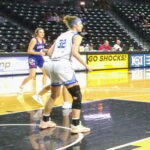 Brooklyn Deleye 6'2" | PF Washburn Rural | 2023 State KS . Photo: Robert Kelly.