June is a time for players to return to their high school teams to compete and condition together in preparation for the next school year.  Cox Mill High School hosted the Charger Shootout event this June showing a lot of great competition between schools in the Charlotte area.  Here are some of the 2023s that stood out at the event.
Ariana Perry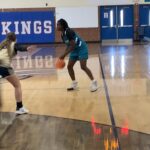 Ariana Perry 5'8" | CG Cox Mill | 2023 NC | Cox Mill
Perry is playing with even more intensity increasing the tempo for her team driving hard to the basket.  Her ability to play defense the full length of the court is certainly handy when it comes to grabbing steals and taking it the other direction.  She will even grab a board and take it to the hoop on the other end for two points before her opponents seemed to know she had the ball.
Alyssa Lewis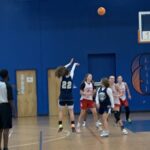 Alyssa Lewis 5'8" | SG Hickory Ridge | 2023 State NC | Hickory Ridge
Lewis (featured picture) leaves it all out on the court every time she plays diving on the floor for loose balls.  She does a nice job getting herself open to show off her jump shot.  She can hit a shot from deep no matter who is in her face.  She moves the ball with speed, and she can easily thread the needle with her passes cutting up the court.  She is a good floor general directing her teammates where to go on the court when she's calling out a play.  You can't discount her shot blocking ability, too, against guards who try to drive past her.
Erica McClary | Hickory Ridge
McClary is such a good defender stripping the ball from her opponents to take it the other direction.  She doesn't shy away from pressing all on her own to grab the steal.  She definitely knows how to rattle her opponents on defense.  On offense, she can read her opponents well knowing when to jump stop or take the ball all the way to the hoop.
Tatum Bowen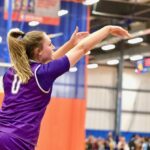 Tatum Bowen 5'9" | SF 1 Of 1 Prep | 2023 State NC | 1 of 1 Prep
Bowen follows shots grabbing rebounds, and she knows how to push it up the court.  She will certainly show off her ability to shoot from behind the arc even making a nice shot in transition.  She reads her opponents' defense driving hard to the hoop and faking the kick to score her own points.
Laila Hankerson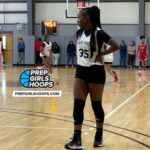 Laila Hankerson 5'6" | PG Charlotte Country Day | 2023 NC | Charlotte Country Day
Hankerson showed off her range shooting from deep, and her cuts were great finding the open areas.  She did a nice job handling the ball, and her dishes to her teammates off of drives were hard to defend with her speed.  She does well tracking the ball even showing off her ability to block shots.
Samyha Suffren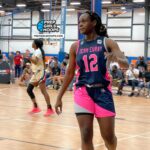 Samyha Suffren 5'8" | PG Cannon | 2023 State NC | Cannon
Suffren consistently shows why she's a future Division I athlete handling the ball with ease and speed using her moves effectively to get around her opponents.  Her athleticism is always an advantage for her to shoot up and over her opponents or battle through contact at the rim.  Her quickness is great on defense and her IQ is fun to watch as she anticipates what her opponents will do.
Kirsten Lewis-Williams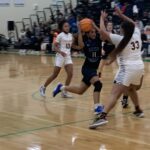 Kirsten Lewis-Williams 5'10" | SF Lake Norman | 2023 State NC | Lake Norman
Lewis-Williams continues to dominate in all areas of basketball whether she is handling the ball, grabbing a steal, pulling up for a jump shot, etc.  She can definitely do it all.  She has such a nice spin move that she uses in the paint to score some points.  Her ability to track the ball coming off the hoop helps her grab rebounds.  She has a beautiful shot from deep as well.