Northern Guilford hosted a jamboree this month where high school teams could compete against one another.  Here are some of the standout 2023s.
Nadiya Hairston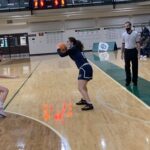 Nadiya Hairston 5'5" | PG High Point Christian Academy | 2023 NC | High Point Christian Academy
Hairston came out ready to play showing off her shot from deep.  She is exceptional at penetrating the paint to pull defenders towards her in order to make a nice pass to a teammate underneath the basket.  She can also put up her own floater in the lane to score some points.  She's a quick decision maker knowing exactly where to get the ball to coming off a quick catch or a rebound.
MeiLani Patterson | Southern Alamance
Patterson seemed to be in the right spot at the right time on multiple occasions making smart cuts to the basket and grabbing offensive rebounds to get her own points.  She made some nice passes dumping it down to her post players to get them some points.  She was also there to grab steals, and she was quick to push it up the court for some fast break points.
Te'keyah Bland | Northwood
Bland dominated the paint grabbing rebounds and passes to score some points.  She was moving all around the court to find the gaps in the defense, and she knew how to put her head down and drive to the basket from outside the lane.  She has a nice spin move that she uses to create some separation, too, and get her points.  She does a nice job looking for her teammates cutting when she catches the pass at the top of the key.
Christina Delisa | Northern Guilford
Delisa is gearing up for a great senior season leading her team as the floor general.  She knows how to move the ball well and set herself up for some nice plays to get her teammates their points.  She's a tough defender, too, making sure to use every bit of her length to jump into passing lanes.  She doesn't hesitate to dive on the floor to grab loose balls and regain the possession.
Lizzie Gram | Northern Guilford
Gram has become a consistent shooter from behind the three point line, and she knows how to find the openings on the court.  She does well moving without the ball to find the openings or handle the ball herself to create separation from her defender.  She knows the importance of timing with her cuts to the hoop and is ready to catch and shoot.
Laurel Zlotkowski | Northern Guilford
Zlotkowski is a Swiss army knife for her team.  She can cut down to the block to score, and she can set herself up for a jump shot anywhere on the court.  Her cuts are explosive and effective, and she stays ready to catch the ball and put it through the hoop.  Her ability to constantly move makes it easy as she plays defense to keep her opponent in her sights to protect the basket.
Avery Burnham | Northern Guilford
Burnham has been showing her ability to shoot from deep.  On defense, she can pick the pocket of her opponents or jump into passing lanes, and she knows how to quickly move it up the court to get her team some points in transition.  She even had a nice five second violation called gaining another possession.