North Dakota is full of Basketball talent. In the last article we took a look at some impactful players in the EDC, now let's take a look at some WDA players that we should all be keeping an eye on this year.  Let's check um' out!
Mia Berryhill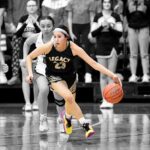 Mia Berryhill 5'7" | CG Bismarck Legacy | 2024 State ND : Legacy, 2024
Berryhill really showed what she is capable of midway though the season working her way into a starting position for the Sabers. As a Sophomore she tallied 154 points, 79 rebounds, 30 steals, and shot 34% from the field. Defensively you can tell she has put a ton of work into her game, she has good speed to her, and pressures the offense really well.  She can cause a lot of trouble for the offense when she gets in her rhythm and can swipe the ball and run it back down the court for an easy bucket. I really liked seeing her confidence this year skyrocket and how she wouldn't hesitate to pull up an open jumper from anywhere on the court.  She will be one of the main guards next year for the Sabers and I'm confident you'll see her name more and more. She is a fun player to watch, and that left handed shot…is a thing of beauty.
Hailey Markel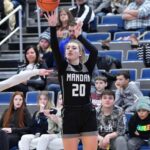 Hailey Markel 5'8" | SG Mandan | 2024 State ND : Mandan, 2024
Markel will be returning to the Braves in her Junior season and there is no doubt she's there to make her mark.  Last year she really came out of her shell and showed everyone how impactful she is.  She had 147 points, 52 rebounds, 16 steals, and shot 38% from the field. Offensively she is a strong dribbler, can go left or right consistently and is good at driving the lane looking to score or draw the foul, along with that she can hit shots from all over on the court, and isn't afraid to take the open shot from behind the arch.  She had a solid year for the Braves and in her Junior year she will take a bigger role as a team leader, and a big play maker.  She is also another one of those players when she's on, watch out because she will do some damage and she proved that a few times this year.  She's another one to keep an eye on for a "Breakout Candidate" this coming year.
Ali Gulleson Ali Gulleson 5'6" | CG Bismarck High | 2023 ND : Bismarck High, 2023
Gulleson is the player on the team that can do a little of everything all over the floor. Last year for the Demons she added 154 points. 77 rebounds, 33 assists, and 26 steals. She has a good knack of getting herself open and hitting big-time shots from inside or outside.  At 5'6'', she isn't the biggest person on the court, but don't let her fool you, she is gritty, tough, and isn't afraid to get in the paint and work for the rebounds as well. She has a good knowledge of what is happening on the court, has a good skill set of finding an open teammate, and putting up points and getting assists. This coming year she will have a bigger role for the Demons, and be a key player on the court. She is fun to watch, and has a competitive nature anyone can appreciate.
Zoie Austin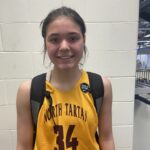 Zoie Austin 5'8" | CG Bismarck Century | 2025 State ND : Century High School, 2025
Austin worked her way into the Patriots offense slowly, but surely over the year, but proved she will be a big player for them in the future. She put up 87 points, 21 steals, 43 rebounds and shot 42% from the field in her Freshman year. Zoie defensively is probably one of the toughest guards in the WDA to say the least. She has blazing speed and is very skilled at picking off the ball, sprinting down the court, and getting the layup with or without a defender on her. In a full-court press, you WANT her on the floor. Over the season, her confidence got better and better and she was taking more shots. With her mentality and drive she is only going to get better and better.  She's young, full of talent and has a bright future ahead of her. I can see her having a good amount of time on the court her Sophomore year, and be a key player in the years to follow.